Best Acne Products (2022)- Dermatologist recommended
August 2, 2022
2023-01-30 6:00
Best Acne Products (2022)- Dermatologist recommended
Best Acne Products (2022)- Dermatologist recommended
Doctor what is best dermatologist recommended acne products?
Acne can present in 3 ways- comedones (commonly called blackheads and whiteheads), red or pus-filled pimples, and cystic lesions.
Dermatologist recommends different anti-acne product for different type of acne.
Scroll below to find the best anti-acne product based on the acne type you have.
COMEDONES(Blackheads/whiteheads)
Comedones occur because of uncontrolled oil secretions, use of thick occlusive creams or multiple layering of products. In both cases, openings of your oil glands get blocked by cellular debris leading to black and whiteheads, dermatologically termed as comedones.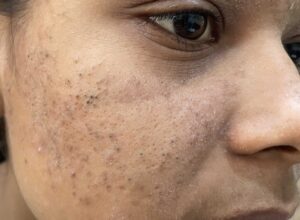 The problem is occluded pores in comedones. Therefore, solution is to exfoliate your skin with help of following agents:
Salicylic acid: It is a saviour because it seeps into the blocked pores, loosens the debris and reduces blackheads and whiteheads in 2-6 weeks. Salicylic acid serum can be used for oily skin, open pores, and black/whiteheads once or twice a day based on the oiliness of the skin. Aim for a normal to slightly dry feel of skin. Make sure you skip this serum if your skin feels dry to avoid oil rebound.
Best dermatologist recommended products for Comedones
The Ordinary Salicylic Acid 2% Solution
The Ordinary Salicylic Acid 2% Solution comes with advantage of witch hazel extracts that has anti-microbial action on acne. Do not combine salicylic acid with Adapalene or retinoids, because both have similar action and combination is too drying.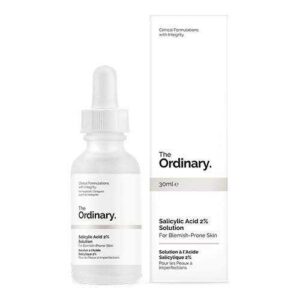 For more brand recommendations, read Best Salicylic acid serum- Dermatologist Recommended
Retinol: Switch to retinol-based anti-ageing serum after 25 years because retinol can control oil secretion, reduce open pores, delay ageing and gently exfoliate your skin.
For brand recommendation, Best retinol or retinaldehyde cream
Adapalene or tretinoin gel: In stubborn cases of comedones, dermatologist recommend adapalene or tretinoin gel. both these are available under prescription in India. You gel Adapalene gel OTC in United, click below for the link:
RED OR PUS-FILLED PIMPLES
Red and pus-filled pimples occur when bacteria called Propionibacterium acnes overgrows in the clogged pores. Following over-the-counter product with agents like neem, tea tree oil, liquorice, niacinamide might help to some extent.
Best dermatologist recommended product for red pimples
INDIA
United States
But if you have big red pimples or many red pimples, then it is highly recommended to consult a dermatologist for starting antibiotics.
SPOT PATCH: Spot patch is a Korean product that has a hydrocolloid dressing. This patch camouflages your pimples and sucks oils from pimples. In addition, Centella Asiatica helps in healing by promoting collagen repair.

TreeActiv Invisible Acne Spot Treatment: This can be applied on pimples at night in non-sensitive skin. It has 2% Salicylic Acid,Aloe Vera, Peppermint Water & Oil, Tea Tree Oil, Clove Flower Oil, Eucalyptus Oil, Lemon Oil, Grapefruit Seed Oil, Orange Oil, Tamanu Oil and Lemongrass Oil to reduce the pimple.

Touch Benzoyl Peroxide 2.5% Acne Treatment Gel Cream: This can be applied on the red or pus filled pimples at night in non-sensitive skin type.
CYST OR NODULAR ACNE
When the battle between your defence mechanism and bacteria continues unchecked, small red pimples might grow into big nodules or cysts. In this case, it is highly recommended to begin treatment under a dermatologist immediately to avoid the formation of scars after healing.
POST ACNE DARK SPOTS:
Azelaic acid help in reducing the tendency of acne and improves post acne dark spots as well. It much more effective than niacinamide in improving pigmentation.
Consult a dermatologist if:
All above cases of acne not showing improvement within 1 month
You have many black/whiteheads with many red or pus-filled pimples
You have dry or sensitive skin with any type of pimples