How to get rid of Pimples or Acne- Dermatologist Guide
January 11, 2022
2022-07-29 4:47
How to get rid of Pimples or Acne- Dermatologist Guide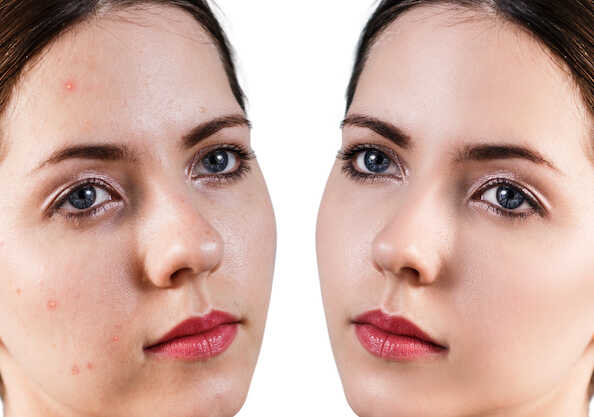 How to get rid of Pimples or Acne- Dermatologist Guide
Doctor, my pimples just don't go, what is the best acne treatment?
The best acne treatment is oral antibiotics or Isotretinoin along with topical benzoyl peroxide and Differin gel.
But, most patients get pimples back after stopping these acne treatment. Moreover, you can't eat anti-acne medications for 10 years of life!
Do you want pimple free skin without eating lot of medicines?
Then, get geared up for 3 months diet and skin care challenge to clear those zits. We have implemented this diet for acne free skin and skincare routine for pimples in hundreds of acne patients in our clinic with good results.
Before, we move on to regime you have to find out the type of acne you have. So are you ready for 3 months acne challenge ?
What type of acne you have?
Acne can present in 3  ways- comedones (commonly called blackheads and whiteheads), red or pus-filled pimples, and cystic lesions.
Dermatologist recommends different anti-acne product for different type of acne.
COMEDONES(Blackheads/whiteheads)
Comedones occur because of uncontrolled oil secretions, use of thick occlusive creams or multiple layering of products. In both cases, openings of your oil glands get blocked by cellular debris leading to black and whiteheads, dermatologically termed as comedones.
RED OR PUS-FILLED PIMPLES
Red and pus-filled pimples occur when bacteria called Propionibacterium acnes overgrows in the clogged pores. Following over-the-counter product with agents like neem, tea tree oil, liquorice, niacinamide might help to some extent.
CYST OR NODULAR ACNE
When the battle between your defence mechanism and bacteria continues unchecked, small red pimples might grow into big nodules or cysts. In this case, it is highly recommended to begin treatment under a dermatologist immediately to avoid the formation of scars after healing.
How to get rid of pimples?
Here are some effective anti-acne agents that you will be using based on the key skin concern:
-Acne face wash that removes excess oils without disturbing skin barrier.
-Salicylic acid for exfoliation of pores to avoid clogging.
-Niacinamide for soothing and spot prevention.
-Adaplene or Benzoyl peroxide to treat of red or pus filled pimples.
-Azelaic or glycolic acid for prevention of post acne dark spots.
-Allium cepa based gels for prevention of depressed scars.
-Light weight sunscreen that does not clog pores.
-Multivitamins with zinc to boost up healing process.
Skin care routine for pimples
You have to follow CTM (Cleansing, Toning and moisturising) regime twice a day as shown below:
Morning regime
Morning regime has following steps: cleansing, toning and moisturising followed by sunscreen (if you go out). Make up goes at the end.
Step 1: Face wash
Washing face 2-3 times is absolutely essential in acne prone skin. Use face wash that remove excess oils without disturbing the skin barrier. If your skin feels dry, flaky or irritated, then you should switch to milder face wash.
Dry skin in acne prone skin can occur because of following reasons:
-Using harsh face wash
-Washing face more than 3 times a day
-Dry weather
-Acne medications
-Harsh home remedies
Brand recommendations: We have listed the face wash for oily skin order of oil controlling capacity in this article, Best face wash for oily skin type
Step 2: Rose water
Pat dry your face after washing and spray rose water. Massage rose water until it gets absorbed. Rose water hydrates and soothe your skin without clogging your pores. Click on this link to find the best pure organic Rosewater.
Step 3: Serum
Azelaic acid, Salicylic acid, Niacinamide are sun friendly anti-zit agents. The choice of each agent depends on key skin concerns:
Niacinamide for sensitive skin: 
It is first choice for red pimples with dark spots in sensitive skin type. Niacinamide at concentration of 10% has skin lightening effect, anti-inflammatory and anti-acne action.
The Ordinary Niacinamide 10% + Zinc 1%
The Ordinary Niacinamide 10% + Zinc 1% has advantage of zinc PCA along with niacinamide that has anti-acne action.
Salicylic acid for comedones: 
Salicylic acid is star ingredient for reducing black/white heads and open pores. It also reduces oil secretion. Go for salicylic acid 2% serum if your skin is very oily with open pores and comedones. Do not combine salicylic acid with Adapalene or retinoids, because both have similar action and combination is too drying.
The Ordinary Salicylic Acid 2% Solution
The Ordinary Salicylic Acid 2% Solution comes with advantage of witch hazel extracts that has anti-microbial action on acne.
Azelaic acid for post acne dark spots: 
Azelaic acid is one of my favourite ingredient. It soothes sensitive skin, prevents acne and reduces dark spots. It can be applied for 2-3 months without side effects. However, avoid Azelaic acid if your skin is dry, red, irritated or burning.
Sesderma Azelac Ru Serum
Sesderma Azelac Ru Serum is liposomal preparation that delivers the actives near skin cells. This contains many active ingredients-Azelaic acid, 4-butylresorcinol, Tranexamic acid, Glycyrrhetinic acid, Retinol encapsulated in liposomes, Niacinamide, Vitamin C and Morus alba extract. Therefore, this serum is complete package because it has anti-acne, anti-aging, anti-tanning and anti-inflammatory benefits.
Step 4: Sunscreen
Sunscreen tend to clog pores and trigger pimples. I do not advocate use of sunscreen in acne prone skin indoors. But it is absolutely essential before stepping out. Apply a light-weight sunscreen 30 minutes before going out in sun. Repeat every 2-3 hours if needed.
Your sunscreen should pass following criteria:
Light weight formula
First ingredients should be water
Avoid silicon based sunscreen because they occlude pores
Gel/lotion/fluid preparation are best
Should get absorbed in skin rather than forming a thick layer on top
Zinc based sunscreen might reduce acne as well
SPF 30 is enough for every day use. Higher the SPF oilier is sunscreen.
Make sure you apply atleast a coin size amount on full face. Sunscreen take 30 minutes to act. So apply them 30 minutes before going out in sun.
Cetaphil PRO Oil Control Moisturising Lotion
Cetaphil PRO Oil Control Moisturising Lotion SPF 30 is a good option for acne prone skin. It fulfils all of the above criteria. It has anti-agent(zinc gluconate), Anti-oxidant (Vitamin E) and anti-inflammatory agents(allantoin and panthenol).
Step 5: Make-up
Make-up sits on the top of all the products. If you use make up daily, then make sure you use thin fluid based product. Even better is to use a compact powder that gives coverage of foundation and absorbs extra oil. Below are product recommendations:
INDIA
UNITED STATES
Noon Skin Care
Step 1: Most of you would feel that your looks greasy and dark by mid-day. In this case, wash your face again. If you can't wash your face at work place, then wipe your face with cotton dipped with micellar water. This remove excess oils and give an instant matt look.
Garnier Skin Naturals, Micellar Cleansing Water
Step 2: Spray chemical-free pure rose water on your skin and massage your skin.
Step 3: Put sunscreen only if you plan to go out in next 30 minutes.
Night Skin Care
Night skin care begin by remove make-up (if needed) with micellar water, followed by face wash and rose water.
Step 3: Acne treatment product
Night is time to use most effective anti-acne weapons. Moreover, they tend to react with sun. Again, your weapon strategy depends on type of enemy you are dealing as discussed below:
-Black/whiteheads: Retinoids
-Red or pus filled pimples: Benzoyl peroxide
-Post acne dark spots- Glycolic acid
-Post acne red marks- Allium cepa
-Skin coloured depressed acne scar respond to procedures like micro-needling/LASERS only
RED PIMPLES
Benzoyl peroxide, neem, tea tree oil etc are few OTC effective agents that can be tried for Red pimples at home.
Here few brand recommendations in India:
Mamaearth Tea Tree Spot Gel Pimple Removal cream: This cream can be applied on red pimples at night until they dry. It reduces pimples with the anti-bacterial action of tea tree oil and oil-controlling action of salicylic acid. It also prevents the development of dark spots after healing with the help of skin lightening and the anti-inflammatory action of licorice.
SPOT PATCH: Spot patch is a Korean product that has a hydrocolloid dressing. This patch camouflages your pimples and sucks oils from pimples. In addition, Centella Asiatica helps in healing by promoting collagen repair.
Homemade anti-acne spot treatment: You can make fresh anti-acne spot remedies for red pimples in non-sensitive skin.  It reduces big red pimples overnight.
Dr. Sheth's Neem & Bha Spot Clarifying Serum can be used for full-face at night for reducing both comedones and red pimples. It is a good option for non-sensitive oily skin types. It can both reduce clogging pores with help of salicylic acid, and prevent bacteria to grow with the help of neem and tea tree oil.
Here are brand recommendations for United States:
SPOT PATCH: Spot patch is a Korean product that has a hydrocolloid dressing. This patch camouflages your pimples and sucks oils from pimples. In addition, Centella Asiatica helps in healing by promoting collagen repair.
Neem and tea tree oil help by removing bacteria. You can use TreeActiv Invisible Acne Spot Treatment: T on pimples at night in non-sensitive skin. It has 2% Salicylic Acid,Aloe Vera, Peppermint Water & Oil, Tea Tree Oil, Clove Flower Oil, Eucalyptus Oil, Lemon Oil, Grapefruit Seed Oil, Orange Oil, Tamanu Oil and Lemongrass Oil to reduce the pimple.
Benzoyl peroxide works primary on red or pus filled pimples. Put it only as spot treatment on pimples at night. It is available OTC in United States. Click below to buy:
WHITE/BLACKHAEADS
White heads and blackheads can be take care by Retinoids or salicylic acid. We recommend every acne patient to use retinoids at night because they prevent clogging pores, reduce oil secretion and prevent acne.
Retinol or Retinaldehyde help in oil control, open pores and comedones. If you breakout once in a while due to greasy skin, then this is best choice for acne above 30's. Dermatocare team has reviewed the retinol cream available across the globe, click here to know the best retinol or retinaldehyde cream recommended by Dermatologist.
Adapalene: Adapalene is the most commonly used medicine to reduce acne. It is available  on prescription in India. However, it is OTC in United States by name of Differing gel. Click below to buy on amazon:
Tretinoin: It is most potent retinoid. It is prescribed by dermatologist if Adapalene does not show results or if patient has lot of black/whiteheads.
Retinoid looks like a good choice. But, they work by drying your skin and exfoliating the dead skin cells. It is important to start them gradually especially if your skin is on dry side, or get irritated easily. Here are the steps:
First night: Apply adapalene/tretinoin gel only on pimples at night.
Second night: Put on the area where you are getting pimples.
Third night: If you don't notice any dryness, redness, irritation, peeling or stiffness, then apply on full face except the under eye area, and area around the nose and mouth.
Every night before applying adapalene or tretinoin, looks for subtle signs of retinoid dermatitis like dryness, redness, irritation, peeling or stiffness. In this case, put a non-comedogenic moisturiser first on dry skin and then put adapalene or tretinoin on active pimples. Skip if these signs become worse.
Stop adapalene/tretinoin for few days if you notice rash, itching or bumps. Restart gradually once the skin feels better.
POST ACNE DARK SPOTS
Glycolic acid is worth trying for stubborn post- acne dark spots. It  reduces acne, dark spots, tanning and dull skin. It is available OTC in various countries in concentration ranging from 3 % to 10 %.
Start with 3% if your skin sensitive, dry or irritated. Move on to 10% if your skin tolerates lower concentration. Glycolic acid might not suit sensitive skin, In this case you can try azelaic acid or Kojic acid based product. We have listed recommended brands below:
Mars by GHC Skin Correct Gel For Acne Scar
Available in India
It has many ingredients that work in unison to reduce acne and dark spots: Tea tree oil, Niacinamide, Glycolic and Salicylic Acid, Zinc PCA, ACV Extract. 
Pilgrim Salicylic Acid 1% + Glycolic Acid 3% Anti Acne Serum
Available in India
This has combination of 1 % salicylic acid and 3% glycolic acid. Both are beneficial for acne prone skin.
Murad Environmental Shield Vita-C Glycolic Brightening Serum
Available in United States
It is a unique product that has goodness of Vitamin C and Glycolic acid. Worth try for giving radiant look to skin.
Paula's Choice SKIN PERFECTING 8% AHA Gel
Available in United States
This has 10% Glycolic acid that can be tried for stubborn dark spots in non-sensitive skin.
Take multivitamins for pimples daily
We at our clinic prescribe multivitamins rich in Zinc and Vitamin D for 3 months in acne patients. Lot of studies support role of Zinc in acne.
BRAND RECOMMENDATION
Tips for acne-prone skin
Skin care tips
Do not use a harsh face wash that makes your skin over dry. I see a lot of patients who first use harsh face wash and then put a cream to moisturise. Well, that's a disaster for acne-prone skin. Instead, use a face wash that removes excess oils from skin, so that skin feels soft and supple, rather than dry or stretched.
Avoid washing face more than 3 times a day. If your skin secrets oil even after using strong face wash, then you need a retinoid-based product to control your oils.
Over-layering of skincare products because they will clog your pores. CTM is best for you!
Most sunscreens clog your pores, so avoid using sunscreen indoors.
Give way temptations of popping or squeezing pimples: It is easy to remove pimples, but very difficult to remove scars left after pimples
Do not scrub your face, if you are breaking out.
Avoid facials in acne-prone skin.
Never sleep without washing your face. Face wash at night is absolutely necessary to remove oil, dust, and pollutants that can clog your pores.
Do not put moisturiser, if your skin is hydrated.
Do not use thick make-up, instead use a lightweight BB cream
Mobile phone tip
The dust, greasy and pollutants on the phone screen can trigger acne. Clean mobile screens daily. Make sure you clean the screen of your mobile phone, if you have acne on the side you hold your mobile phone.
Lifestyle tip
Yoga especially Suryanamsakar and pranayam can help in stabilising your hormones.
Follow the diet plan for acne-free skin.
When to consult dermatologist?
Well, I don't  want to raise false hope for this who are not ready for this 3 month pimples challenge. You are ready to enter this challenge if:
Your have less than 5-10 red or pus pimples on face at this moment.
Blackheads/white heads do not cover more than 30% of face.
Black/whiteheads are not more than 0.5 cm in diameter. Macro-comedones can be removed by dermatologist by RF machine.
No cystic or nodular acne.
In this case consult, near be dermatologist. You can still embark on this challenge for a month if you don't want to consult a dermatologist immediately. If you wish to consult Dr Surbhi, MD, click here.