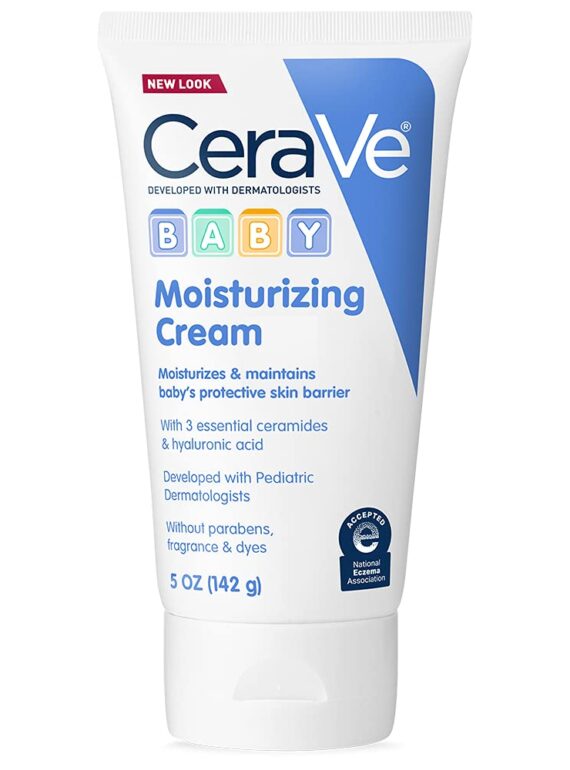 CeraVe Moisturising Baby Cream
CeraVe Moisturising Baby Lotion is an ideal non-greasy, lightweight formulation devoid of any ingredient that might affect a baby's extremely delicate and gentle skin. It is a fragrance and paraben-free lotion packed with beneficial ingredients to nourish and hydrate baby skin for a longer duration.
What is it? A moisturising cream for babies
Who can use it? You can use it as a moisturiser for children with dry skin starting from infancy twice a day.
Sensitive skin: Yes. can be used for children prone to allergies or atopic dermatitis.
2 variants: Lotion is for normal skin. while Cream is for dry skin.
Description
Benefits
Maintains skin natural barrier:

Baby skin is prone to skin barrier disruption hence the need for constant moisturisation. 

Ceramide AP, NP and EOP hold the skin cells together thereby keeping the skin barrier intact. A healthy skin barrier ensures protection from environmental damage, and infections and also seals moisture.

Reduces redness: 

Niacinamide has healing and anti-inflammatory action. 

Niacinamide also increases ceramide synthesis which maintains a healthy skin barrier.

Soothes skin: 

Allantoin and Tocopherol act as a soothing agent that reduces skin discomfort and irritation.

Deep hydration: Water, Ceramides, 

Sodium Hyaluronate and Sodium PCA retains the skin moisture for a longer time span. 
Side Effects
There are no side effects. But, it might not suit super sensitive skin rarely.
Additional information
| | |
| --- | --- |
| Child | Atopic dermatitis, Baby skin care |
| Child age | 0-3 years, 3-5 years, 5-12 years |