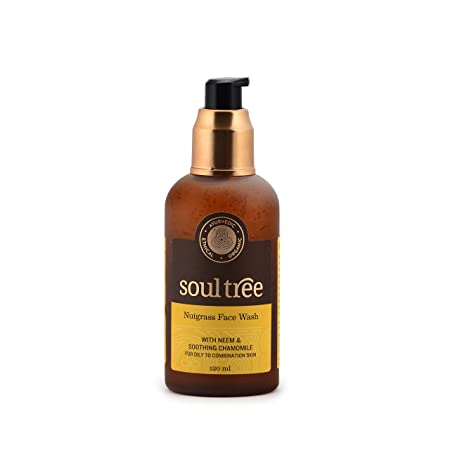 SoulTree Ayurvedic Face Wash
SoulTree Ayurvedic Face Wash for Oily to Combination Skin might help in reducing acne with the aid of neem, turmeric, nutgrass and tangerine oil. It is free from harsh chemicals and has mild surfactants.
What is it? Organic sulphate free face wash
Who can use it? Oily to combination skin for reducing acne
Sensitive skin: might cause irritation in sensitive skin
Description
Will it work?
 SoulTree Ayurvedic Face Wash for Oily to Combination Skin has three safer and gentle surfactants that can remove dust and pollutants from your skin without the use of harsher sulphate based chemicals. It also has neem, tangerine, lodhra, nutgrass, and turmeric that help in reducing acne. Chamomile has anti-inflammatory, soothing action.
For which skin type?
SoulTree Ayurvedic Face Wash for Oily to Combination Skin is best suited for acne prone oily skin. If you have dry to combination skin, you can use Rose honey face wash from Soultree.
Ingredients Explained
Chamomile is antibacterial, anti-fungal, anti-inflammatory and antiseptic. It is also considered to be hypoallergenic with the ability to neutralise skin irritants.
Turmeric essential oil is rich in antioxidants and anti-inflammatory ingredients. It helps in reducing wounds, eczema, wrinkles, pigmentation, pimples, acne, psoriasis, cuts, burns and other skin infections.
Neem Essential Oil helps in reducing acne, and dandruff. It is insect repellent.
Symplocos Racemosa (Lodhra) has anti-acne action.
Citrus Reticulata (Tangerine) Peel Oil has cleansing and anti-acne action with citrus fragrance.
Extrapone nutgrass is advertised as a natural skin lightener. Manufacturers state that clinical trials have shown it inhibits melanin by more than 41 per cent. However, no other information regarding clinical trials is available. Ayurvedic practitioners also use regular preparations of nutgrass to treat other skin conditions, including fungus infestation, itching, rashes and herpes. 
Is it safe?
Yes, it is safe.
Will it irritate sensitive skin?
Yes, it might cause irritation in sensitive skin. So, we recommend doing a patch test before first use on sensitive skin.
Additional information
| | |
| --- | --- |
| Gender | Female, Male |
| Skin Type | Normal/Combination, Oily |
| Skin concern | Acne & Blemishes, Ageing/Wrinkles, Pigmentation & Dark Spots, Pores/Blackheads/Whiteheads |
| Senstive skin | Mildly Sensitive, Not Sensitive |