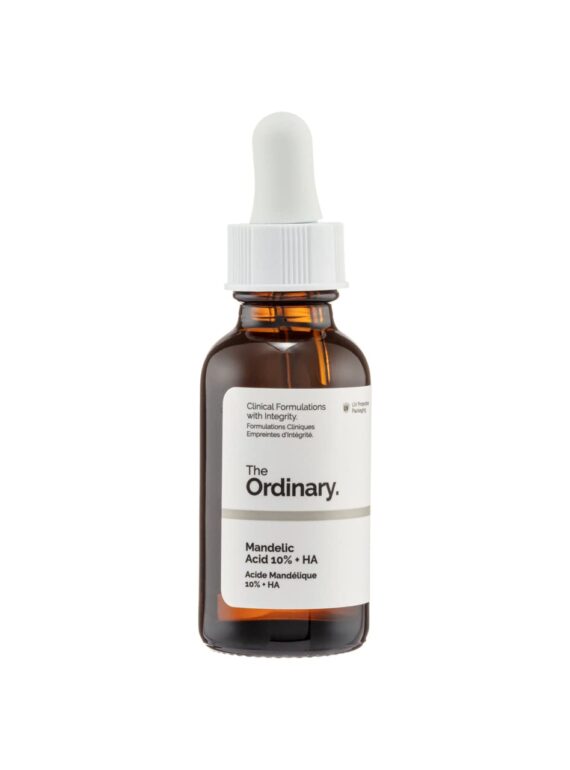 The Ordinary Mandelic Acid 10% + HA
AHA are superstars agents that help in achieving even skin tone and smoother skin by exfoliating dead skin cells. However, if you cannot tolerates stronger AHAs like Glycolic or lactic acid, then The Ordinary Mandelic Acid 10% + HA might come to your rescue. It helps in gentle peeling by loosening the links between dead skin cells, enhancing the cell turnover and exfoliating the superficial layer. It is suitable even for sensitive skin as the large molecule size of Mandelic acid takes a longer penetration time thereby gentle action on the skin.
What is it? Skin rejuvenating serum with mandelic acid
Who can use it? All skin types to promote even skin tone and smooth skin texture
Sensitive skin: You can try if the skin is calm
Where to buy? Amazon.in and Amazon.com
Description
The Ordinary Mandelic Acid 10% + HA Benefits:
Gently peeling of the skin: Mandelic Acid, an AHA, gently exfoliates, unclogs pores, and delays wrinkles, dullness and fine lines. It lifts off the dead skin cells revealing a new fresh look. It also reduces hyperpigmentation, acne scars and uneven skin too.
Good for skin hydration: Glycerin, sodium cross hyaluronate, and propanediol moisturise and nourish the skin.
Reduces redness: Tasmannia Lanceolata Extract reduces skin discomfort owing to its anti-inflammatory and anti-irritant properties.
The Ordinary Mandelic Acid 10% + Ha Side Effects:
Though it has no side effects, the exfoliating agents might cause skin irritation in sensitive skin. If you have sensitive skin, introduce this product gradually, as discussed in the next section.
How to use it?
We recommend introducing this agent gradually if you are naïve to potent ingredients. Start by applying for an hour on a trial patch on the face. If it does not irritate start putting on full-face the next day. Gradually build up the time from 1 to 3 hours and then, overnight every 3-7 days depending on the tolerability.
Additional information
| | |
| --- | --- |
| Gender | Female, Male |
| Skin Type | Dry, Normal/Combination, Oily |
| Skin concern | Pigmentation & Dark Spots |
| Senstive skin | Mildly Sensitive, Not Sensitive |