10 Researched benefits of Oats for skin I Dermatologist Guide
September 1, 2021
2022-12-12 8:41
10 Researched benefits of Oats for skin I Dermatologist Guide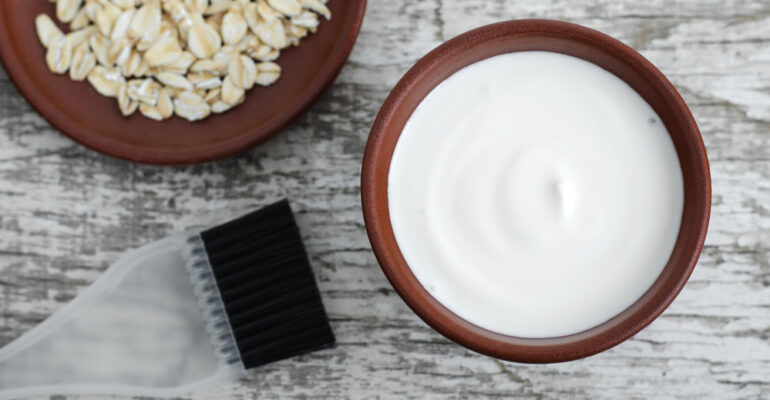 10 Researched benefits of Oats for skin I Dermatologist Guide
"Doctor, what are the benefits of using oats for the skin?"
In dermatologist practice, we recommend oatmeal for sensitive, allergy, or eczema-prone skin. It is an excellent moisturizer with skin healing, anti-inflammatory, antioxidant, and itch-relieving benefits.
Oats are available in the market called oatmeal. They are made by rolling, grinding, and steel-cutting the oat grains. Now, let us find out the ten benefits of using oats or oatmeal for the skin.
10 Researched Benefits of Oats for skin
1. Oats for washing the face
Oats act as mild cleansers because of their saponin content. You can use oats to make a homemade cleanser based on your skin type. Click below for the recipes:
2. Eczema
Oats recover the eczematous skin by moisturizing, restoring the skin barrier, reducing itching, and regulating inflammation.
Colloidal oatmeal or grounded oats can be added to lukewarm water in the bathtub to soothe irritated and itchy skin due to any cause. Alternatively, soak oats in milk for 15-30 minutes and use it as a body wash.
3. Oats as Scrub
The gritty nature of oats makes them an excellent scrub for sensitive skins that cannot tolerate the usual exfoliators.
4. Oats as moisturizer
No wonder oats are part of many moisturizers available in the market. Thanks to its lipids and protein content that have humectant, occlusive and emollient properties.
5. Aging skin
Due to anti-oxidant benefits, oats can help reverse damage caused by UV rays, pollution, harsh chemicals, etc., on your skin.
 6. Sunburn:
Oats can be used to soothe sunburnt skin owing to soothing, anti-oxidant, healing, and moisturizing properties. Check out the recipe for using oats for sunburn in the article, 10-step guide to healing sunburn.
7. Atopic Dermatitis
As discussed earlier, add oatmeal or ground oats to lukewarm water in the bathtub to soothe your kid's irritated and itchy skin.
8. Itchy skin:
Colloidal oatmeal reduces itching in skin diseases, from dermatitis to fungal infections when cleansing and bathing.
9. Psoriasis:
Oats help in the healing of psoriasis lesions owing to their anti-inflammatory nature.
10. Oats as dry shampoo:
A mixture of grounded oats and soda bicarbonate can be used as a dry shampoo. Sprinkle the mixture on your hair, let it absorb oils, and comb the mixture out.
Side effects of using oats on the skin
Oats are mostly safe to use on the skin. However, few reports of sensitivity to oats have been reported, mainly in those with eczema. Thus, you should avoid oats in all forms if you experience redness, irritation, or worsening of eczema after using them. Reports of cross-sensitivity with wheat also exist. Thus, gluten-sensitive patients might exercise caution while using oats.
Steel-cut oats are best
Choosing suitable types of oats is essential both for skin and eating. The more natural and less processed the oats are, the more benefits they have.
Unfortunately, the most popular brands of oats available in the market are rolled. Rolled oats are prepared by steaming and then rolling. Instant oats are still more processed to facilitate easy cooking.
The closest to nature is steel-cut oats. They are made by cutting the oats grains. Steel cuts oats retain extraordinary health and skin benefits to the maximum.
For use on the skin, you can grind oats into a fine powder called colloidal oatmeal. However, you would need a powerful grinder for steel-cut oats. Store it in an air-tight container.
To conclude, oats are worth trying for dry and sensitive skin. We also recommend using hydrating products without allergens in such cases. Try our regime finder tool to find the products that suit your skin and bring positive change.