5 Reasons To Eat Ghee Or Clarified Butter Daily
June 3, 2012
2012-06-03 10:39
5 Reasons To Eat Ghee Or Clarified Butter Daily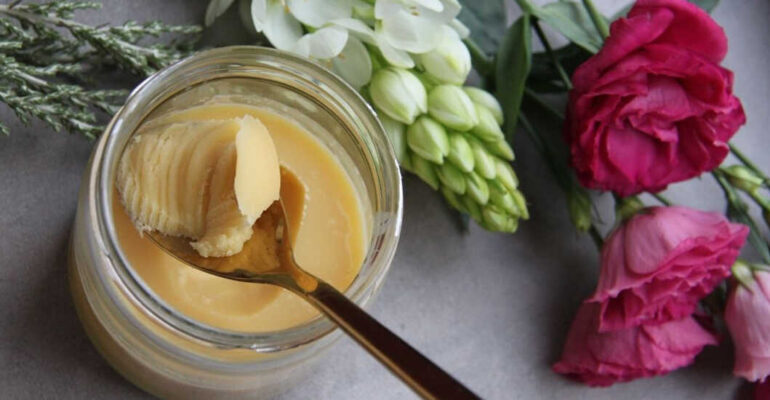 5 Reasons To Eat Ghee Or Clarified Butter Daily
"Do you hate Ghee? Even I did, but I regret it now!" Never ever in my life, I have cherished having Ghee or clarified butter, no matter how hard my mother tried. Today, I truly regret it. My research on benefits of Ghee for skin changed my misconception. This article on "5 reasons to eat ghee or clarified butter daily" would help you end the debate on "whether to eat ghee or not".
What is the composition of Ghee? 
Yes! Ghee is rich in saturated fats that is the reason you just need a teaspoon daily. Here is the table that shows composition of Ghee from Wikipedia:
| | |
| --- | --- |
| Fats & Fatty Acids | Amounts Per 100g of Ghee |
| Total Fat | 99.5g ( 153% DV) |
| Saturated Fat | 61.9 g (310% DV) |
| Monounsaturated Fat | 28.7 g |
| Polyunsaturated Fat | 3.7 g |
| Trans Fats | 4 g |
| Omega-3 fatty acids | 1447 mg |
| Omega-6 fatty acids | 2247 mg |
| Other Non-fat nutrients | Amounts Per 100g of Ghee |
| Carbohydrates | 0 |
| Minerals | 0 |
| Cholesterol | 256 mg (85%DV) |
| Phytosterols | 0 |
| Vitamin A | 3069 IU (61% DV) |
| Vitamin B, C, D | 0 |
| Vitamin E | 2.8 mg (14% DV) |
| Vitamin K | 8.6 mcg (11% DV) |
MUST TRY: Get dermatologist assisted skin care regime tailored to your skin, by Filling Questionnaire
Why you should start eating Ghee or clarified butter?
Here are 5 reasons to eat ghee or clarified butter daily:
Mono-unsaturated fats (MUFA): Ghee has MUFA that reduces LDL cholesterol, reduces risk of breast cancer, decrease irritability as stated by Wikipedia.
Correct ratio of Omega 6 to Omega 3 fatty acid: Our body need equal amount of Omega 3 and Omega 6 fatty acids, but most vegetable oils like olive, soya bean, safflower etc. (except flaxseed oil) do not have enough omega 3 fatty acids. Thus, Ghee can serve as regular source of omega 3 fatty acid.
Source of DHA: DHA has numerous health benefits including promotion of mental health and retardation risk of cancer. DHA is however not found in vegetable oils, and is found only in animal fats. Thus, Ghee can serve as a source of DHA in vegetarian diet, an alternative to fish oil capsules or DHA fortified health drinks in kids.
Conjugated linoleic acid (CLA): In a study on rats, CLA rich ghee was shown to increase levels of anti-oxidants, decrease level of bad cholesterol and raised good cholesterol as compared to soya-bean oil. No doubts the study was done in rats, but I would give it the benefit of doubt because our ancient tradition and Ayurveda both highly recommended regular consumption of ghee.
Rich in Vitamin A and E: Vitamin A and E have anti-oxidant properties that help our body to fight against damaging free radicals, produced as a result of any physical, chemical or even mental insult to the body.
How to eat Ghee to promote healthy living?
Ghee has a smoking point of 204°-260°C, above which it is converted to smoke. So, ghee is best consumed at moderate heat; can be smeared on "Chapattis" or added to rice. However, kids need much more ghee to meet the demands of a growing body, especially the brain. Thus, instead of relying entirely on "DHA fortified Bournvita or Horlicks" etc. include Ghee in your kids diet.
We highly recommended you to consult your physicians before starting Ghee, incase you have personal or family history of high cholesterol, heart diseases or any other metabolic disorders.
All of us, especially teenagers have the wrong notion that ghee has fattening or deleterious effects, we must move past this notion and include half to 1 teaspoon of ghee daily in our diet. I can vouch upon its benefit for your skin as well as health.
Related topics: