Anti-Acne Face Pack: DIY from dermatologist
September 23, 2021
2021-09-23 12:54
Anti-Acne Face Pack: DIY from dermatologist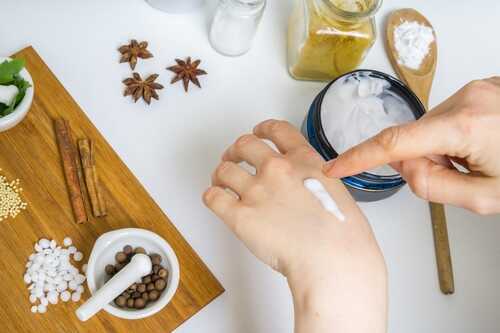 Anti-Acne Face Pack: DIY from dermatologist
This homemade anti-acne face pack has potent and scientifically proven natural anti-acne ingredients like tea tree oil, turmeric, neem, licorice, honey, cinnamon and rose water. The unique thing about this face pack is that it can be stored in bathroom shelf for a month. So are your ready to try this homemade anti-acne face pack formulated by the dermatologist after research and trials?
How to make?
Have you ever felt lazy like me in putting efforts to make a new homemade face pack every time before use? I have a found solution to make all natural face pack that can be stored without refrigeration. You can mix and store the dry ingredients in an airtight container and add the liquid ingredients just before use. Mix and store the following ingredients in an airtight container:
To make a face pack: Take 2 tablespoons of above mixture and add the following liquid ingredients:
I have used this face pack for almost 2 years with excellent results in many users. I hope you will reap the same benefits. Please do a patch test before first use, especially in the case of sensitive skin.
Watch this video to know how to make this anti-acne face pack:
How to use?
Wash your face.
Pat dry.
Apply the face pack in an upward direction.
Leave until dry, or else you can extend for half an hour or so.
For removing, splash generous amount of water on face pack to make it soft.
Gently scrub your face by massaging the wet face pack in circular motions to aid the removal of dead skin cells.
Rinse off the face pack and pat dry.
You can use this face mask once or twice in a week.
Why these ingredients?
Clay or fullers earth or mulatni mitti causes sustained decrease in oil secretion and absorbs sebum from face when applied for a long time.
Turmeric has anti-oxidant, wound healing and anti-inflammatory benefits as proven in many studies.
Tea tree oil has been shown to inhibit acne in various studies, and it is as effective as benzoyl peroxide in treating acne. It inhibits P.acne without affecting normal skin flora besides being anti-inflammatory. It can cause redness, dryness and irritation, especially in the sensitive skin. Should not be used in pregnancy and lactation.
Cinnamon, when used in combination with honey, can reduce acne.
Glycyrrhiza glabra or Liquorice or mulethi extracts have antibacterial activity besides skin lightening effect. Licorice reduces acne due to its anti-inflammatory, antioxidant and anti-bacterial properties, besides reducing androgen level. But should be avoided even in a small amount in patients with hypertension, heart and kidney problems.
Rosa damascene is a particular variety of rose that is used to make rose water, rose oil and gulukand; has anti-acne action. Rose water can even help in reducing comedones or black/white heads.
Raw honey, when applied directly on red pimples, can help in reduction owing to anti-inflammatory benefits. Another hypothesis in which honey might help in acne is by limiting "nutrient that is water" within pilosebaceous follicles because native sebum as secreted by the sebaceous gland does not contain water.
Gram flour or besan helps by absorbing extra oils in oily skin type.
Fuller's earth or multani mitti helps in removing excess oils.