9 Researched Benefits of Milk For Face I Dermatologist Guide
July 30, 2022
2022-12-06 6:10
9 Researched Benefits of Milk For Face I Dermatologist Guide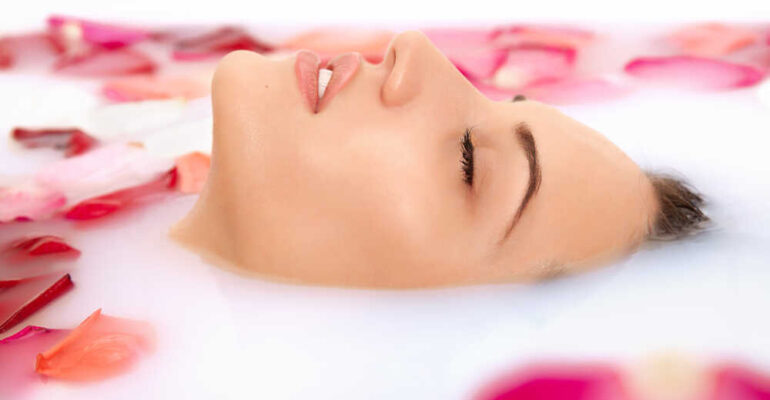 9 Researched Benefits of Milk For Face I Dermatologist Guide
"Doctor, is milk good for the face? How to wash my face with milk?"
Yes! Milk can do wonders for your face! It hydrates dry skin, exfoliates mature skin, soothes irritated skin and lightens dark skin. Milk has Vitamin D, A, and lactic acid.
1. Milk for washing face
Milk has a unique ability to remove oil-soluble impurities with the help of fat-soluble enzyme lipase, protein-based contaminants with the help of protease and dead skin cells with lactic acid. However, avoid milk to wash your face on acne-prone skin.
Massage fresh milk on the face. Rinse off with water and pat dry with a soft towel. Or else, make this homemade face wash for dry skin by combining milk powder with oats.
2. Milk as moisturiser
Milk is a wholesome moisturiser with water, fat and proteins that can replenish dry skin's lost natural moisturising factors.
I routinely tell my patients with dehydrated skin (not allergic to milk) to use Ghee to moisturise the skin of the body and face at night.
3. Milk for skin whitening
Milk lightens your skin by promoting the shedding of pigmented skin cells. This homemade milk face mask can reduce tan, dark spots, and dark patches.
Related article: Skin care routine for hyperpigmentation- Recommended by dermatologist
4. Milk for ageing skin
The secret of the radiant and wrinkle-free skin of Cleopatra is historically attributed to milk. The enzymes, proteins, minerals and vitamin content of milk reduce wrinkles. As described earlier, you are reaping its anti-ageing benefits if you wash your face with milk daily.
Related article: Anti-ageing skin care routine- Recommended by dermatologist
5. Milk for sensitive skin
People with sensitive skin often seek a cleanser to calm their red, irritated skin. Guess what? Milk is just apt for you! Massage milk twice daily on your face (non-acne prone skin only), rinse and pat dry.
Related article: Sensitive skin care: Dermatologist Guide
6. Milk for sunburn
When you get sunburned on holiday, nothing comes in handy as milk. Milk soothes sunburn with the help of anti-inflammatory, moisturising and skin-repairing properties.
Refrigerate a soft cloth soaked in a bowl of fresh milk and apply it on the sunburnt skin as cold compresses.
Avoid using whole-fat milk or milk cream because its fat content might insulate sunburn, hindering heat loss. You should also follow this 10-step guide to healing the sunburn.
7. Milk for cracked heels
Milk helps in repairing cracked heels by exfoliating the dead skin. It eliminates the dryness of the skin on your heels.
You can prepare feet soaks by putting the following ingredients in a tub of warm water:
half-cup of milk
five tablespoons of oats
five tablespoons of coconut oil
Soak your feet for 15 minutes. Rub them with a pumice stone gently, wash and moisturise with Ghee. You will definitely flaunt your smooth skin in a few weeks.
8. Milk for hair re-growth
Milk can provide nutrients for promoting hair growth.
Apply a generous amount of buttermilk throughout the length of hair after washing your hair, leave for 5-10 minutes and rinse with warm water.
Related article: Regrow hair in 3 months: Dermatologist Guide
9. Milk bath
You can add milk to warm water in the bathtub to nourish your skin. Or pamper yourself with a home-based spa once in a while! Put oats and rose petals along with milk in the bathtub, play relaxing music, and burn some incense sticks to rejuvenate your body and mind.
Is raw milk better than pasteurised milk?
Raw milk is preferred for skin because heating destroys the skin-friendly enzyme, fat and protein components of milk. On the other hand, pasteurisation is desirable for oral consumption because it aids digestion.
What are the side effects of using milk for the skin?
Avoid using milk for acne-prone skin. Oral consumption of milk in large amounts can precipitate pimples. Rarely, sensitive skin might not tolerate milk because the pH of milk is slightly acidic.
Milk might cause hives in allergic individuals. However, such side effects are rare in the Indian population.