Betnovate- A steroid cream that ruins your skin forever
September 1, 2021
2023-09-20 13:03
Betnovate- A steroid cream that ruins your skin forever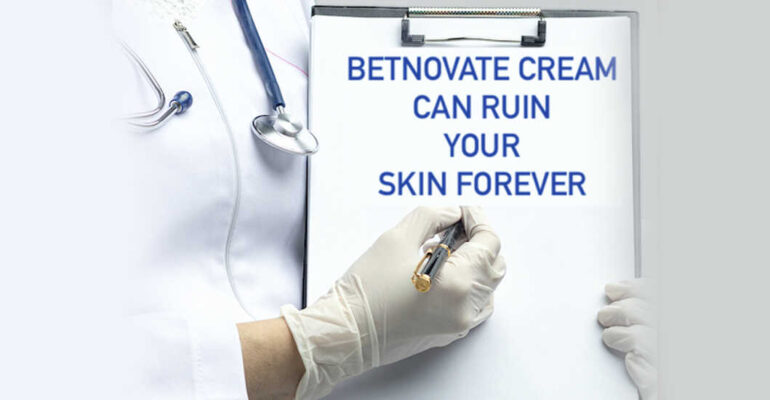 Betnovate- A steroid cream that ruins your skin forever
"Doctor, what are the active ingredients in Betnovate? What are the side effects and benefits? How to stop Betnovate?"
Betnovate is a cream available under the following names- Betnovate N, Betnovate C, Betnovate GM, and Betnovate cream. Betnovate cream is used as a general-purpose cream to cure skin problems like cuts, rashes, allergies, skin lightening, etc.
Most people think it is a harmless anti-septic cream. But the truth is Betnovate has a potent steroid called betamethasone valerate.
Betnovate might cure any skin problem for the time being. But as soon as you stop using it, your skin problems will come back more severely. Not only this, your skin problem might need stronger medicines to get better. Read this article to know the side effects of Betnovate and how to stop Betnovate cream.
What is a steroid?
Steroids are a group of medicines similar to Glucocorticoid hormones secreted in our body. Steroids are given for diseases where the immune response is over-active and damages the body's tissue.
Dermatologists prescribe a topical steroid for skin disorders where the immune response is overactive, like eczema, psoriasis, lichen planus, and alopecia areata.
What are the side effects of Betnovate?
Steroid creams can cause side effects if high-potency steroids like Betnovate are used for more than two weeks on the body and more than a few days on the face.
Steroid creams work like magic on your skin because they can clear any skin problem, but when you stop them, your skin problem might return after a few days with stronger manifestations.
I have discussed the side effects of steroid cream in the video given below:

The common side effects of steroids are as follows:
Thinning of skin
Stretch marks
Worsening of acne
Increase sensitivity of the skin
Excess hair growth
Darkening of skin
Worsening of fungal infection
Interestingly none of these side effects are noted when applying steroids, but they become evident when you stop them for some time. Most of you think that steroids are working and you should apply them a little longer for full relief, and when you restart steroid cream, your skin looks and feels better. Thus, a vicious cycle of steroid dependence is formed.
How to recognize topical steroid tubes?
The best is to avoid buying any tube for skin problems from the chemist because 90% time it would have steroids in it. There are more than thousands of brands of steroid cream in India, it is next to impossible to list them all here.
I am listing the common salts of steroid cream along with a few brand names that are used commonly in India:
Mometasone: Momate, Elocon, HHSone, Momoz, Momtaz, Ezimet, Dermitop, Momstar
Betamethasone: Betnovate, Betamil, Diprobate, Quadriderm, Tigboderm, Betasalic, Sigmaderm, Dermitop, Stemin GM, Candid-B
Clobetasol: Clop-G, Tenovate, Cosvate, Lobate, Panderm, Propysalic, Zincoderm, Tufderm, Dermiford
Halobetasol: Halovate, Halotop, Halox, Haloderm
How can I avoid the side effects of steroid creams like Betnovate?
Here are some steps to reduce the side effects of steroid creams:
AVOID USE:
Well, the best option is not to buy skin cream from a chemist without checking its ingredients because 90% of them have steroids.
REDUCE USE:
If you still want to use a steroid cream for minor skin problems at home, then make sure you don't use it for more than seven days. If your rash comes back after stopping Betnovate or any steroid cream, it is an indication to consult a dermatologist.
PROPER USE:
Most people use excess cream for their skin problems. You should use a small amount of steroid cream on your skin lesion with the tip of your finger. Massage the cream so that it gets absorbed. There is no use in putting a large amount of cream because it will increase side effects, and most of it gets wasted.
FOLLOW PRESCRIPTION: 
Most steroid creams start harming your skin if applied twice a day continuously for more than 2-4 weeks. Therefore, it is important to follow the instructions given by your dermatologist. Stop using them if you cannot visit your skin doctor. After using steroid cream on the face, many patients turn up after 3-6 months with pigmentation, pimples, stretch marks, rosacea, or thin skin.
DO NOT FOLLOW THE ADVICE OF A PARLOR OR FRIEND OR YOUTUBE:
Recently, many people have started using steroid cream on the face on the advice of parlor girls, friends, or Youtube. Steroid creams like Betnovate make your skin flawless and radiant initially, but the more you apply, the more dependent you get on Betnovate.
How can I stop Betnovate?
Most people develop acne, pigmentation, dull skin, itching, sensitivity breakout, increased hair growth, etc., on the face after stopping Betnovate. In this case, you should consult a dermatologist.
Betnovate or steroid addiction is similar to alcohol addiction. For addiction treatment, you have to reduce the steroid slowly, as explained in the video given below:

I hope this article was helpful. If you wish to consult Dr. Surbhi, MD, for stopping Betnovate. Please call on 7347594947 to book an online appointment.