Can you Re-grow your Hair or Prevent Hair fall with home remedies?
November 23, 2021
2021-11-23 7:23
Can you Re-grow your Hair or Prevent Hair fall with home remedies?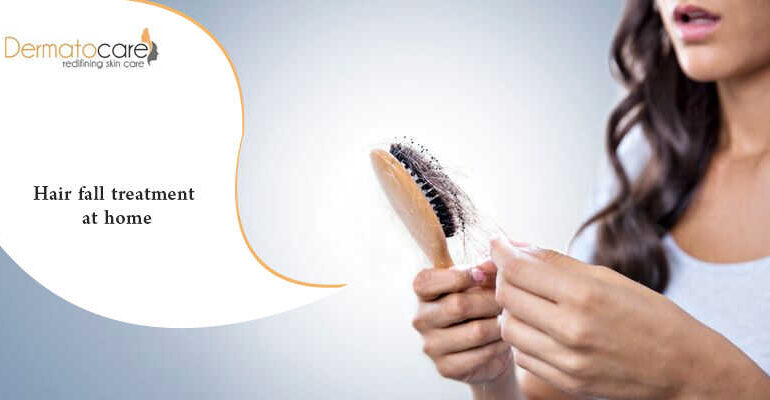 Can you Re-grow your Hair or Prevent Hair fall with home remedies?
Hair is a sensitive issue for both men and women. Hair fall, baldness, receding hair line, and thinning hair have given many people sleepless nights. The market is flooded with so many products promising hair regrowth and improving hairline.
But is it really possible to bring back the lost hair or prevent further loss? Yes, it is. As per my experience of treating thousands of patients of hair loss in past 15 years, hair re-re-growth demands consistency and will power.
We have successfully re-grown in thousands of patients with holistic approach involving hair re-growth diet, vitamins, serum and home remedies in mild cases. However, severe or chronic cases need prescription-based medicines and PRP sessions. The most important secret of hair re-growth is "Start the treatment as soon as you notice hair fall"
If you are reluctant to use Minoxidil for your hair fall, then you can try the home remedies for hair fall, especially if it is mild. While they may not give you 100% results, but they will prevent hair loss or promote hair regrowth to some extent.
Here are a few hair fall remedies you can try at home:
1. Massage your Scalp
Massaging your hair and scalp may promote hair growth. When done using hair re-growth oil, it can prevent hair fall and improve hair growth. In India, it is common for people to use hair oil to massage. You can do it couple of times in week or once a week. Take some oil on your palm and apply it on the hair. Now gently massage the scalp with fingertips. Do it for at least 10 minutes or more to stimulate the scalp. Massaging also helps reduce stress and tension, two of the many reasons for hair loss.
2. Coconut oil
Coconut oil is one of the best ingredients to treat hair loss. It works because it contains fatty acids which prevent protein loss from hair. It has ability to penetrate the hair shaft and nourish the roots.
3. Make your own hair re-growth oil
Ayurveda vouches upon the efficacy of Bringraj, Brahmi and amla for stimulating hair re-growth, while few scientific shows that peppermint and rosemary oil in hair growth.
You can add these proven ingredients to coconut to make your own hair re-growth oil in following proportions in a dry air tight bottle:
95 ml of coconut oil
5 ml Amla oil
4 ml Brahmi oil
5 ml Bhringraj oil
5ml Rosemary essential oil
5 ml Peppermint oil
Mix the oils and use for massaging your scalp once or twice a week. Avoid if your scalp is itching, red, irritated because herbal oils might not suit sensitive scalp.
4. Style with natural Aloe vera hair gel
Do you love styling with hair wax? Well, chemicals in hair styling gels can increase hair loss. Instead try this all natural air gel that can style, nourish and grow your hair.
You need only 2 ingredients:
Aloe vera: Aloe vera nourishes your hair roots, stimulates hair regrowth, and adds a shine to your hair. Make sure you use chemical free organic aloe vera gel for this recipe.
Hair re-growth oil. You can either make your own hair regrowth oil discussed in above section or buy a one of these hair re-growth oil
Mix 100 gm of aloe vera gel with 5 ml of above hair re-growth oil in dry air-tight container. You can further vary the consistency and oiliness of this gel. You can increase the quantity of oil by 5ml (maximum 50 ml) if needed. Use the gel for atleast 3 days before increasing adding more oil to it.
You can use this gel in two ways. First as a hair mask leave on the scalp overnight or for fw hours before wasing your hair. Secondly a hair styling. Wash and towel dry your hair. Massage pea size amount of har gel on your strands and comb to style.
5. Follow healthy Diet
This is a non-negotiable part if you want healthy hair. Poor diet or lifestyle can have a huge impact on your mind and body. Both can lead to stress and anxiety and affect sleep and hence your hair.
Your skin and hair are two indicators of your health. If you are losing hair or have dull skin, you may need to change your lifestyle. Stress alone can trigger hair fall by increasing cortisol level in your body. Which is why, you need to eat properly, sleep well and follow a healthy lifestyle listed in the video given below:
By making a few lifestyle changes, you can easily restore the health of your hair. This is an important part of hair fall treatment at home.
6. Onion Juice
Onion juice is effective against a lot of hair issues including hair loss. It may have a terrible smell, but can help improve your hair growth. It is believed that onion juice improve circulation. Improved circulation is important for keeping hair healthy. You can apply the onion juice on the scalp and leave it for 15 minutes before washing it with shampoo. You can also try a good quality onion oil.
7. Lemon Juice
Just like onion oil, lemon juice too can help with hair fall issues. It helps improve hair growth and maintain clean and healthy scalp. It can clear the dandruff as well.
You can add 5-10 drops of lemon juice add to 1 teaspoon of coconut oil. Leave it on scalp for 15 minutes before washing with a gentle shampoo. You can do it twice or thrice a week to see some effective results.
The Bottom Line
Home remedies for hair fall and regrowth is possible with these simple tips. But home remedies take time to take effect but they do work. You have to be patient and do it regularly so that you can see great results in the end. It is important to eat healthy and lead a healthy lifestyle to keep your hair in a great shape.
Dermatocare is a place where you will find the best solution for hair and skin. You will find home remedies and solution that work. You will also find product recommendations too but they are not sponsored. Learn about skin and hair care online from an expert doctor.
Check out more hair care tips here – https://dermatocare.com/subcategory/hairfall-baldness