How to take care of dry skin on face
August 31, 2021
2021-08-31 6:14
How to take care of dry skin on face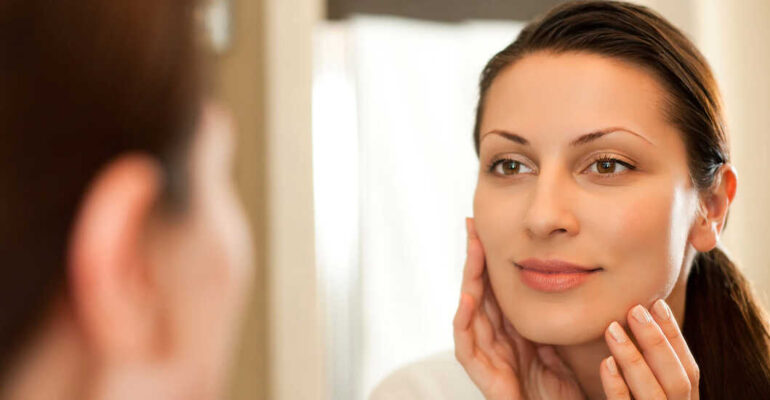 How to take care of dry skin on face
Dry skin might not look bad, but the feeling of stretch and tightness needs to be taken care of with the right skin care routine. Of course moisturizer is your best friend, but a right kind of face wash that does not strip already depleted natural moisturizing factors can be a savior as well. Before I proceed further, I would recommend you to find the cause or aggravating factors behind getting dry skin in this artilce, 3 Effective Steps To Tackle Dry Skin From Our Dermatologist.
The key to craft a right skin care routine is by choosing the "base" that has enough moisturizer for dry skin. So what is the base? Every skin care product has a base in which active ingredients are suspended. Thus, a moisturizing base in form of a face wash or cream is a must.
The choice of active ingredients depend on other key skin concerns like:
Sensitivity: The care of sensitive skin is based on hit and trial method to avoid those ingredients that might trigger breakouts and incorporate soothing ingredients; Follow this link Sensitive skin Handling the breakouts at home
Pigmentation: You have to use skin-lightening cream at night and sunscreen during day time as detailed Skin care Routine and treatment for Hyper pigmentation.
Aging: If you have hit 30's, anti-aging solution is recommended in the form of regular use of sunscreen and anti-aging night moisturizer, but it is never too early to start these 10 anti-aging tips .
I have also devised basic (1 step), advanced (3 steps) and expert (5 steps) skin care regime based on time, effort and money you wish to invest on your skin, as detailed in this article. Here are I am enlisting the full 5 step Expert skin care regime:
STEP 1- FACE WASH
Dry skin is already depleted of its stores of natural moisturizing factors, thus the right type of face wash that does not further strip natural moisturizing factors is paramount. Creamy cleansers that do not foam or lather vigorously are preferred because they are devoid of harsh surfactants. Words like "soap-free" or "non-foaming" on the label ensure that the face wash is devoid of harsh surfactants.
Prefer basic version and avoid ingredients like salicylic acid, neem and tea-tree oil because they might irritate your dry skin. You should wash your face at least twice in a day. After washing, always pat your face dry with a soft towel to leave it slightly wet; and apply cream immediately to trap the water left on the skin. You can also try this homemade face wash for dry skin.
For further details read, Which Is Best Cleanser For My Skin- Know From Dermatologist
STEP 2: ROSEWATER
After washing your face, Spray rose water and massage to hydrate and soothe your skin. Click on this link to find best pure organic Rosewater in India.
STEP 3- DAY MOISTURISER WITH SPF
Sunscreens are an essential part of skin care regime to ward of the harmful effects of UV rays on your face. Here are some tips:
Higher the SPF of sunscreen the oilier it is; so you can use sunscreen with SPF 30+ for around 15-30 minutes before stepping out in the bright sun.
You can also buy make-up or BB/ CC, moisturizer with SPF rather than sunscreen alone. However, the base of these formulations should be a cream base rather than lotion or gel.
Look on the label of sunscreen for words like "Gentle/for Sensitive skin/hypo-allergenic" to ensure that the product is devoid of possible allergens and irritants, especially if your skin is sensitive (DS, DSP skin types). You can also ask your Dermatologist for prescription of pure physical sunscreens meant for sensitive skin in India, however there are available OTC in US and UK.
Also consider other methods of sun protection, as discussed in this article.
For further details read, Which Is Best Sunscreen Or Suncream- Spf 15 Or Spf 30?
NIGHT REGIME
Step and step 2 are same as above
STEP 3- NIGHT MOISTURISER
Night is the time when you can replenish the lost natural moisturizer of dry skin by using a thick moisturising cream because the active ingredients of the cream stays and gets absorb into your skin without the environmental influence of dust, dirt wind, sun, pollution etc. at night.
Whatever night moisturizer you choose: skin lightening, anti-wrinkle or soothing; make sure that it is in a cream base. Let me explain this point further, thicker the moisturizer more is the moisturizing capacity; so creams are for dry skin, lotion for combination skin and serums for oily skin.
The active ingredients in a night cream depend on key skin concerns as explained in Which Is Best Moisturiser For Night- Know Form Dermatologist. However, this might be a little tricky on sensitive skin as it might breakout strong skin lightening and anti-aging ingredients with much effort. So, always begin with handling the sensitive skin; once your skin is already calm, concentrate on skin lightening and finally anti-aging. Anytime your skin breakouts, go back to sensitive skin care regime, and then begin with skin lightening regime or anti-aging as needed.
WEEKLY REGIME:
Once or twice a week you can scrub your face followed a by a face pack:
STEP 1- SCRUB
As you grow old, dead cells are retained on the surface of skin, imparting a dull and patchy look to your skin, and exfoliation of these dead cells might revert the even-toned look. There are two methods of exfoliation-
Scrubbing done at home: Scrubbing removes dead skin cells physically and should be done gently. Avoid scrubbing if your skin is over dry, red, itching, burning, has a lot of pimples, or is breaking out. Here are the key points to consider while choosing your scrub:

Use mild scrubs that are meant for daily use because your skin type might not tolerate regular scrubs.
Look for words like "Mild/Gentle" on the label.
Check the ingredients that are used for scrubbing- Prefer soft over abrasive scrubbing agents.
Do not over spend on skin lightening ingredient, it is unlikely to contribute. However, scrubbing in itself can help in shedding old pigmented skin cells.
For further details read, How To Scrub Your Dead Skin- Know From Dermatologist

Chemical peels done by dermatologist, this method has been detailed in Understand Chemical Peeling- From A Dermatologist
STEP 2- FACE PACK
Face pack, the time tested method of skin care has an advantage of providing larger amount of active ingredients on your skin, that too for longer durations. Gentle scrubbing followed by face pack constitutes our two-step home facial that can be done once or twice a week. Face packs whether made at home or from market, should be chosen carefully. Here are a few key points:
The base of the face pack: Shea/cocoa butter, milk or oats are apt base for face pack in your skin type. Check out this easy DIY face pack for dry skin.
The active ingredients depends on the key skin concern:
Your Skin and Weather
In humid weather though the dryness of your skin might decrease, you still cannot stay without moisturizer for more than a day or two.
In dry weather, your skin gets very dry and tight and you cannot stay without moisturizer for even a single day. You might even have to apply moisturizer several times a day.
Planning a Holiday?
Holidays in deserts, hills, and on cold windy beaches, along with lengthy air travels might be challenging for your dry skin. So carry a stock of thick bland cold creams and sunscreens with SPF of at least 30 with you. You can skip anti-wrinkle/skin lightening cream, scrubs, face pack etc. to keep the regime simple during holidays. The major focus should be on sun protection. Do not forget to follow the skincare and diet tips recommended Dr Malavika Kohli, top cosmetic dermatologist of India in an interview with Dermatocare.
DISCLAIMER: Kindly note that each one of us has different skin and it can behave differently to same skin care product or regimes. The skin care products might not suit you or benefit your skin as mentioned and also the advice given throughout the website is not a substitute for medical advice. Dermatocare team is not responsible/liable for any kind of damage arising from following our skin care regimes. For further details read, terms and conditions.