Finasteride Side effects I Dermatologist reveal the truth
September 23, 2021
2022-12-15 8:43
Finasteride Side effects I Dermatologist reveal the truth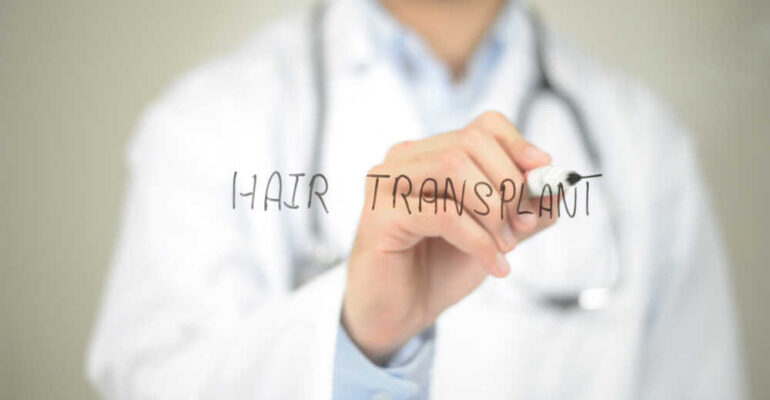 Finasteride Side effects I Dermatologist reveal the truth
"Doctor, what are Finasteride side effects? Are they serious?"
This is the first question I get from patients with whom I discuss the possibility of eating Finasteride for male pattern hair loss. Most patients have already read about it and are skeptical about taking this medicine.
Finasteride is prescribed at a low dose of 1 mg for Male pattern hair loss, while a dose of 5 mg is used for Begnin prostatic hyperplasia. Therefore, patients with hair loss might not get at side effects listed on the internet.
Moreover, FDA approved Finasteride for use in AGA in 1997. The safety of this drug has been studied extensively.
This article will discuss Finasteride 1 mg side effects, precautions, mechanism of action, and efficacy.
How does Finasteride promote hair regrowth?
DHT stands for Dihydro-testosterone. In males, 4-8% of testosterone is converted to DHT by enzyme 5 alpha-reductase. DHT is responsible for converting long and thick terminal hair into small and fine vellus hair Androgenetic alopecia.
Finasteride blocks the action of the 5-alpha-reductase enzyme that converts testosterone to DHT. As the DHT level decreases, the miniaturization of hair follicles stops.  The increased testosterone level promotes hair growth in the next 3-6 months. Finasteride 1 mg does not reduce DHT by 100%. Therefore, results take time to show up.
Before and after finasteride
Finasteride usually regrows hair that has not been destroyed by fibrosis. Therefore results are much better if you start it early. For example, in this patient of 25 years, an excellent result was seen at six months.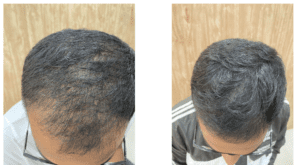 The results might not be satisfactory in advanced cases. However, most patients are happy because they look younger. Given below is the result in a patient for 40+ age: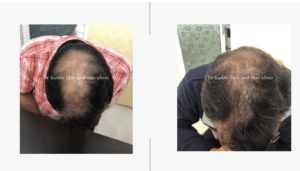 Unfortunately, Finasteride does not cure Male pattern baldness. Once you stop finasteride, the hair fall will start. Therefore, it is important to continue Minoxidil and PRP to sustain hair growth as long as you want. 
What are finasteride side effects?
The most common side effects reported is decreased interest in sexual intercourse, loss of sexual desire, and performance. There is a chance of reduced erection as well. While these side effects are mentioned, as per my experience, 95% of patients do not experience them.
The rare side effects include breast enlargement, pain in the testes, allergic reactions, etc. The most dreaded side effect of Finasteride is infertility. We have discussed this in detail in the next section.
Post Finasteride Syndrome
A few studies show that sexual side effects might persist for more than three months after the discontinuation of finasteride. In certain cases, sexual dysfunction might continue for many months or years. This is termed Post Finasteride Syndrome.
US Food and Drug Administration mentions Finasteride 1 mg can be associated with persistent sexual and nonsexual adverse effects.
Can Finasteride affect the sperm and result in infertility?
The chances of infertility with Finasteride are very rare. They are noticed in males sub-fertility and have oligospermia at the beginning of therapy.
Though a decrease in sperm count is common after taking finasteride, recovery occurs after three months of discontinuation.
Given below are case reports of males who might have prolonged changes in sperm after taking Finasteride.
A case report of a 48-year-old man on 1 mg finasteride for one year was unable to bear children despite normal semen analysis. The author found that there was DNA damage in sperm.
A recent study done in 2021 showed that the use of finasteride may affect Ca2+ signaling in human sperm through an interaction with the PGE1-binding site, but to which extent it alters the chances of successful fertilization needs further investigation.
In contrast, in this case report, 2 males with oligospermia due to finasteride 1mg for one year showed significant improvement in sperm parameters after 6 months of stopping the treatment
In a study done in 2013 in an infertility clinic, 27 men taking Finasteride with infertility were evaluated for sperm parameters. They found that Finasteride 1 mg may cause reduced sperm counts in some men. However, counts improved dramatically for the majority of men after finasteride discontinuation. 
What precautions should I take while taking finasteride?
Finasteride should not be used in you are planning a pregnancy in the next 1-2 years. Secondly, if your wife is pregnant, she should not touch finasteride tablets.
Avoid Finasteride if you have liver problems. This drug is not safe for females of childbearing age and boys less than 18 years of age.
Avoid donating blood while taking Finasteride and for up to 6 months of stopping it. This is done to avoid your blood being donated to a pregnant female.
Finasteride versus Dutasteride
In the past few years, Dutasteride I has show better results in cases of male pattern hair loss.
White Finasteride inhibits on type 2 form of 5-alpha educates enzyme, and Dutasteride inhibits both type 1 snd 2. This study compared Finasteride 5mg to Dutasieride 0.5 mg. The differences are tabulated below:
| | |
| --- | --- |
| Finasteride 5 mg (high dose) | Dutasteride 0.5 mg |
| Inhibits type 2 alpha reductase enzyme only | Inhibits type 1 and type 2 alpha reductase enzyme |
| Reduces the level of DHT by 70% approximately | Reduces the level of DHT by 90% approximately. |
| DHT level recovered after stopping medicine in 8 weeks | DHT level recovered after stopping medicine in 12 weeks |
| Semen volume and count decreased but were not statistically significant. | Semen volume and count decreased but were not statistically significant. |
| Sperm motility decreased in 10%, which persisted in 9% at a follow-up of 1 year. | Sperm motility decreased in 10%, which persisted in 6% at a follow-up of 1 year.r. |
| Sperm morphology was normal. | Sperm morphology was normal |
The point to be noted here is that 5 mg of Finasteride was used in the above study. We use a much less dose of 1 mg for male pattern hair loss. 
To conclude, Finasteride's side effects are rare and reversible. However, in the rare case, they can persist even after stopping it.