Hibiscus Tea Benefits- Cup A Day Might Keep Heart Attack Away
July 3, 2013
2013-07-03 10:43
Hibiscus Tea Benefits- Cup A Day Might Keep Heart Attack Away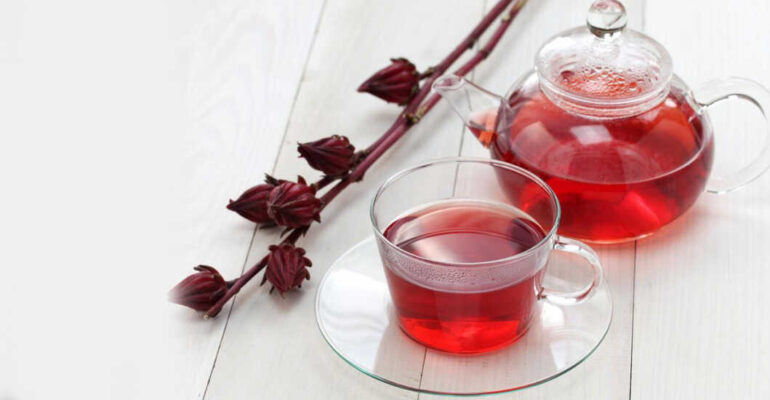 Hibiscus Tea Benefits- Cup A Day Might Keep Heart Attack Away
My research on benefits of Hibiscus for skin, revealed several studies that show blood pressure and cholesterol lowering effect of hibiscus in heart patients. Thus, a cup of hibiscus tea daily might keep heart attack away. Though, Hibiscus has proven benefits for heart patients, it is not a substitute for medications, and we do not recommend you to leave your medication just because you started drinking Hibiscus tea.
6 health benefits of consuming Hibiscus:
Lowers blood pressure: Regular intake of Hibiscus tea over 4- 6 weeks reduces both systolic and diastolic blood pressure in various studies both in humans and animal model.
Lower cholesterol level: Hibiscus reduces LDL cholesterol level as documented in many studies, though no effect on HDL cholesterol was observed.
Reduce risk of heart attack: The potent anti-oxidant, anthrocyanin in Hibiscus inhibit atherosclerosis, in simple terms it might prevent narrowing of arteries in heart patients, might even keep a heart attack away!
Weight loss: Hibiscus extracts have anti-obesity action.
Diabetes: Hibiscus tea can help in lowering blood sugar levels besides delaying the development of diabetic neuropathy and diabetic liver changes.
Liver protective: Hibiscus has liver protective activity and is beneficial for patients taking hepatotoxic medications, chronic alcoholics (no evidence found) and Diabetes.
Anti-cancer: Studies show anti-cancer benefit of Hibiscus extracts, including blood cancer.
Anti-bacterial: Hibiscus can inhibit the growth of bacteria especially E.coli.
Anti-depressant: Seeds and leaves of Hibiscus were shown to have anti-depressant effect in one study.
Who should drink Hibiscus tea regularly?
Hibiscus tea benefits can boost up the health of everyone, but this wonderful herb might especially benefit people with:
High Blood Pressure
High Cholesterol level
Personal or Family history of Cardiac diseases
Diabetes
Liver problems
Obesity
How to use Hibiscus?
Redder the flowers of Hibiscus more are the benefits. These flowers can be used to make a tea, or pre-formed Hibiscus tea is available both in India and US. In India, sauce or chutney made of Hibiscus flowers might extend similar benefits.
What are the side effects of Hibiscus tea?
Hibiscus in low dose as in tea is safe, however higher concentrations are toxic to liver, sperms and have diuretic effect. Hibiscus has week inhibitory action on Cytochrome P450 and hence can alter availability of many drugs. Thus, Hibiscus should not be taken with Hydrochlorothiazide medicine and Paracetamol (acetaminophen) should be taken 3 to 4 hours before taking Hibiscus tea. We recommend you to consult your doctor before starting Hibiscus tea on regular basis, especially if you are on regular medications.