How to heal sunburn-10 steps guide from dermatologist
January 3, 2014
2014-01-03 10:16
How to heal sunburn-10 steps guide from dermatologist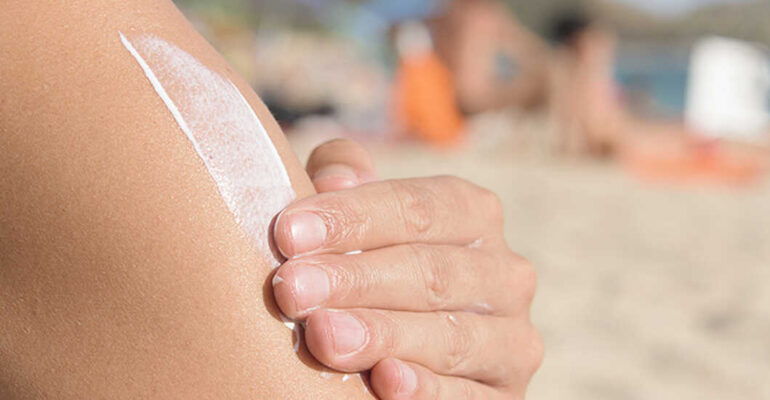 How to heal sunburn-10 steps guide from dermatologist
"Doctor, my sunburn is not healing? My skin does not stop peeling? What are sunburn stages? How to heal sunburn ? Are there any home remedies to soothe sunburn?" I have answered all these questions in this article by providing step-to-step guide on how to heal sunburn. If you follow this guide, you will surely beat the usual sunburn timeline. So read on!
STEP 1: Cool the burnt skin
Sunburn occurs because of excessive heating of your skin. Our priority is to bring down the temperature of your skin by:
As soon as you notice that your skin is getting burnt, step indoors.
Apply cold compresses by placing a soft cloth (muslin cloth is best) dipped in either cold water or cold low-fat milk on burnt area.
Take frequent showers and rest under the fan or air conditioner to accelerate the cooling of your skin.
Meanwhile, cool the aloe vera based soothing cream by placing it in the refrigerator.
STEP 2: Moisturise your skin
Sunburn dries your skin hampering the natural healing process. Here are few tips to find the best sunburn relief cream:
Avoid thick creams, oils, ointments, petrolatum jelly, etc. because they might act as insulators preventing the heat loss.
Avoid harmful chemicals like Parabens, Formaldehyde releaser, BHT, etc. because the penetration of these ingredients is enhanced through the burnt skin. The common brands available for sunburn relief in the US have irritating ingredients like menthol, tea tree oil, alcohol, propylene glycol, colouring agents, fragrances, etc.
I have analysed the ingredients list of top 50 brands on amazon.com before recommending the brands along with correct usage in this article,Best Sunburn Relief Or OTC Treatment In US
Few brand suggestions:
STEP 3: Take painkillers
You should take a tablet of Paracetamol (read the possible contraindication for this medication first) after your meal for moderate to severe sunburn. This will not only reduce discomfort but also halt the inflammatory process in your skin. Repeat the medication in 8-12 hours after meals, if needed.
STEP 4: Apply Steroid
Hydrocortisone is a mild steroid that is available Over-The-Counter. It is indicated if the redness of your sunburn refuses to settle with above measures. It can be applied twice a day on the burnt skin until redness subsides. 1 % hydrocortisone cream from Aveeno is best for sunburn because it has soothing oats base. Remember that there is no role of steroid or Paracetamol once the redness is gone and peeling begins.
STEP 5: Do not burst open blisters
Sunburn blisters might appear in case of severe sunburn; all the measures should be taken to keep them intact and get them drained preferably from a medic. Any raw area formed after bursting of blister should be covered with antibiotic cream. Avoid Dettol or spirit or any other antiseptic because it might irritate the sensitive skin further.
STEP 6: Try homemade soothing paste
Mix freshly extracted aloe vera, cold milk, oats and rosewater to make a paste and apply it on the sunburn. The home remedy should be used only after cold compresses, blister care and paracetamol.
STEP 7 Stay hydrated
Dehydration often accompanies sunburn, thus, make a point to drink lots of liquids; may it be plain water, coconut water, juices or smoothies, however, avoid alcoholic drinks!
STEP 8 Take rest and seek medical help
Seek medical help immediately if the extensive area of skin gets sunburnt or if symptoms of dehydration or heat exhaustion are evident. Any sunburn that does not settle despite taking above measure needs a medical opinion. Contrary to common belief, sunburn can take a toll on your body, thus, take rest in cool place for a day or so.
STEP 9 Avoid any harsh chemicals on sunburn
Our skin takes 28 days to renew itself; until then we should avoid any harsh chemicals that can delay the healing process. Best is to restrict the care on sunburn skin to use of mild cleanser followed by a soothing moisturising cream. Do not experiment with the home remedy or new products without prior patch test and avoid bleach, toners, hair removal, waxing, peels, etc. Ensure that the sunburnt skin does not see the sun for another 2-4 week. This will not only promote healing but also reduce the chance of getting pigmentation after healing of this area. We recommend covering up the area with a thick cloth and use a physical rather than chemical sunscreen generously to cover up the burnt skin.
STEP 10 Moisturise the flaking skin
Sunburn leads to the death of many skin cells that are shed from your skin in the form of flaking or even peeling.  At this stage, there is no role of steroids or anti-inflammatory medication. You can apply a generous amount of coconut oil or moisturiser with skin identical moisturising factors like Cetaphil Restoraderm lotion to accelerate the shedding process.
Next time you go on a holiday, do not forget to carry a soothing aloe vera cream, soft cloth, sunscreen and paracetamol, and follow this  step-to-step guide  for tackling the sunburn.
FURTHER READING