How to scrub- know from dermatologist
September 1, 2021
2021-09-01 6:36
How to scrub- know from dermatologist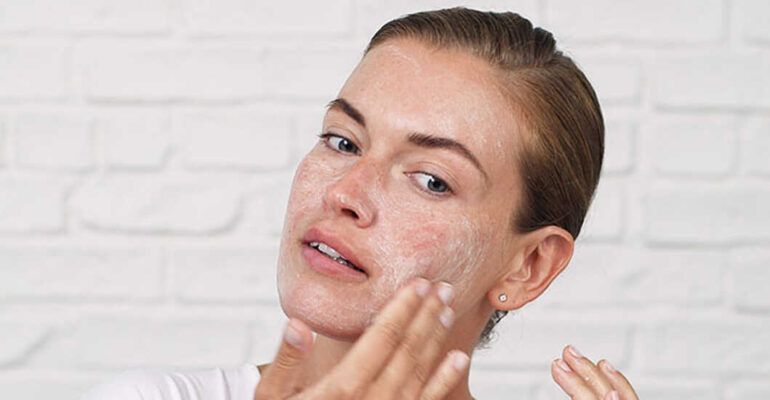 How to scrub- know from dermatologist
Scrubbing is an essential step for wholesome skin care because it not only sheds the dead cells but also improves penetration of other creams and face packs. There is no debate on whether scrubbing is important, but choosing the right kind of scrub at the right time and using it in the right way is what matters!
In this article, I have mentioned the steps of effective scrubbing along with situations when you should avoid scrubbing altogether.
Doctor, our skin renews itself every month then why do we need to scrub?
You are bestowed with the best of skin in your childhood. However, oil secretion increases during adolescence, trapping the dirt and pollutants and the resultant grease blocks your pores. Don't you want to scrub that grease way? Furthermore, in the thirties, the highly efficient mechanism of self-renewal slows down. As a result, dead skin cells remain stuck to the outermost layer of skin giving a patchy and dull look. Here comes the role of exfoliation.
What are the different methods of exfoliation?
There are two methods of exfoliation:
Scrubbing uses an abrasive material to scrape the surface of the skin physically to remove the dead cells that stick to the surface of the skin. There is a lot of difference between the effective scrubbing and overzealous scrubbing; as the later removes the healthy skin cells also.
Chemical peels done by Dermatologist consist of the application of medicine that helps in shedding dead skin cells so that new fresh skin layer surfaces on your skin. Chemical peels is an excellent way for facial rejuvenation that reduces your dark patches & spots and improves dull, patchy and tanned skin.
How should I choose my scrub?
Regardless of your skin type, your scrub should be gentle rather than abrasive nutshell based. The rough and abrasive scrubs can cause tiny tears in your skin, causing more harm than benefit. Before buying check the abrasiveness of the scrub by rubbing over the back of your hand from the sample pack. Do not buy, if it hurts or causes redness. When it comes to skin type here are few tips:
Oily skin types can choose gel-based scrubs.
Dry skin types should choose the cream based ones.
Those with sensitive skin can use scrubs meant for daily use with super-soft granules but once in a week.
How often should I scrub my face?
The frequency of scrubbing depends on how sensitive your skin is; resistant one can do it as frequent as thrice in a week. However to simplify the skin care regime, we recommend scrubbing once a week followed by application of face pack (termed as two-step home facial).
What is the right method of scrubbing the face?
Scrubbing, if done excessively and aggressively can cause micro-trauma to the upper layer of skin. The steps for effective scrubbing are:
Wash your hands first.
Splash tepid (not hot or cold) water generously on your face.
Massage scrub gently in a circular motion starting from your T-zone then cheeks and end with areas around eyes, nose and mouth. Spend more time on your T-zone than cheeks. You should not spend more than few minutes in the whole process of scrubbing.
Rinse well with tepid water.
Always pat dry (rather than rubbing) with a soft towel.
Apply face pack.
When should I avoid scrubbing?
Have you tried scrubbing dry, flaky skin or red or pus-filled pimples? Did it help? It might help but only temporarily. Scrubbing should be strictly avoided if you notice anything abnormal on your face including:
Red or pus-filled pimples.
Red and irritated, sensitive skin.
Sunburn.
Dry and flaky skin.
Any cut, burn, bruise or boil.
Any rash on your face.
You can continue using your scrub if you develop dark spots or dark patches because scrubbing will help by removing old pigmented cell and by increasing penetration of skin lightening creams.