Oily skin care for instant results I Dermatologist Guide
August 31, 2021
2023-01-02 12:24
Oily skin care for instant results I Dermatologist Guide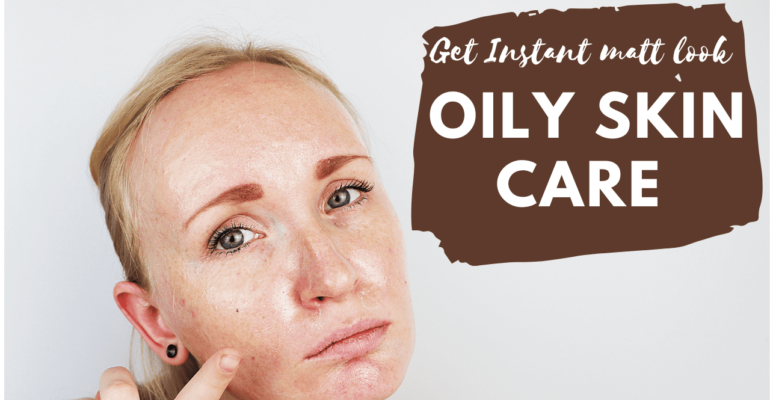 Oily skin care for instant results I Dermatologist Guide
"Looking for a dermatologist-recommended skincare regime for oily skin?"
Then you are at the right place! I love formulating skin care regimes at my clinic and for online patients across the globe. Oily skin is my favorite. Do you know why? Because the right skincare regime shows instant results.
What is the benefit of oily skin care regime?
Dermatologists recommend skin care regime for oily skin helps by:
Reducing the greasy and tired look
Your face does not look shiny and dark in photographs.
Black/whiteheads on T zone tend to settle in a month (let's be realistic)
Open pores shrink a bit, but new ones don't develop.
Red or pus-filled pimples if you start acne-specific products mentioned below.
We will also help you find the best sunscreens/creams that won't make you greasy, sweaty, and hot.
Oily skin care regime
Are you ready to restore your radiant and matt look back? Here is what you need to do in your skincare regime:
Daily: CTM (cleansing, toning, and moisturising) regime three times a day. Watch this video to learn about how to do CTM correctly.
Weekly: Scrub your face, followed by a face pack.
Morning regime
Step 1: Face wash
A face wash that can remove oils from the skin is a must. But, most of you make the mistake of using a face wash that strips the Natural moisturizing factors. If your skin is over-dry or oily after washing, change your face wash. The end result of cleansing should be normal to slightly dry skin.
Another mistake many patients make is washing the face again and again. You should not wash your face more than three times. If your face gets oily despite washing three times a day, you should add salicylic or retinol-based gel to control oil secretions in your night regime.
Lastly, ensure that you wash your face meticulously, as shown in this video, How to wash face properly.
The choice of face wash depends on the severity of oil secretions and sensitivity. Face wash cannot clear your dark spots or wrinkles, so there is no point spending on them.
Brand recommendations: Best face wash for oily skin
Step 2: Rose water
While toners might remove excess oils, they can damage your skin. Instead, spray rose water and massage it until gets absorbed. Rose water hydrates and soothes your skin.
Brand recommendations: Best pure organic Rosewater in India.
Step 3: Vitamin C serum
Vitamin C serum delays aging reduces pigmentation and does ongoing skin repair. Therefore, we recommend introducing vitamin C at the age of 20 years. You can use vitamin C serum containing salicylic acid to control results oil and prevent open pores like La Roche- Posay Pure Vitamin C10
Brand recommendations: Best Vitamin C serum
Step 4: Sunscreen
Sunscreens with high SPF occlude your pores and make you look greasy. Therefore, the sunscreen of SPF 30 is the best pick. For casual exposure, put one coat around 30 minutes before stepping out in the bright sun. For sever sun exposure, give second coat just before leaving in sun.
If sunscreen makes you look greasy, dab face powder around 15 minutes after applying sunscreen to achieve a matt and fresh look, as shown in this video. Repeat the application after every 3 hours if you stay outdoors longer.
Your sunscreen should pass the following criteria:
-Lightweight formula
-First ingredients should be water
-Avoid silicon-based sunscreen because they occlude pores
-Gel/lotion/fluid preparation is best
-Should get absorbed in the skin rather than forming a thick layer on top
-Zinc-based sunscreen might reduce acne as well
-SPF 30 is enough for everyday use. The higher the SPF, the oilier is sunscreen.
Brand recommendations: Best dermatologist-recommended Sunscreen
Step 5: Make-up
Here are some tips for using make-up:
Use foundation or BB cream with salicylic acid, for example, Maybelline Dream Pure BB cream.
Buy a thin or liquid foundation (that spreads quickly) to cream or stick ones.
Avoid layering of make-up products.
Don't try to hide your open pores with daily makeup. Instead, restrict the same to essential occasions.
Remember to remove your make-up before sleeping.
Using a compact powder that gives foundation coverage and absorbs extra oil is even better.
Noon Regime
Most of you would feel that your looks greasy and dark by mid-day. In this case, follow the steps given below:
Step 1: Wash your face.
If you can't wash your face at the workplace, then wipe your face with cotton dipped in micellar water. It removes excess oils and gives an instant matt look.
Brand Recommendation: Dermatologist Recommended Micellar water
Step 2: Rose water
Spray chemical-free pure rose water on your skin and massage your skin.
Step 3: Sunscreen
Put on sunscreen only if you plan to go out in the next 30 minutes.
Night regime
You should do your night regime immediately after reaching back home from work or after finishing the kitchen work to remove oil, dust, pollutants and dead skin cells from your skin. Step 1 and step 2 are same as morning regime. Begin by removing make up with micellar water instead of cleansing milk, followed by face wash and rose water.
Step 3: Night Moisturiser
You should use a night moisturizer in gel, lotion or serum base with active ingredients that can address your crucial skin concern. It is very important to solve the skin issues in the following order:
Sensitive skin
If your skin is red, itchy or irritated, avoid any kind of anti-acne, skin-lightening or anti-aging ingredients. The best option is to use a good quality aloe vera gel until the breakouts improve, as discussed in this article: Sensitive skincare I Dermatologist guide
Acne
Oily skin is prone to acne. Using a proper night treatment product is key to reducing breakouts. You can use salicylic acid /retinol on the full face, followed by acne spot treatment on red pimples. Read this article to know more, Acne skin care regime I Dermatologist Guide
Blackheads and open pores
Oily skin is bound to get open pores and blackheads. Regular use of Salicylic acid (<25 years) and retinol (>25 years) is high recommended.
Brand recommendations:
Salicyclic acid: Best salicylic acid or BHA serum: Dermatologist recommended
Retinol: 9 Best retinol or Retinaldehyde I Dermatologist Pick
Pigmentation
If dark spots or dark patches are your major skin cancer, then you should follow a skin care regime given in this article: This Pigmentation Regime by Dermatologist works in 60% of cases
Ageing skin
If your skin does not have major skin concerns like sensitivity, acne, or pigmentation, start using retinol products after you cross the age of 25 years. retinol would prevent following
Ageing
Open pores
Black/white heads
Build-up and dull look
Brand recommendations: 9 Best retinol or Retinaldehyde I Dermatologist Pick
Weekly regime
Step 1: Scrub
Scrub your face gently without applying undue pressure for not more than 2-3 minutes. Rinse with water and pat dry. Avoid scrubbing if you have many black/whiteheads, red pimples, or nodular acne.
Brand recommendations: Dermatologist-recommended scrub
Step 2: Face Pack
Clay-based face pack can absorb extra oils from your skin along with removing build-up. Put a thick layer of face pack after scrubbing your face. Let it dry for 10-15 minutes and then remove it. If your skin feels dry put a lightweight moisturizer.
Brand recommendations: Click here for dermatologist-recommended brands of face packs
FAQ
How to change your regime with the weather?
Humid weather can make your skin really oily giving you a greasy and tired look. This is the time when you tend to get black/whiteheads and pimples. Just changing a face wash might help to control oil secretions. if this does not help the. you can add AHA based serum at night.
In winters or dry weather do bring in a sigh of relief as your skin gets less oily and pimples might settle as well. You step down your face wash in winters.
Planning a Holiday?
Holidays in hot and humid areas can lead to a breakout of pimples. So, do not forget to pack your face wash, oil cleansing wipes, and sunscreens. You can skip anti-wrinkle/skin-lightening creams, scrubs, face packs, etc. to keep the skincare regime simple.
How to change the skincare regime with age?
Teenage is the toughest time when the oil secretion is at its peak; and so are the pimples. However, oil secretion usually reduces with age, especially after menopause. Nevertheless, some of you might continue to get pimples, especially around your mouth even at a later age. You might get open pores along with the increased thickness of your skin; the duo appears like an orange peel.
Always use a retinol-based anti-ageing product at night to control oil secretion, open pores and orange peel appearance.