Open pores: Dermatologist guide
July 30, 2022
2022-08-10 5:19
Open pores: Dermatologist guide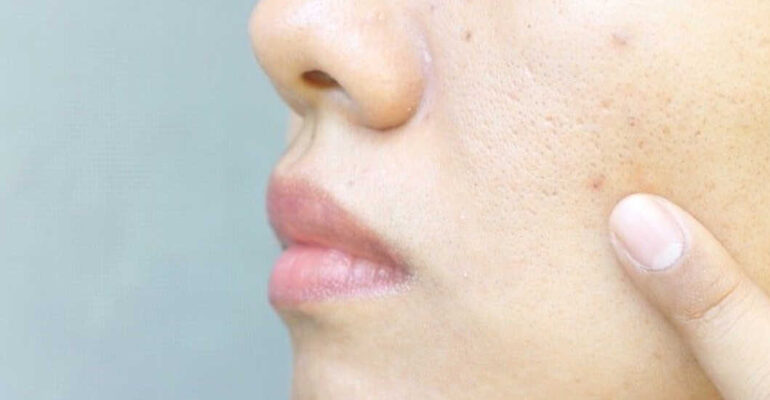 Open pores: Dermatologist guide
"Doctor, is there any open pores cream that can shrink the pores on my face?"
Salicylic acid and retinoid based cream can reduce the pores. But let us understand the basics first.
Open pores are the dilated opening of oil glands concentrated mainly on T-zone and surrounding cheeks. They look like small pits, giving your skin a dimpled appearance similar to an orange peel. Pores impart an irregular, dull and aged look to your face.
Why do you get open pores?
According to this study, following are causes of enlarged facial pores:
-high sebum excretion
-decreased elasticity around pores
-increased hair follicle volume.
-chronic recurrent acne
-change in sex hormones
-wrong skin care regime
Another study done in 30 males and 30 females, shows thats sebum secretion levels showed positive correlation with facial pores.
To conclude, open pores usually occur because of unchecked oil secretions at the younger age and get worse when your skin gets lax in old age. Therefore, early treatment with open pores cream containing salicylic acid is important.
Skincare Regime for Open Pores
Open pores develop because of using thick skin care products or layering of products. Therefore, if you should follow simple CTM regime twice a day with products given this articles then, your pores won't increase.
Watch the video given below to know how to do CTM(cleanse, tone, moisturise)
Morning Regime
Following are step of morning regime- fcae wash, rose water, Vitamin C serum, sunscreen (optional) and make up (optional).
Step 1 Face wash:
Open pores occur because of unchecked oil secretions, therefore it is important to use face wash that effectively removes oils from your skin, yet not over dry your skin.
Watchouts
-Do not wash face more than 3 times a day. Your face might look greasy few hours after washing your face. However tempting it might be, never wash your face more than three times a day because this can lead to oil rebound.
-If you still have excess oil secretion, use salicylic acid (<25 years of age) or retnoids (>25 years of age) to control your oil secretions.
-Always pat dry your face. Avoid rubbing vigorously because friction can cause oil rebound.
Brand recommendations: We have listed the face wash for oily skin order of oil controlling capacity in this article, Best face wash for oily skin type
Step 2 Toner:
Avoid using alchol based toner. They destroy the natural barrier of skin. Pat dry your face after washing and spray rose water. Massage rose water until it gets absorbed. Rose water hydrates and soothe your skin without clogging your pores. Click on this link to find the best pure organic Rosewater.
Step 3: Vitamin C Serum
Vitamin C serum might not directly affect open pores. But, Vitamin C in form of L-Ascorbic acid is must include ingredients after 20 years of age. It delayed ageing signs, brighten your skin, reduces dark spots, and does ongoing skin repair.
Brand Recommendation: Best Vitamin C serum in India and United States
Step 3 Sunscreen:
Sunscreen tend to clog pores. You can avoid sunscreen indoors. But it is absolutely essential before stepping out. Apply a light-weight sunscreen 30 minutes before going out in sun. Repeat every 2-3 hours if needed.
Your sunscreen should pass following criteria:
-Light weight formula
-First ingredients should be water
-Avoid silicon based sunscreen because they occlude pores
-Gel/lotion/fluid preparation are best
-Should get absorbed in skin rather than forming a thick layer on top
-Zinc based sunscreen might reduce acne as well
-SPF 30 is enough for every day use. Higher the SPF oilier is sunscreen.
Make sure you apply atleast a coin size amount on full face. Sunscreen take 30 minutes to act. So apply them 30 minutes before going out in sun.
Cetaphil PRO Oil Control Moisturising Lotion
Cetaphil PRO Oil Control Moisturising Lotion SPF 30 is a good option for acne prone skin. It fulfils all of the above criteria. It has anti-agent(zinc gluconate), Anti-oxidant (Vitamin E) and anti-inflammatory agents(allantoin and panthenol).
Step 4 Makeup:
Here are some tips to use make-up:
Use foundation or BB cream with salicylic acid, for example, Maybelline Dream Pure BB cream.
Prefer thin or liquid foundation (that spreads easily) to cream or stick ones.
Avoid layering of make-up products.
Don't try to hide your open pores with daily make-up rather restrict the same to important occasions.
Do not forget to remove your makeup before sleeping.
Even better is to use a compact powder that gives coverage of foundation and absorbs extra oil. Below are product recommendations:
INDIA
UNITED STATES
Noon Skin Care
Most of you would feel that your looks greasy and dark by mid-day. In this case, follow the steps given below:
Step 1: Wash your face.
If you can't wash your face at work place, then wipe your face with cotton dipped with micellar water. This remove excess oils and give an instant matt look.
Garnier Skin Naturals, Micellar Cleansing Water
Step 2: Spray chemical-free pure rose water on your skin and massage your skin.
Step 3: Put sunscreen only if you plan to go out in next 30 minutes.
Night Regime
Step 1 and 2 are same as above
Step 3 Night cream for open pores:
My patients often ask me, "Is there a effective open pores cream?" Yes, there is.
Open pores occur because of unchecked oil secretions.
Open pores cream should have either salicylic acid or retinoids.
Both control your oil secretions and reduce new open pores and shrink the existing one to some extent.
Salicylic acid <25 years :
Regular use of salicylic acid helps in reducing oil secretion, open pores and white/blackheads. If you are less than 25 years of age, you can incluse salicylic 2% serum in your night regime especially in humid weather.
Salicylic acid is star ingredient for reducing black/white heads and open pores. It also reduces oil secretion. It gently exfoliates your skin leading clean and brighter look to skin. Do not combine salicylic acid with Adapalene or tretinoin, because both have similar action. Combination is too drying.
Read this article to know which is best brand of salicylic acid and how to use it correctly.
The Ordinary Salicylic Acid 2% Solution
The Ordinary Salicylic Acid 2% Solution comes with advantage of witch hazel extracts that has anti-microbial action on acne.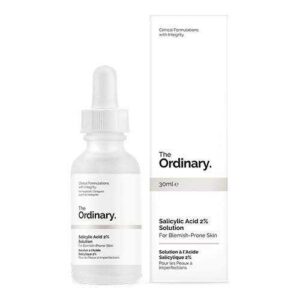 Retinoids for >25 years:
After 25 years of age, lax skin increase the appearance of open pores. Retinoids help in reducing wrinkles, plumps up your skin, control oil secretion, reduces open pores and fine lines on regular use.
Read this article to know which is the best brand of retinoid and how to use them.
Weekly Regime
On weekend, you can boost up your oil control regime by doing two-step facial that involves scrubbing away the debris clogging your pores followed by an oil control face mask.
Step 1 Scrub:
Exfoliation removes dead cells that clog your pores. You can scrub your face once or twice a week with either:
Dermalogica Daily Microfoliant scrub that has both chemical and physical exfoliants along with oil-controlling ingredients.
Homemade scrub that is made by combining brown sugar and aloe vera.
Step 2 Face pack:
Face pack allows ingredients to act on your skin over a long period of time. And when it comes to open pores, they are absolutely essential to tighten pores and absorbing extra oils. Normaderm Triple Action 3 In 1 Cleanser is a salicylic acid based 3-in-1 product that can be used both as scrub and face pack once or twice in a week. however, do not use it daily.
Treatment of open pores
There are multiple options available with the dermatologists today to minimise open pores. However, studies regarding the effectiveness and response rate are still lacking. The treatment options to minimise open pores include:
Salicylic Acid:
Beta-hydroxy acid like salicylic can seep into the opening of sebaceous ducts and remove the keratin plug; thus help in reducing your open pores. Currently, many OTC face wash and toners with salicylic acid are available in the market as discussed earlier in this article. You can also consider fortnightly salicylic acid peels from the dermatologist, which is an excellent way to control oil secretions and decrease open pores.
Retinoids:
Topical and oral retinoids help in reducing oil secretions and open pores. They are available both OTC and by prescription; later might be more effective.
LASERS:
There are a couple of lasers which might be effective in reducing open pores. These lasers induce collagen remodelling and have been used effectively in reducing bigger pits and craters on the skin caused by acne scars; however, its efficacy in open pores is still to be explored.
TCA CROSS:
It is a simple but effective method to reduce large open pores; however, it has a downtime of 7-10 days. The procedure comprises of application of tri-chloro-acetic acid on the wall of open pores with a toothpick leading to the formation of the black scab on each of treated pores which fall off in 7-10 days. Results are good with 30-50% reduction in the size of pores, and repeated sessions can be done if required.
Derma-rollers or Micro-needling:
These might help in reducing open pores by collagen remodelling but are less effective than LASERS. To know more watch this video on micro needling.