PRP or Platelets Rich Plasma injection- Dermatologist Guide
August 27, 2021
2021-08-27 10:20
PRP or Platelets Rich Plasma injection- Dermatologist Guide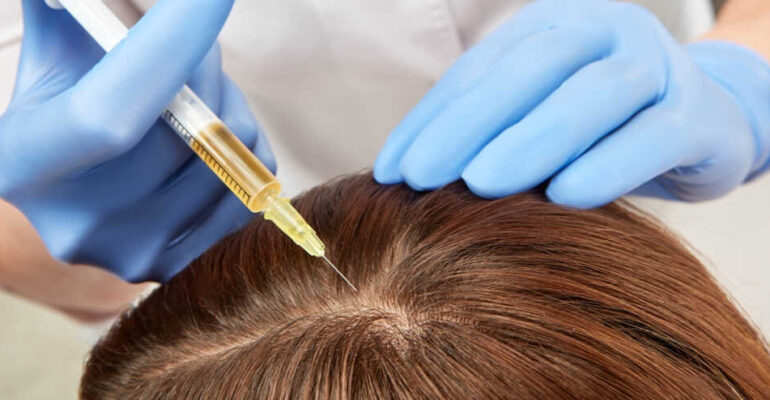 PRP or Platelets Rich Plasma injection- Dermatologist Guide
PRP injections or Platelets Rich Plasma treatment is an innovative technology that has proven to be effective in various disorders. PRP is indeed an effective yet affordable solution for hair loss and facial rejuvenation.
What is PRP injection or Platelets Rich Plasma therapy?
PRP is that portion of blood that contains approx. 3 to 5 times the number of platelets found in the normal circulating blood. In addition to this, it also contains platelet-derived growth factor (PDGF), vascular endothelial growth factor (VEGF), transforming growth factor (TGF) and other bioactive proteins that aid in tissue repair and hair re-growth.
What is the procedure of PRP?
Around 8-10 ml of blood is withdrawn, and plasma rich in growth factors is retrieved using a special centrifugation method. This plasma obtained from your blood is injected into your hair roots to stimulate their growth, or into the skin to rejuvenate your skin. The procedure takes 30 minutes. After the procedure, you can continue your daily routine, and usually, there are no side effects.
Watch this video to know more about PRP and see the before and after pictures:
What are the different uses of PRP?
PRP is used mainly for tissue repair & healing. It's used in different areas of specialities like orthopaedics, dermatology,  cosmetic procedures, dental procedures and hair restoration etc. In dermatology, PRP is used for following:
Hair regrowth
Skin rejuvenation: It helps in reducing wrinkles and improves the overall quality of the skin
Acne scars
Pigmentation
What is the role of PRP in hair loss?
PRP is a non-surgical solution to hair loss/hair restoration. In this process, the processed Platelet Rich Plasma is directly injected into the scalp. This causes the miniaturized follicles to become larger and healthier leading a more solid hair growth. As the Platelet Rich Plasma has growth factors that activate the progenitor cells (adult stem cells). PRP is an effective treatment for both male pattern and female pattern hair loss.
What is the role of PRP in facial rejuvenation?
PRP for skin rejuvenation is a solution for people who are looking for a more natural and safer way for facial rejuvenation and works by stimulating and regenerating new skin tissue. The growth factors in the concentrate platelets try to activate the skin cells that are lying dormant and stimulates new collagen resulting in a healthy and younger appearance. As your own plasma is used, there is absolutely no harm of allergic reaction or disease transmission.
What is the cost of PRP therapy?
The cost of the PRP treatment can range anywhere between 4000 INR to 10000 per session depending on the centre and city.