Tofacitinib: Read this before starting it
November 4, 2022
2023-09-01 11:48
Tofacitinib: Read this before starting it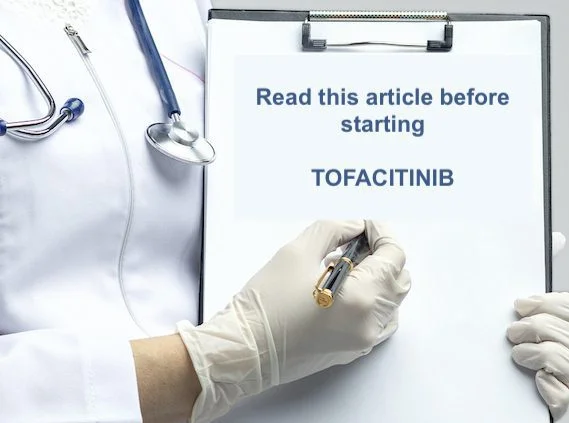 Tofacitinib: Read this before starting it
Tofacitinib is a relatively new medicine that has brought hope to patients suffering resistant forms of Rheumatoid arthritis, ulcerative colitis, psoriatic arthritis, etc.
Doctors prescribe Tofacaitnib only if its benefits outweigh its risk profile. However, you should be aware of side effects, precautions, and watchouts while taking this medicine. Therefore, we recommend reading this article before starting Tofacitinib.
What is the mechanism of action of Tofacitinib?
Tofacitinib blocks a particular inflammation pathway involving type I/II cytokines by inhibiting JAK I/III receptors. Therefore, Tofacitinib is used in diseases where this inflammatory pathway is overactive.
Tofacitinib is used for which diseases?
Though Tofacitinib is used off-label for many diseases, it has gained FDA approval for the following conditions so far that too if standard therapies do not work:
Rheumatoid Arthritis
Ulcerative Colitis
Psoriatic arthritis
Polyarticular course juvenile idiopathic arthritis
What is the use of Tofacitinib in dermatology?
In dermatology, Tofacitinib is used for the following diseases:
Psoriasis and psoriatic arthritis
Severe Alopecia areata, Alopecia Totalis and Alopecia Universalis
Atopic dermatitis
Vitiligo
What are the side effects of Tofacitinib?
Tofacitinib has the following side effects:
Less severe and frequently seen:
Upper respiratory tract infections
Headache
Diarrhea
Reactivation of viral infections (particularly herpes zoster)
Change in blood parameters like Hemoglobin, WBC counts, Liver enzymes, and cholesterol.
Severe and less frequent side effects
Reactivation/New serious infections like Tuberculosis, systemic fungal infections
Cancers of organs, blood, and skin
Gastrointestinal: Gastrointestinal perforations and obstruction
Hypersensitivity reactions, Urticaria, angioedema
Hypertension
Neurological issues
Musculoskeletal complaints such as arthralgia, back pain, and pain in extremities
What is Tofacitinib dose ?
To begin with, Tofacitinib 5 mg is given twice a day. If you don't respond, your doctor might increase it to 10mg twice daily. However, the chances of getting side effects are more at the higher dose and your doctor would monitor you closely to avoid them.
Is it safe to use Tofacitinib in children?
The food and Drug Administration (FDA) of the United States approved Tofacitinib for children above two years with active polyarticular course juvenile idiopathic arthritis (pcJIA) in 2020.
Since the use of Tofacitinib in children is restricted to a few years, the long-term safety profile can't be assessed. Many case series document minimal side effects of Tofacitinib in children. However, Tofacitinib should only be used in case of failure of first-line drugs that have a long safety profile.
What kind of investigations or screening is done before starting Tofacitinib?
Cancer and infection screening:
Tofacitinib stops a subset of your immune pathway, which means your immunity will not work as efficiently. As a result, you can either get more infections or cancers.
Therefore, a doctor does thorough screening to rule out any latent infection and assess the risk of cancer.
In India, it is essential to rule out Tuberculosis by doing a Chest X-ray and Moutoux test.
Cardiac risk assessment
The FDA warned that there is an increased risk of serious heart-related events such as heart attack or stroke, cancer, blood clots, and death with Tofacitinib.
Therefore, the doctor might enquire about the current or past history of smoking, heart attack, stroke, blood clots, or other heart problems.
Gastric screening
Tofacitinib is used cautiously in patients with diverticulitis. There are reports of Gastrointestinal perforation with this drug. Avoid concomitant intake of painkillers (nonsteroidal anti-inflammatory drugs) and oral steroids.
Laboratory screening:
You should undergo the following test at baseline and subsequently to monitor the adverse effect of Tofacitinib:
INFECTION SCREENING
Anti-HCV
HIV status
Tuberculosis screening
HBsAg
BLOOD PARAMETERS ARE MONITORED MONTHLY
Complete blood counts
Kidney function test
Liver function test
Lipid profile
What precautions should I take while taking Tofacitinib?
Here is the list of precautions that might be useful while on Tofacitinib:
Avoid contact with a patient who has infections.
Avoid taking live vaccines.
Avoid taking any new medicine or herbal products without consulting your doctor.
Maintain good hygiene.
Do not miss any follow-up visits.
Report immediately to the doctor in case of any unusual symptoms, including fever, bleeding, chest pain, abdominal pain, lumps on the skin or body, joint pains, skin rash, etc.
Disclaimer: We have tried our best to give relevant and proper information regarding Tofacitinib. However, it is impossible to cover all the information available on this drug, and that too with 100% accuracy. Kindly follow the guidance of your treating physician in case of any discrepancy.