Vitiligo Types, Diagnosis And Associations
August 23, 2021
2021-08-23 12:04
Vitiligo Types, Diagnosis And Associations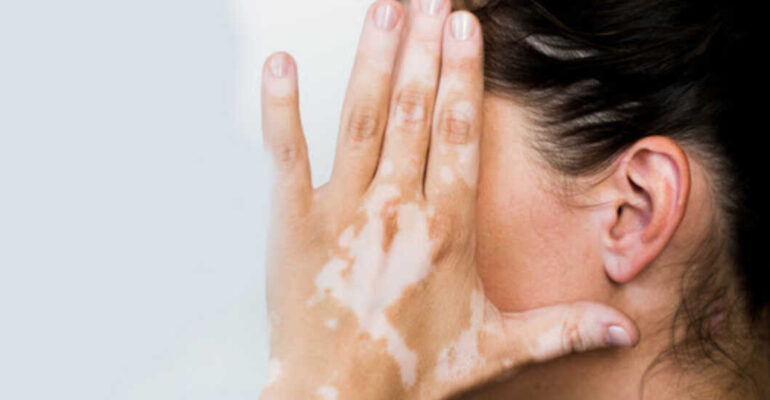 Vitiligo Types, Diagnosis And Associations
"Doctor, what is segmental Vitiligo? How Vitiligo is diagnosed? What are various associations of Vitiligo?" Segmental Vitiligo is sub type of Vitiligo. Vitiligo has varied presentation and dermatologist for deciding the course and the treatment classifies it further.
I have highlighted the various Vitiligo types briefly here:
Localised Vitiligo:
Here the lesions are often concentrated on the part of the body. It further includes:
Focal-This consist of one or more white patches concentrated in one area of the body.
Unilateral/ segmental– This entity is commonly seen in children when the white patches involve segment of the body that too typically does not cross the mid-line of the body.
Mucosal- In this white patches involve mucosal membranes alone like on the lip.
Generalized Vitiligo:
As term generalised suggests, white patches appear in distant body parts, this can be further divided into:
Vitiligo Vulgaris-In this, scattered white patches that are widely distributed on the body.
Acrofacial- In this type, the white patches are restricted to Acral parts namely hands and feet, and on the face.
Universalis- In this types, there is complete or nearly complete depigmentation with only a few areas of normal coloured skin.
Special forms
Trichrome vitiligo- As the name suggest, there is a gradation of 3 colours – the white skin of Vitiligo is surrounded by light brown borders and finally normal skin.
Quadrichrome vitiligo– In this, besides above three colours, the brown colour is seen around the hair follicles present in white patches.
How is Vitiligo diagnosed?
The diagnosis is easy and can be made by clinical examination of the lesions. We might use woods lamp in confirming the diagnosis, especially to rule out other causes of leukoderma or hypopigmentation. Once a clinical diagnosis of vitiligo is made, you need to undergo few laboratory test to identify any associated endocrine abnormalities like thyroid or diabetes.
What are various associations of vitiligo?
As I have already stated in my previous article that Vitiligo is an auto-immune disease and you are more likely to have other auto-immune diseases, besides many other skin and systemic disease. The reason for the later is not fully known. As compared to the normal population, the patients with Vitiligo are more likely to suffer from following:
Dermatological conditions: alopecia areata, atopic eczema, psoriasis, lichen planus, halo nevus, scleroderma, Ichthyosis Vulgaris
Systemic conditions:  hyperthyroidism, hypothyroidism, diabetes mellitus, pernicious anaemia, Graves disease, etc.
This article is AUTHORED BY Dr Amitoj Garg, MD Dermatology
Dr Amitoj Garg is director of Jagdamba Skin & Laser Center, Sriganganagar, Rajasthan. After finishing dermatology training from Krisha Institute of Medical Sciences, he has received formal training in lasers and cosmetic surgery under the guidance of Dr Venkatraam Mysore. He has conducted presentations and has been awarded at various International, National and State conferences. He can be reached at [email protected].