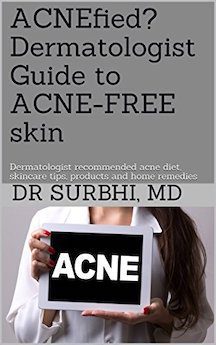 ACNEfied-Dermatologist Guide to Acne-free Skin
The book ACNEfied provides a complete solution to deal with acne at home with the acumen of a dermatologist. The author, Dr Surbhi, MD has cured many patients of acne using the solutions listed in the book, particularly the DIY listed in this book have shown excellent results.
What is it? Kindle book on Acne
Who can read it? Anyone who is struggling with acne
What topics are covered? skincare tips, diet, lifestyle, skincare regime for different types of acne, home remedies, product recommendations and acne scar prevention tricks.
Description
Each patient with acne needs altogether different care, or to be more precise, each one of you needs a different solution for acne as they change from black/white heads to red or pus-filled pimples or the terrible nodular acne. The good news is that 80% of cases of acne can be handled at home with tips, lifestyle modification, home remedies and OTC solutions used in the right way and at the right time. Acnefied book provides the following information on acne:
ACNE DIET AND LIFESTYLE CHANGES:
Did you know the latest studies show a direct correlation between your diet and acne? Similarly, your environment, job, stress levels, sleep pattern, and exercise schedule can either promote healing or exacerbate your acne. Get these details right with the help of this book and stop the recurrences of your acne.
ACNE TRACKING GUIDE:
Yes, this is the most important aspect of winning the war against acne. This book provides a table to fill in the details about changes in skin type, acne severity, skincare regime and home remedies, etc. fortnightly. Pointers are provided through the book on how to make the best use of this tracking guide concerning optimising the acne care regime.
MAKE BEST OF OTC SOLUTIONS IN US AND UK:
The US market has many over-the-counter anti0-acne medications like salicylic acid, sulphur and benzoyl peroxide that can efficiently handle 80% of cases of acne when used in the right way. A simple tip is to use salicylic acid on comedones and Benzoyl Peroxide on red pimples. Instead of spending your hard-earned money on expensive products, know how to make the best of affordable OTC solutions for acne in this book. We bet that you will save a lot of bucks!
DERMATOLOGIST FORMULATED EASY DIY:
The author has been working on recipes for acne for almost 5 years before publishing them in this book. The DIY include homemade face wash, spot treatment, anti-acne moisturisers and face pack. Are you ready to get rid of your acne naturally?
ACNE CARE REGIME FORMULATOR:
Crafting an acne care regime is a science decoded by the author for you. You have to keep your eye open to changes in your skin type so that your skin does not too dry or too oily. A complete skincare regime has been listed for different kinds of acne namely- black/whiteheads, red pimples, pus-filled pimples, and nodular or cystic pimples.
ACNE CARE TIPS:
One interesting part of the book is easy to following tips highlighted throughout the book so that readers do not miss the important points.
VIRTUAL CONSULTATION WITH DERMATOLOGIST:
This book is written as a conversation between doctor and patient, where the author is providing the latest researched information in simple yet crisp language.
ACNE MARKS PREVENTION TRICKS: 
If you could follow the tips and tricks listed in the book to prevent acne and how to pop your acne, you will be saving yourself from lifelong marks of acne that can haunt you throughout life. Won't you like to spend on keeping your face free from craters and dark spots?
Are you in the beauty business? Do you deal with clients of acne?
This book is a must-read for all those who are in the beauty business; it provides factual data, tips, and remedies that can befit your customers and you can gain their trust by helping them in an efficient way. The aim of this book to make you an acne expert with the acumen of a dermatologist. You can test if you have converted the treasure house of knowledge given in this book into wisdom by solving the sample cases of acne at the end of the book. See for yourself if your thinking is matched to the acumen of a dermatologist. You can also use homemade remedies for your clients and give them the magic results that they demand from you.
Additional information
| | |
| --- | --- |
| Skin concern | Acne & Blemishes |
| Gender | Female, Male |