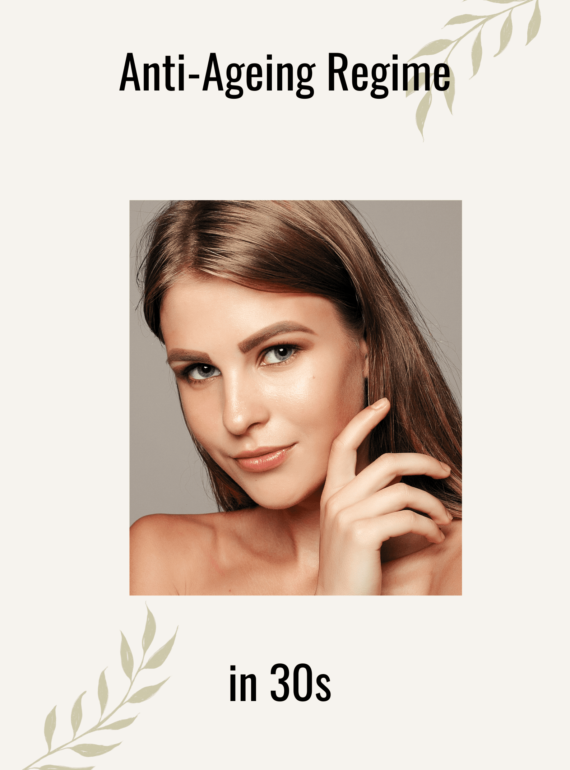 Anti-ageing regimen for 30s
As you hit 30 years, it is important to focus on anti-aging. The combination of Vitamin C and retinol is the hallmark of wrinkle-free skin. The key is to switch brands from time to time, especially when you see stagnation in results.
What is it? The anti-aging regime for 30-40 years of age
Who can use it? Oily to normal skin types for dealing with signs of ageing.
Sensitive skin: Yes, you can try if your skin is calm
Description
MORNING REGIME
Step 1 Face wash
The objective of washing is to clean the face without making it dry or oily. Based on your skin type, you can choose from the following:
Step 2 Vitamin C Serum
Vitamin C serum helps in skin repair, brightening and delays ageing. We recommend switching the agents for continued results. You can choose from this list of Best Vitamin C serums.
Here are few brand suggestions:
Step 3: Sunscreen
Put on lightweight sunscreen that does not occlude your pores. Repeat the second application 30 minutes before going out in the sun. You can apply make-up on top of sunscreen. Here are a few options:
NIGHT REGIME
Remove make-up with micellar water and wash your face. Put one of these retinol serums on the full face. Here are few suggestions:
If your skin feels dry, top with a bland moisturizer only if your skin feels dry. 
WEEKLY REGIME
One or twice a week, scrub your face and put a sheet mask or face pack.
Additional information
| | |
| --- | --- |
| Gender | Female, Male |
| Skin Type | Dry, Normal/Combination, Oily |
| Skin concern | Ageing/Wrinkles |
| Senstive skin | Mildly Sensitive, Not Sensitive |