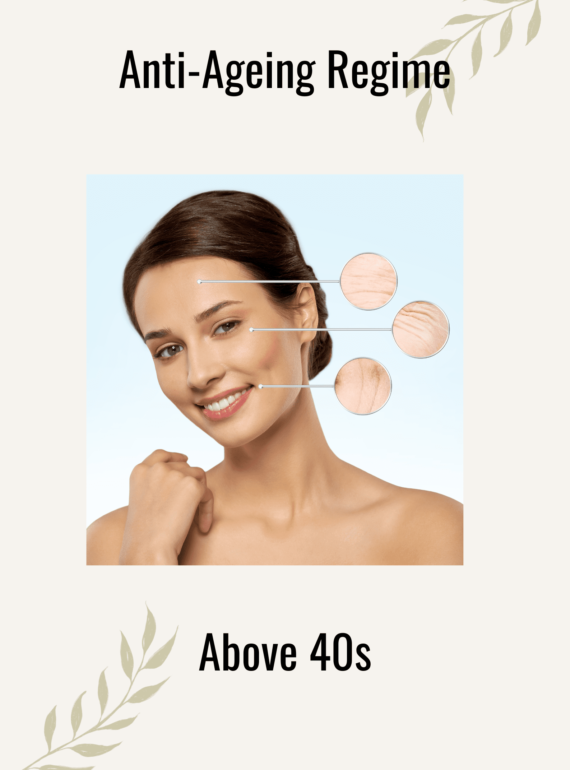 Anti-aging regime for 40s
After the age of 40, major aging changes begin to set in, like sagging of skin, deepening of wrinkles, and age spots. Besides Retinol and Vitamin C, you should include HA, Peptides, glycolic acid, and peel to improve skin texture.
What is it? Anti-aging regime above 40 years of age
Who can use it? Oily to Normal skin types
Sensitive skin: Yes, you can try if your skin is calm
Description
MORNING REGIME
Step 1 Face wash
The objective of washing is to clean the face without making it dry or oily. Based on your skin type, you can choose from the following:
Step 2 Vitamin C Serum
Vitamin C serum brightens your and delays aging. We recommend switching the agents for continued results. You can choose from this list of the Best Vitamin C serums.
Here are a few brand suggestions for age 40+:
Step 3: Sunscreen
Put on lightweight sunscreen that does not occlude your pores. Repeat the second application 30 minutes before going out in the sun. You can apply make-up on top of sunscreen. Here are a few options:
NIGHT REGIME
Remove make-up with micellar water and wash your face. Put one of these retinol serums on the full face. Here are few suggestions:
WEEKLY REGIME
One or twice a week, scrub your face and put a sheet mask or face pack.
EAT MULTIVITAMIN DAILY
A supplements that provided vitamins, minerals, omega 3 fatty acid and anti-oxidant should be taken daily for 3 months especially, if your lifestyle is hectic and your diet is not balanced. Try to to incorporate lifestyle and diet given in thos article, Diet for good skin and hair.
Tab Perfectil Max is a perfect choice.
Additional information
| | |
| --- | --- |
| Gender | Female, Male |
| Skin Type | Dry, Normal/Combination, Oily |
| Skin concern | Ageing/Wrinkles |
| Senstive skin | Mildly Sensitive, Not Sensitive |