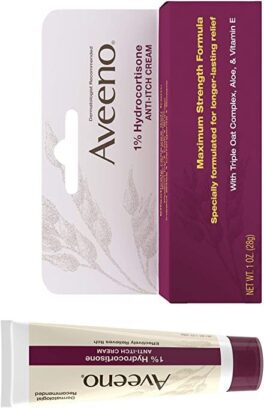 Aveeno 1% Hydrocortisone Anti-Itch Cream
Are you looking for a skin rash cream that can be used on children and adults? Aveeno 1% Hydrocortisone Anti-Itch Cream might be the best pick. It is an over-the-counter (OTC) steroid cream that can be used for soothing red and itchy skin due to eczema, psoriasis, lichen planus, insect bite, sunburn, etc.
However, overuse of Aveeno hydrocortisone cream can lead to side effects. Read further about the correct usage, precautions, and side effects of Aveeno 1% Hydrocortisone Anti-Itch Cream in this article.
What is it? Mild Steroid cream
Who can use it? It can be for any age to ease itching, skin allergy, eczema, sunburn, skin rash, etc.
Description
Let us see the Pros and cons of hydrocortisone cream from Aveeno compared to the other top-selling hydrocortisone brands.
Pros
Aveeno 1% Hydrocortisone Anti-Itch Cream has oats from kernel extract, flour extract, and oil. Oats reduce the itching sensation on your skin, along with aloe vera.
Most hydrocortisone brands available OTC in the US have Parabens as preservatives. Aveeno scores higher because it has only one compound of Parabens, unlike other brands that contain two or even three compounds of Parabens as preservatives.
It has fewer irritating ingredients compared to other brands. Top-selling brands have irritants like retinyl palmitate, Sodium lauryl sulfate that can do more harm than good to the skin condition for which you would use hydrocortisone.
Cons:
It has Chrysanthemum Parthenium (Feverfew) extract that can help relieve itching. However, Feverfew can cause contact dermatitis. Thus this cream should not be used by those prone to plant dermatitis, especially parthenium dermatitis.
It has benzyl alcohol that can cause nonimmunologic contact urticaria and nonimmunologic immediate contact reactions. Thus, it was concluded that these ingredients could be used safely at concentrations up to 5%. Still, manufacturers should consider the nonimmunologic phenomena when using these ingredients in cosmetic formulations designed for infants and children.
This cream, or any steroid, should be used with caution in kids.
Avoid
Do not use it without consulting a doctor, if
Any rash that you are not sure what it could be.
Any rash that has pus discharge or pain indicating infection
Fungal infections
Boils and other bacterial infections
Diaper dermatitis with superadded skin infections,
Infants and toddlers
On face for more than 7 days.
On-body for more than 2 weeks
Remember this golden rule while using steroids "Discontinue use of steroid cream if you do not see improvement after 7 days of continuous use or immediately if you notice flare-up"
Additional information
| | |
| --- | --- |
| Gender | Female, Male |
| Body | Eczema or allergy, Psoriasis, Vitiligo |