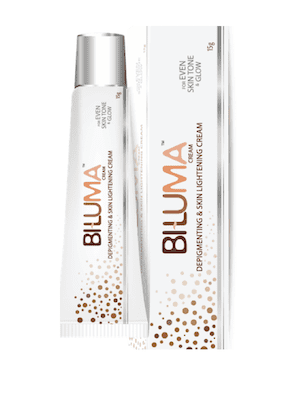 Biluma Skin Whitening Cream
Biluma cream is hydroquinone-free skin whitening cream that has six potent skin-lightening ingredients. It can be used for fading dark patches and spots caused by melasma, tanning, or acne healing.
What is it? Skin lightening cream
Who can use it? Dry to normal skin type prone to reduce pigmentation. It might feel greasy on oily skin.
Can it be used for sensitive skin? People with sensitive skin can try this cream if the skin is not red or irritated. Patch test should be done before the first use.
CHECK PRICE ON Amazon.in and Amazon.com
Description
Biluma cream benefits
Galderma, the maker of Cetaphil products, manufactures Biluma cream. It can be used for mild cases of hyperpigmentation combined with other skin-lightening agents, as discussed in this article, Skincare routine for hyper-pigmentation. Biluma cream can be used to reduce pigmentation caused by the following:
Melasma
Post-inflammatory hyperpigmentation, like dark spots, left after healing pimples, boils, cuts etc.
Tanning
Dark elbows and knees
However, Biluma cream or, for that matter, any over-the-counter skin lightening cream might not help the stubborn cases of dark patches.
Biluma cream side effects
Biluma cream might not suit sensitive skin. Avoid if your skin is red, irritated, itchy, burning, and bumpy.
Biluma cream composition
Biluma cream has the following six potent skin-whitening ingredients:
Kojic Acid Dipalmitate is derived from a fungus and is used at a concentration varying from 1 to 4%. It benefits patients who are not responding to Hydroquinone, prescribed by a dermatologist because both are tyrosinase inhibitors (an enzyme used to synthesise melanin pigment).
Arbutin is derived from berries and is widely used as a skin-whitening agent worldwide.
Tocopherol or Vitamin E helps lighten and repair damaged skin due to its potent anti-oxidant action.
Mulberry extracts are derived from the plant Morus alba and have skin-lightening effects.
Liquorice has glabridin that prevents pigmentation by UVB rays and has an anti-inflammatory effect.
Tetrohydrocurcumin is derived from turmeric and helps in fading of dark skin. A concentration of 0.25 % is considered as potent as 4% of hydroquinone in a study.
Artocarpus extract (Oxyreservetol 95%) is a potent antioxidant with skin-lightening action.
Additional information
| | |
| --- | --- |
| Gender | Female, Male |
| Senstive skin | Mildly Sensitive, Not Sensitive |
| Skin concern | Pigmentation & Dark Spots |
| Skin Type | Dry, Normal/Combination |
| Regime | Morning, Night |