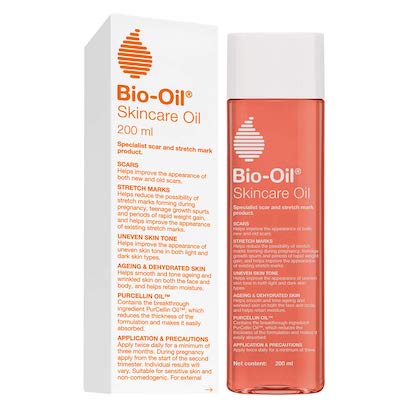 Bio-Oil
Bio-oil reduces red marks left after healing of pimples, uneven skin tone, scars, stretch marks, and photo-ageing signs. It can be used for dry skin types not prone to acne on the face. Overall, it is a good product, worth the cost!
It can be used on the body for reducing stretch marks and scars. But should you be using it regularly from the second trimester of pregnancy is still a topic of debate? Read the description for our take on it.
What is it? Oil containing essential oils, vitamin E and Retinyl palmitate.
Who can use it? On the face, Bio-oil can be used for dry to normal skin for reducing uneven skin tone, anti-ageing and fading post-acne marks. It can be used on the body for reducing stretch marks and scars.
Sensitive skin: Might not suit super-sensitive skin
Description
Benefits
Bio-oil is recommended for:
Red acne scar: Bio-oil has shown some results in reducing the red scars left after the healing of pimples. It helps in the reduction of the redness of scars only and not deep crater-like acne scars. This can be due to the anti-inflammatory action of calendula and chamomile oil.
Uneven skin tone/ageing skin: In a 12-week trial, significant improvement was seen in a study cited on Bio-oil website. Besides essential oils, retinyl palmitate might help in reversing ageing skin changes.
Traumatic or surgical scar: Bio-oil has few studies to back up its use on scars from trauma or surgery, which are generally less than three years old. However, this might be overclaimed. Retinyl palmitate can help in reducing scars.
Stretch marks: Bio-oil can be used after delivery for reducing stretch marks.
For which skin type?
Bio-oil is suitable for dry to combination skin not prone to acne. Bio-oil has a highly comedogenic ingredient- Isopropyl Myristate. According to the manufacturer, bio-oil was found to be non-comedogenic or non-acnegenic, in a four weeks trial. However, if you get black/whiteheads or pimples while using this oil, discontinue it.
Will it irritate sensitive skin?
 Though claimed to be non-irritating by a study, Bio-oil might cause breakouts if you are allergic to fragrances.
Is bio-oil safe in pregnancy?
Bio-oil has retinyl palmitate, which should be avoided during pregnancy in concentrations of more than 1.5mg according to the FDA. The Bio-oil website mentions that even if you apply 2 bottles you won't exceed the upper limit:
Bio-oil has been in the market for years and has passed the test of time. But, what botters us is that a huge amount has to be used daily for the prevention of stretch marks. Secondly, the retinyl palmitate is the weakest retinoid. While the most potent retinoid, tretinoin has only a 10% effect on stretch marks if used for 6 months continuously according to this study:
Therefore, Bio-oil might not prevent stretch marks significantly if used during pregnancy. Given the safety and efficacy data, we believe it would be best to avoid Bio-oil during pregnancy.
Additional information
| | |
| --- | --- |
| Gender | Female |
| Skin Type | Dry, Normal/Combination |
| Skin concern | Ageing/Wrinkles, Pigmentation & Dark Spots |
| Senstive skin | Mildly Sensitive, Not Sensitive |
| Regime | Night |
| Body | Stretch marks |