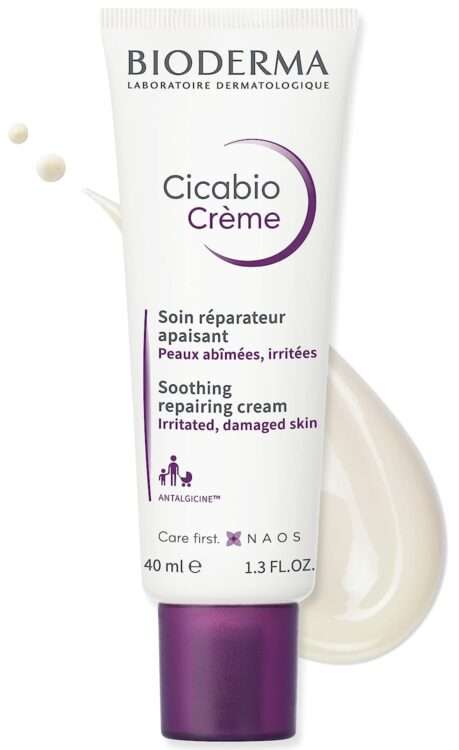 Bioderma Cicabio Crème
Bioderma Cicabio Crème is effective at soothing and healing irritated or damaged skin. Whether it's a minor scrape, a stubborn patch of dryness, or a more significant skin concern like post-sunburn care and post-acne redness, Bioderma can be your go to product. 
What is it? Soothing and healing cream 
Skin type: Normal to dry skin 
Skin concerns: Rosacea, post-acne redness, post-sunburn redness, post-procedure redness 
Description
Benefits
Relieves skin burning and irritation:
Bioderma Cicabio cream instantly soothes irritated skin with the help of the following unique ingredients 
Asiatocoside is derived from

Centella Asiatica ( Gotu Kola).

It has well-established 

wound healing and antioxidant activities. 

 

 

Acetyl Dipeptide-1 Cetyl Ester

:

A soothing dipeptide (tyrosine + arginine) based molecule that functions as a "

messenger of tranquility and muscle relaxation

".
Provides deep hydration:
Irritated skin often needs hydration to repair the skin barrier. Bioderma Cicabio Crème is enriched with many hydrating ingredients like: 
Mannitol

: Mannitol is a sugar alcohol that can help hydrate the skin and potentially provide antioxidant benefits.

 

Xylitol

: Xylitol is another sugar alcohol that can help with skin hydration and may have some moisturizing properties.

 

Rhamnose

: Rhamnose is a sugar molecule that is claimed to have soothing and anti-aging properties, though more research is needed to confirm these benefits.

 

Sodium Hyaluronate

: Sodium hyaluronate is a form of hyaluronic acid, a well-known ingredient for its ability to hydrate and plump the skin.

 

Water (Aqua)

: The primary ingredient in most skincare products, water serves as the base for the formulation.

 

Glycerin

: Glycerin is a humectant that helps to hydrate the skin by attracting moisture. It's a common ingredient in moisturizers and can be beneficial for soothing dry or damaged skin.

 
Relives inflammation:
Bioderma Cicabio Crème has the following anti-inflammatory agents that soothe inflammation associated rosacea, sunburn, acne etc: 
Laminaria Ochroleuca Extract

: This is an extract from brown algae that may have antioxidant and anti-inflammatory properties.

 

Copper Sulfate

: Copper sulfate has astringent properties and may be used to soothe irritated skin.

 

Zinc Sulfate

: Zinc sulfate can have anti-inflammatory and wound-healing properties and may help with skin repair.

 
Improves skin microbiome:
Fructooligosaccharides are prebiotics that can support the skin's microbiome, which is essential for maintaining a healthy skin barrier. 
Offers sun protection,
Though the package does not highlight SPF of this cream, it has Zinc oxide, a mineral sunscreen ingredient that can provide protection from harmful UV rays. 
Lightweight formula
It is easy to apply and absorbs quickly into the skin without leaving a greasy residue. It feels soothing upon application, providing instant comfort to irritated areas. 
Cons:
Costly:
While Bioderma Cicabio Crème comes at a slightly higher price point compared to some other skincare products, the results it delivers make it worth the investment.  
Do patch test:
it's essential to perform a patch test to check for any adverse reactions before applying it to your face or affected areas. It's essential to note that the effectiveness of any skincare product depends on various factors, including individual skin type and specific skin concerns. 
Overall, Bioderma Cicabio Crème contains a mix of ingredients that may have soothing, hydrating, and skin-repairing properties.  
Additional information
| | |
| --- | --- |
| Skin Type | Dry, Normal/Combination, Oily |
| Skin concern | Acne & Blemishes, Ageing/Wrinkles, Pigmentation & Dark Spots |
| Senstive skin | Highly Sensitive, Mildly Sensitive, Not Sensitive |