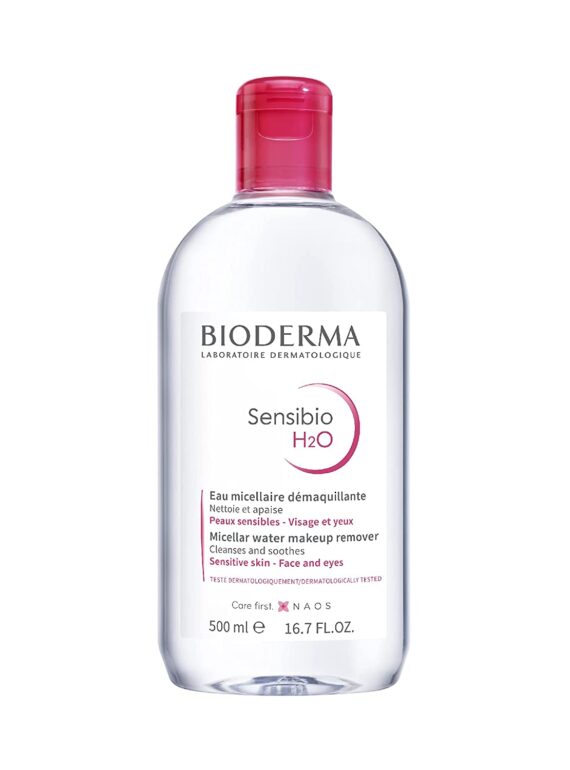 Bioderma Sensibio H2O Micelle Solution
The Bioderma Sensibio H2O is a micellar solution that cleanses your skin without the need for surfactant or water.
What is it? Micellar water. It can be used as a cleanser on the go without water and as a make up remover for the face and eyes.
For which skin type?  Dry skin types
Will it irritate sensitive skin? Bioderma Sensibio H2O can be used on sensitive skin. However, chances of breakout can not be ruled out altogether!
Goodies: 
Variants: Bioderma Sebium H2O is recommended for oily skin types not prone to sensitivity breakouts.
Description
Bioderma Sensibio H2O benefits
Cleanser: Bioderma Sensibio H2O is a micellar solution that removes dust and dirt by forming micelles. Even soaps and detergent form micelle to remove oily stuff. Bioderma Sensibio H2O does the same action as a soap but without the use of harsh surfactants.
Soothing: It also has cucumber that has anti-ageing, anti-inflammatory, skin lightening and anti-dark circles benefits.
Makeup remover: These micelles are potent enough to remove the waterproof make-up without the need for soap or water.
Thus, it is worth a try in the following situations:
Dry and sensitive skin types
When your skin is getting cracked in winter, you need to preserve all the natural moisturising factors.
In places where the water supply is hard and harsh for the skin.
Bioderma Sensibio H2O side effects
It has no side effects.
Additional information
| | |
| --- | --- |
| Gender | Female, Male |
| Skin Type | Dry, Normal/Combination, Oily |
| Skin concern | Acne & Blemishes, Ageing/Wrinkles, Pigmentation & Dark Spots, Pores/Blackheads/Whiteheads |
| Senstive skin | Highly Sensitive, Mildly Sensitive, Not Sensitive |
| Regime | Morning, Night |