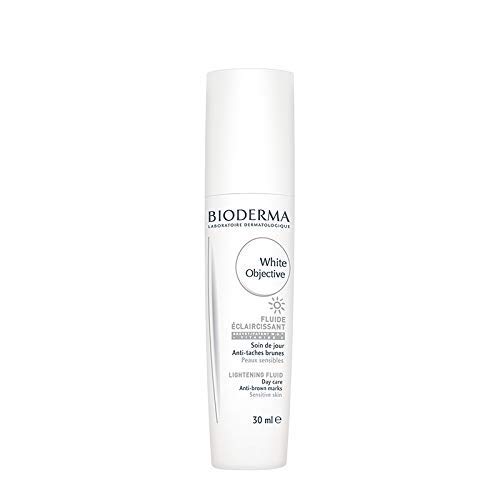 Bioderma White Objective Serum
Bioderma White Objective Serum is potent skin lightening serum packed with well-known skin lightening agents.
What is it? Skin lightening serum
Who can use it? Oily skin prone to dark patches, tanning or dark spots.
Sensitive skin: Use with caution only if your skin is calm.
Goodies: Niacinamide, Glycolic acid, licorice extract, Vitamin C
Variants: Bioderma White Objective CREME  is recommended for combination to dry skin type.
Description
Bioderma White Objective Serum benefits
 Bioderma White Objective Serum is potent skin lightening serum.  It helps in reducing pigmentation with help of:
Glycolic acid is a member of the α-hydroxy acid (AHA) family and is one of the most commonly used chemical peeling agents. It has exfoliating, reverses sun damage (such as mottled pigmentation), stimulates collagen & elastin production, quickens cell turnover, increases skin's thickness, firmness & hydration, and smoothes rough and wrinkled skin.
Niacinamide or Vitamin B3 helps in skin lightening and skin rejuvenation.
Ascorbyl Glucoside is stable, yet potent from Vitamin C that has anti-oxidant and skin lightening benefits.
Glycyrrhiza Glabra (Licorice) Root Extract is well known and effective skin lightening agent.
It has 2 fold action. Vitamin C, which is gradually released for long-lasting action, reduces the number of melanin pigments in the epidermis. The intense peeling action of glycolic acid activates the elimination of cells loaded with pigments. It has a W.O.™ patent which acts on the main biological mechanisms responsible for skin pigmentation.
Bioderma White Objective Serum side effects
It might not suit sensitive skin types. We recommend patch test before the first use and discontinue in case of any redness, irritation, burning, etc.