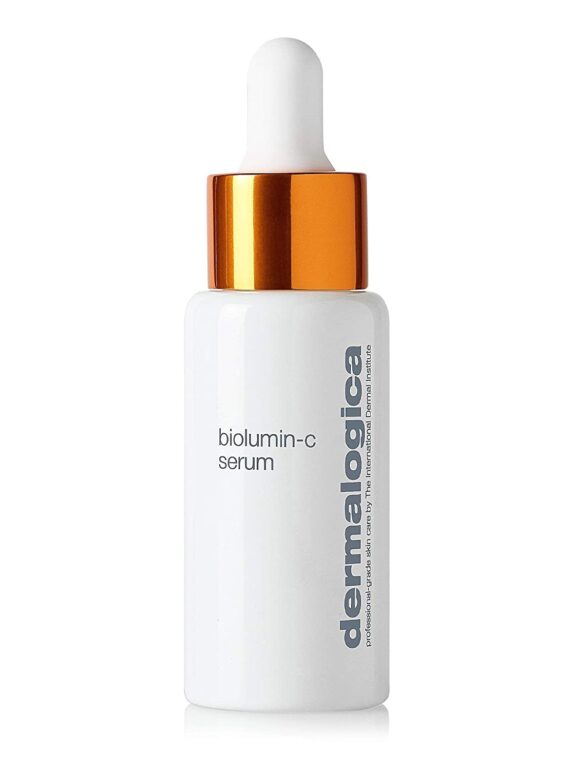 Biolumin C serum
Biolumin is in hype on the internet? Does to it really brightens up your skin? Is it worth including in your skincare regime? Yes, it is!
Biolumin-C serum has a boatload of ingredients that delay ageing, lighten skin, and rejuvenate from within.  It is a complete package with all the cosmeceuticals that your skin needs-Vitamin C, Peptides, Lactic acid, Hyaluronic acid, and Sodium PCA to name a few. Further, a tinted glass bottle of Biolumin serum protects these precious ingredients from sun exposure.
What is it? Vitamin C serum with skin lightening, anti-ageing and plumping benefits
Who can use it? All skin types (Dry skin type might need an extra layer of moisturiser on top) to delay ageing and promote even skin tone
Sensitive skin: Can be tried only if your skin is calm, do not use if your skin is red, irritated or breaking out.
Description
Biolumin C serum benefits:
Anti-ageing: Biolumin rejuvenates your skin with help of 3 anti-ageing ingredients- peptide, Vitamin C and Hyaluronic acid. Vitamin C boosts collagen and repairs your skin, while Sodium hyaluronate plumps it up.  Palmitoyl Tripeptide-5 is icing on top. It boosts the synthesis of components of the dermal matrix. With regular use, you would see your skin getting healthier and younger. It has 4.7% of stabilized Vitamin C complex. They have the same benefits like Vitamin C but are less efficacious than pure L ascorbic acid form. 
 Fades dark spots and evens skin tone: Lactic acid gentle exfoliate the dead skin cells and promotes even skin tone. Vitamin C and  Dipotassium Glycyrrhizate (licorice extract) further brighten up your skin.
Improves skin texture:  Glycerin, Sodium PCA, and Sodium Hyaluronate replenish your skin and improve skin texture. It is non-greasy serum, that won't occlude your pores.
Side effects:
Biolumin C serum can be used safely on the skin. This might suit sensitive skin as well. However, do a patch test before starting it for the first time.
Additional information
| | |
| --- | --- |
| Gender | Female, Male |
| Skin Type | Dry, Normal/Combination, Oily |
| Skin concern | Ageing/Wrinkles, Pigmentation & Dark Spots |
| Senstive skin | Mildly Sensitive, Not Sensitive |
| Regime | Morning |