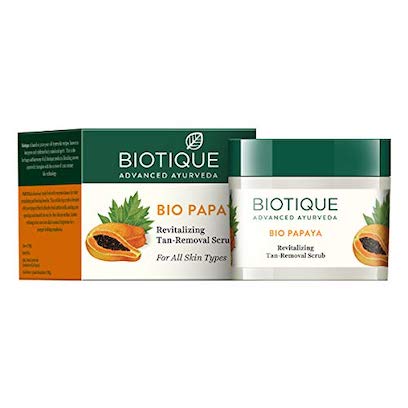 Biotique Bio Papaya Revitalizing Tan-Removal Scrub
Biotique Bio Papaya Revitalizing Tan-Removal Scrub is a 100% natural scrub that has both chemical and physical exfoliating agents.It should NOT be used more than twice a week because the abrasive granules and herbs in this scrub might be too harsh for your skin if used daily.
What is it? Scrub
Who can use it? All skin types
Sensitive skin: Big no
Description
Benefits
Biotique Bio Papaya Revitalizing Tan-Removal Scrub has the following benefits:
Chemical exfoliation: Papaya, the main ingredient in this scrub is known for its exfoliating enzyme papain that can remove dead skin cells. Thus, this scrub removes dead skin cells to restore an even-toned look to your skin.
Physical exfoliation: It has exfoliating granules that physically remove the dead skin.
Hydration: Banana, papaya, acacia, beeswax and Himalayan water provide hydration to your skin without clogging pores.
Anti-acne: Neem and turmeric prevent acne owing to their anti-microbial action.
Anti-tan: Skin lightening is achieved with the help of papaya.
Soothing: This is achieved with the help of the soothing action of yasad basam, Himalayan water, banana, acacia, etc.
Ingredients:
Yasad bhasm (Zincum) is zinc extract processed with aloe vera. It has anti-inflammatory action and is used for skin disease like acne, eczema and psoriasis in Ayurveda.
Gun acacia (Acacia arabica) is rich in anti-oxidants and has anti-septic benefits.
Methi (Trgonelia foenum graecum) or fungreek seeds are rich sources of steroid saponins, lipids, mucilage, protein, and protease inhibitors., minute amounts of alkaloid and steroidal peptide and furostanol glycosides are also seen in the plant. They anti-allergy benefits proven by a study.
Moongphali (Archis hypogea) flour might give physical exfoliation in this scrub.
Beeswax moisturises skin along with forming a protective barrier. It is rich in vitamin A and is used as natural thickener in skincare products. Beeswax offers anti-inflammatory, antibacterial and antiviral benefits.
Turmeric essential oil is rich in anti-oxidants and anti-inflammatory ingredients. It helps in reducing wounds, eczema, wrinkles, pigmentation of skin, pimples, acne, psoriasis, cuts, burns and other skin infections.
Himalayan water is believed to be rich in Himalayan salt that is rich in minerals.
Papaya is rich in enzyme called papain along with vitamins, minerals, moisturising agents. Papain enzyme helps in removing the dead skin cells, remodels collagen and help in skin lightening. Thus, papaya is one the most common fruit used for exfoliation.
Banana helps in moisturising the skin and its peel has anti-inflammatory and anti-oxidant action.
Neem helps in reducing acne, dandruff, infections and is insect repellent.
Phoenix dactylifera seeds has anti-aging benefits along with reducing rosacea.
For which skin type?
Biotique Bio Papaya Revitalizing Tan-Removal Scrub can be used by all skin types because it does not have occlusive comedogenic ingredients and has non-comedogenic moisturising ingredients.
Is it safe?
Yes, it is truly a natural product.
Will it irritate sensitive skin?
 Yes, it can irritate sensitive skin because it has coarse granules and many herbs.
Additional information
| | |
| --- | --- |
| Gender | Female, Male |
| Skin Type | Dry, Normal/Combination, Oily |
| Skin concern | Acne & Blemishes, Ageing/Wrinkles, Pigmentation & Dark Spots, Pores/Blackheads/Whiteheads |
| Senstive skin | Mildly Sensitive, Not Sensitive |
| Regime | Weekly |