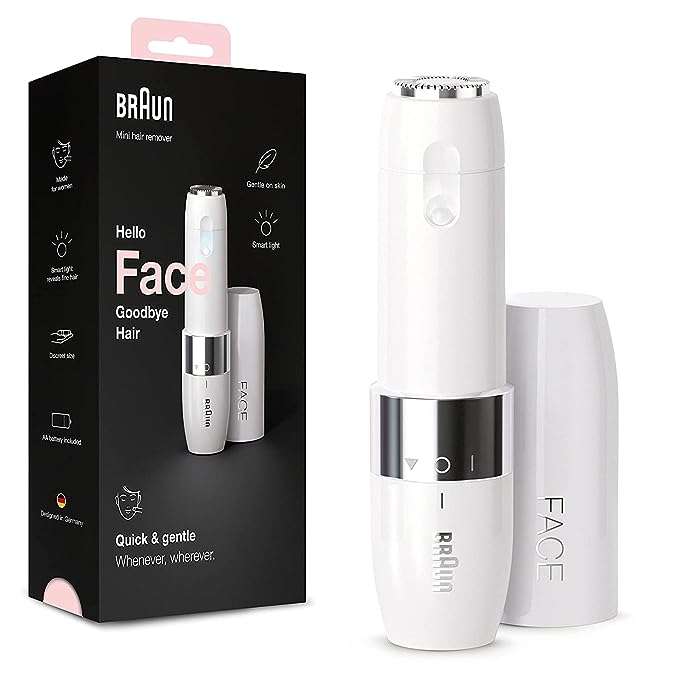 Braun Face Mini Hair Remover
Facial hair is of two types- vellus (thin and small) and terminal (thick and long). The latter is called Hirsutism and might indicate hormone imbalance. Vellus hair though natural, makes you look dull and uneven. 
Braun Face Mini Hair Remover FS1000 comes in handy in removing small thin hair from your face.  
What is it? Face razor 
Who can use it? Braun Face Mini Hair Remover can be used for shaving thin hair on the face, and neck in females.  
Who should not use it? It might not be a viable choice for removing thick hair.  
Description
How to use Braun Face Mini Hair Remover?
The Braun Face Mini Hair Remover is easy to use. You must move it in a circular motion in an area where you wish to remove your hair. It might take multiple rounds to get a clear look. However, it is gentle and does not cause any bumps, irritation, or redness. 
Where can I use Braun Face Mini Hair Remover?
 It is perfect for removing extra hair around eyebrows, removing upper lip hair, and maintaining a hair-free complexion of the face and neck. 
Can I use it for eyebrow shaping?
No, it cannot be used for shaping the eyebrows because the head is big. You can remove extra hair around the eyebrow, but carefully. 
How much time does it take to remove hair?
This device is incredibly fast, making it ideal for those rushed mornings when a quick touch-up is needed. It is also great for travel since it is compact and does not require any additional products or accessories 
How often can I use Braun mini hair remover?
Braun Face Mini Hair Remover can be used as soon as you see facial hair regrowth, which might appear in 3-6 weeks. You can also use it just before a party or important engagement for a hair-free complexion.  
In conclusion, the Braun Face Mini Hair Remover FS1000 is a reliable and effective solution for quick and painless hair removal, simplifying the beauty routine significantly. For those in search of a portable, efficient, and versatile hair removal device, this one is highly recommended. 
Additional information
| | |
| --- | --- |
| Skin Type | Dry, Normal/Combination, Oily |
| Senstive skin | Highly Sensitive, Mildly Sensitive, Not Sensitive |
| Skin concern | Excessive Hair |