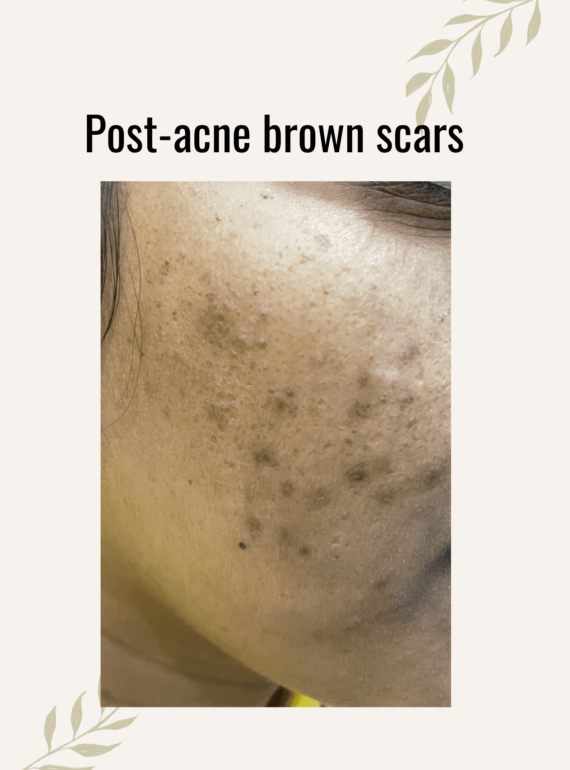 Regime to get rid of brown acne scars
Acne scars can either be red, brown or depressed. This article discusses a regime to reduce brown acne scars by using skin-lightening agents.
What is this? Brown acne scar treatment regime
Who can use it? Oily to normal skin type with brown spots left after acne
Sensitive skin: Do not try if your skin is red, itchy or irritated.
Description
MORNING REGIME
Step 1: Facewash
Removing excess oils, dust, dirt, and pollutants from your face is essential. However, your face should not feel dry and stretched after face wash. You can wash your face a maximum of three times a day. You can choose from the following list based on your skin type:
Here are a few brand suggestions: 
Step 2: Morning treatment product
Apply skin-lightening cream with Kojic acid, Azelaic acid or tranexamic acid on the entire face to reduce pigmented scars. repeat application of the same product at night on dark spots after applying retinol on full face.
Brand suggestion:
Step 3: Sunscreen
Thick sunscreen can increase acne. Therefore, use a lightweight sunscreen in gel or fluid form. Re-apply it 30 minutes before stepping out in the sun. Avoid using sunscreen indoors to avoid unnecessary clogging of pores. Here is a lightweight sunscreen that is less likely to occlude your pores:
In addition, avoid heavy makeup or layering of products. You can put lightweight makeup on top of the sunscreen.
AFTERNOON REGIME
Wash your face in the afternoon if your skin feels oily. Suppose you can't wash your face at the workplace, then wipe your face with cotton dipped in micellar water to remove excess oils and give an instant matt look. Re-apply sunscreen 30 minutes before going out in the sun.
NIGHT REGIME
Remove makeup with micellar water rather than a cleansing lotion and apply retinol serums to reduce oil secretion, open pores, and acne while delaying the signs of ageing. 
Brand suggestions:
Put Differin acne scar gel as a spot treatment on red scars to expedite the process. If your skin feels dry and stretched after morning or night treatment products, apply Sebamed face clear gel.
WEEKLY REGIME
Avoid harsh scrubs or peels. You can put on De-tan Mask twice a week to soothe your skin and promote the healing of red scars.
Brand suggestions:
Additional information
| | |
| --- | --- |
| Gender | Female, Male |
| Skin Type | Dry, Normal/Combination, Oily |
| Skin concern | Acne & Blemishes |
| Senstive skin | Mildly Sensitive, Not Sensitive |