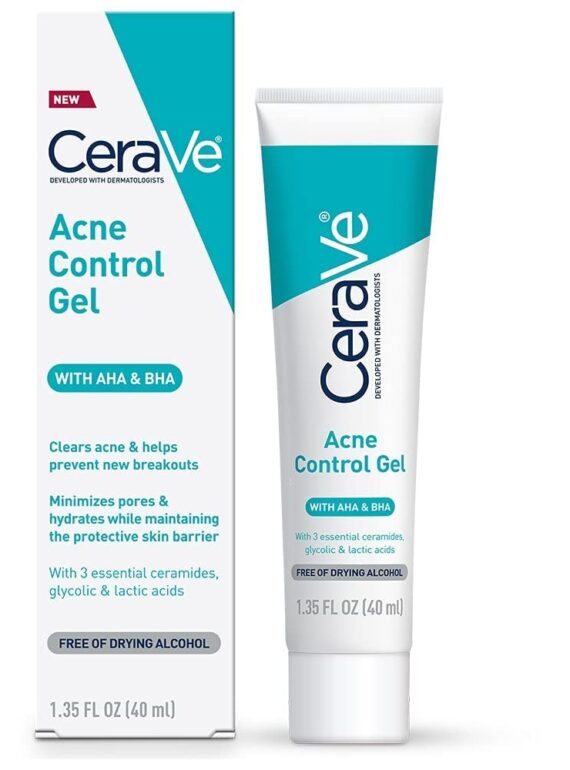 Cera Ve Acne Control Gel
Cera Ve Acne Control Gel is a lightweight blend of Salicylic Acid (AHA), Glycolic and Lactic Acid(BHA). It helps to achieve a clear smooth texture of skin devoid of acne, open pores and blemishes.
What is it? The gel that help in reducing pores, acne, and post-acne dark spots
Who can use it? Normal to oily skin prone to acne and open pores
Sensitive skin: Try only after your skin is calm
Description
Benefits:
Effective skin exfoliant: Salicylic acid (beta hydroxy acid), Glycolic and Lactic acid (Alpha hydroxy acid) gently remove the dead skin cells both at the surface and deeper pores level. You notice smoother skin without a greasy or bumpy feel.
Reduces open pores and blackheads: Salicylic acid helps in treating blackheads and open pores. While Niacinamide and Phytosphingosine reduce red pimples owing to its antibacterial properties.
Reduce post-acne marks: The potent combination of Niacinamide, glycolic acid and lactic work in unison to reduce and prevent dark spots along with skin brightening.
Strengthens skin's natural barrier: Ceramide AP, NP and EOP toughen the skin's natural barrier. It protects from environmental damage and trans-epidermal water loss. Thereby retaining skin's natural moisture and preventing dry, scaly skin.
Soothes inflamed skin: Salicylic acid and niacinamide calm the skin due to their anti-inflammatory properties.
Hydrates skin Glycerin, Caprylyl glycol and Sodium hyaluronate helps in skin conditioning as they have high water holding capacity.
Side effects
Do not use it if your skin is already dry and sensitive because it will get further dry and irritated.
Skip this gel for a day or two if you notice your skin is red, irritated or dry.
Discontinue it 2 days prior to any harsh procedure of face eg. Bleach,  waxing, peel