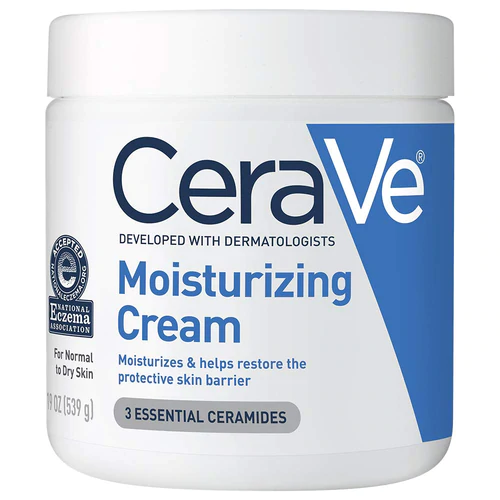 Cera ve Moisturising cream
CeraVe Moisturizing cream is recommended for dry skin prone to allergies and sensitivity.
What is it? Moisturising cream for the face and body
Who can use it? Dry skin prone to allergies, rosacea, itching etc.
Sensitive skin: Unlikely to irritate sensitive skin
Goodies: Ceramide
CHECK PRICE on Amazon.in and Amazon.com
Description
CeraVe Moisturising cream benefits
Repairs skin barrier: Our skin has Natural moisturising factors that bind skin cells together just like brick and cement. This cementing material in the skin is composed of Ceramides, fatty acids and cholesterol. CeraVe moisturising cream delivers ceramides 1, 3, 6 and cholesterol to your skin. Ceramides repair the skin barrier and form a watertight compartment that prevents the loss of water from your skin.
Cera Ve has patented MVE Delivery Technology that delivers the moisturiser gradually into the skin to provide long term hydration.
Further, it has, Phytosphingosine, a natural component of the skin that helps in preventing infections of the skin.
Deep hydration: In addition to ceramides, Cera Ve has many other moisturisers that hydrate your skin like Glycerine, petrolatum,  Sodium hyaluronate, cholesterol and water
Repairs skin damage with the help of the anti-oxidant action of Vitamin E.
CeraVe Moisturiser cream side effects
CeraVe Moisturising cream has no side effects. It is safe to use on the skin of any age. CeraVe moisturising cream can rarely cause an allergic reaction if you are sensitive to any of its components. However, the chance of such reactions is extremely rare.
Who can use CeraVe Moisturising cream?
CeraVe moisturising cream can be used for dry face and body skin. CeraVe moisturiser is especially helpful in skin prone to extreme dryness, allergies, eczema, rosacea and itching. It can also be used for kids that have atopic dermatitis.
It is free from parabens, sulphate, phthalates and fragrances etc. If you have fragrance allergies, then CeraVe moisturiser cream is for you.
Cera Ve moisturising cream versus lotion
Cera Ve moisturising cream is thick and indicated for dry skin, while Cera Ve moisturising lotion is best for normal to combination skin types. Both same similar active ingredients and provide the same benefits.
How to use Cera Ve moisturising cream?
You can put this cream 2-3 times a day after washing your face with a dermatologist-recommended face wash for dry skin. If your skin is extremely dry, re-apply CeraVe moisturise as soon as your skin feels stretched or itchy. This helps replenish the Natural moisturising factor of your skin.
You can use dermatologist-recommended sunscreen on top of this cream about 30 minutes before stepping out in the sun.
Additional information
| | |
| --- | --- |
| Skin Type | Dry |
| Skin concern | Ageing/Wrinkles, Pigmentation & Dark Spots |
| Senstive skin | Highly Sensitive |
| Gender | Female, Male |
| Regime | Morning, Night |