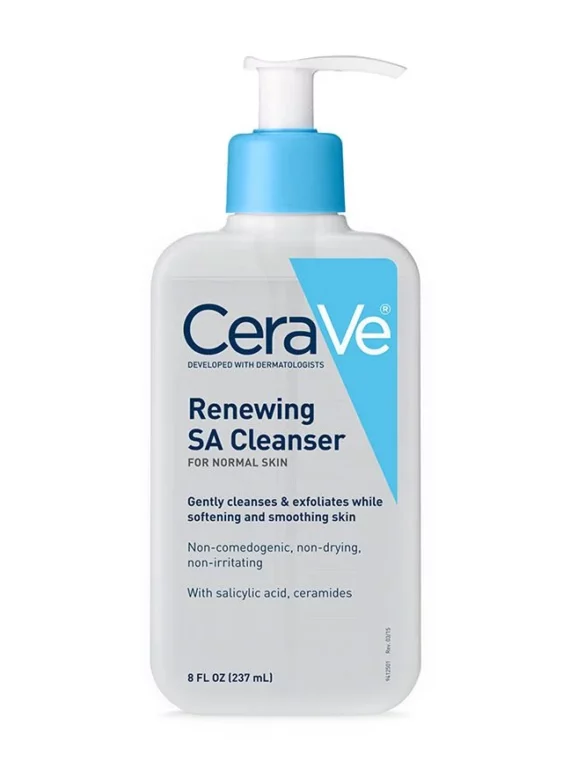 Cera Ve Renewing SA Cleanser Review
Acne and sensitive skin is not a good combo to have. Most acne products make your skin sensitive leading to more breakouts. Cera Ve Renewing SA cleanser is an exception. It gently exfoliates your skin with salicylic acid and gluconolactone, and at the same time repairs your skin barrier with the help of ceramides.
What is it? Salicylic acid-based face wash
Who can use it? Normal to oily skin prone to acne, open pores, blackheads and whiteheads.
Can I use it for sensitive skin? Avoid if your skin is super sensitive. Use with caution in case of mildly sensitive skin.
Goodies: Salicylic acid, Niacinamide, Hyaluronic acid, Ceramides, Gluconolactone
Not so good: None
CHECK THE PRICE ON AMAZON.IN and AMAZON.COM
Description
Cera Ve Renewing SA cleanser benefits
Anti-acne:
Salicylic acid and Gluconolactone in this cleanser gentle exfoliate your skin, reduce sebum secretions and open up the clogged pores. In addition, Niacinamide reduces inflammation associated with acne.
Reduces post-acne marks
Niacinamide help in reducing the post-acne dark spots by reducing inflammation and inhibiting the transfer of pigment into your skin cells.
Repairs skin barrier
This is essential in case of skin prone to rosacea, allergies and itching. Sometimes, overuse of anti-acne medications disturbs your skin barrier. Thanks to ceramides in Cera Ve Renewing SA cleanser! They form a cementing material between skin cells and heal the skin barrier.
Cera Ve Renewing SA cleanser side effects
There are no side effects of Cera Ve Renewing SA cleanser. However, if your skin is itchy, burning, red, and irritated, you should avoid this cleanser.
Who can use it?
CeraVe SA cleanser can be used for normal skin prone to both acne and rosacea. If your skin is super oily and greasy, then Cera Ve renewing SA Cleanser should be combined with retinol (>25 years ) or Salicylic acid (<25 years) for achieving adequate oil control. If your skin is dry, then this cleanser would make it even drier. You should go for CeraVe Hydrating cleanser in this case.
Additional information
| | |
| --- | --- |
| Gender | Female, Male |
| Skin Type | Normal/Combination, Oily |
| Skin concern | Acne & Blemishes, Pores/Blackheads/Whiteheads |
| Senstive skin | Mildly Sensitive, Not Sensitive |
| Regime | Morning, Night |