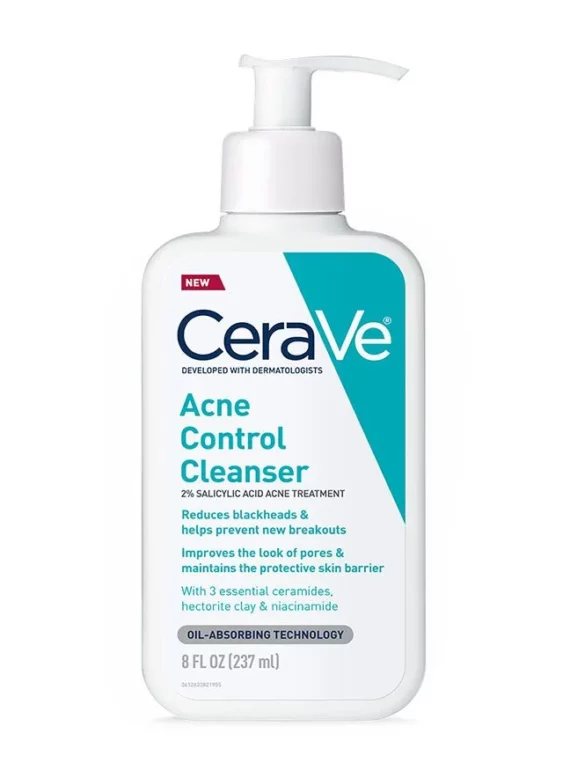 CeraVe Acne Control Cleanser
If your skin gets oily within few minutes if washing your face, then CeraVe Acne Control Cleanser might be the right pick for you. It combines 2% salicylic acid with oil-absorbing clay. It good option for the prevention of acne in super oily skin once you achieve acne clearance.
What is it? Face wash with 2% salicylic acid and clay
Who can use it? Very Oily skin
Sensitive skin: Might not suit
Description
CeraVe Acne Control Cleanser Benefits:
Controls sebum: Salicylic acid 2% and clay both help in controlling oily skin.
Effective skin exfoliant: 2% Salicylic Acid and Gluconolactone removes the dead skin cells clogging the pores. Salicylic acid deeply penetrates and prevents pore clogging, thereby reducing breakout and blackheads.
Fights acne and blackheads: Niacinamide and Phytosphingosine helps in skin problems like acne, rosacea and dermatitis.
Reduce post acne marks: Niacinamide also reduces dark spots caused by healing of acne.
Maintains skin natural healthy barrier: Ceramide AP, NP and EOP glues and holds the skin cells of the outer layer tight. Thus protecting from environmental damage and infections. They also help retain the moisture and keep skin hydrated.
Soft and smooth skin texture: Emollients like Caprylyl Glycol keeps your skin plump and supple, while Glycerin has great water retention quality making skin well nourished.
CeraVe Acne Control Cleanser Side Effects:
It should not be used if your skin is not very oily. It might make the skin over dry.
Do not combine with anti-acne medications or OTC products to avoid over dryness
Additional information
| | |
| --- | --- |
| Gender | Female, Male |
| Skin Type | Oily |
| Skin concern | Acne & Blemishes, Pores/Blackheads/Whiteheads |
| Senstive skin | Not Sensitive |
| Regime | Morning, Night |