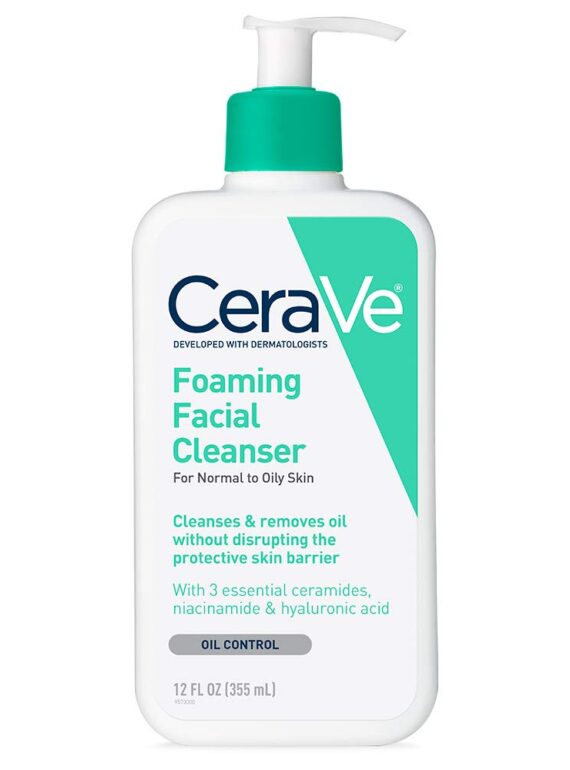 CeraVe Foaming Facial Cleanser
The cleansers for oily skin are predominantly harsh, but the CeraVe foaming facial cleanser is the perfect fit as it deeply cleanses the skin without disrupting the skin barrier. It is suitable for normal, oily and also acne-prone skin owing to its non-comedogenic properties, those that help avoid skin blockage problems.
What is it? Foaming face wash
Who can use it? Normal to oily skin prone to acne.
Is it safe for sensitive skin? Yes! however avoid if your skin is red, irritated, dry, or burning.
Goodies: Niacinamide, Ceramides
Not so good: None
Description
CeraVe Foaming Cleanser benefits
Maintain skin's natural protective barrier
Its unique formulation comprises three essential ceramides – Ceramide NP, AP and EOP. Ceramides are basically naturally produced lipids of the skin that play an essential role in providing a skin barrier and retaining the moisture intact. Devoid of the ceramides the skin barrier gets weakened due to which skin hydration gets affected.
Skin strengthening and repair
Niacinamide is also known as vitamin B3. It possesses antioxidants, and anti-ageing and anti-inflammatory properties promoting a healthier skin barrier by increasing ceramide synthesis thereby increasing skin strength.
Phytosphingosine, also a naturally occurring skin lipid, acts in skin defence owing to its antimicrobial action.
Restores skin moisture
Hyaluronic acid and glycerin are very popular humectant moisturizers used to maintain the smooth skin texture by keeping it hydrated.
The presence of citric acid acts as an exfoliator for the skin lifting off the dead surface cells and giving a smooth finish.
Additional information
| | |
| --- | --- |
| Gender | Female, Male |
| Skin concern | Acne & Blemishes, Ageing/Wrinkles, Pigmentation & Dark Spots, Pores/Blackheads/Whiteheads |
| Skin Type | Normal/Combination, Oily |
| Senstive skin | Mildly Sensitive, Not Sensitive |
| Regime | Morning, Night |