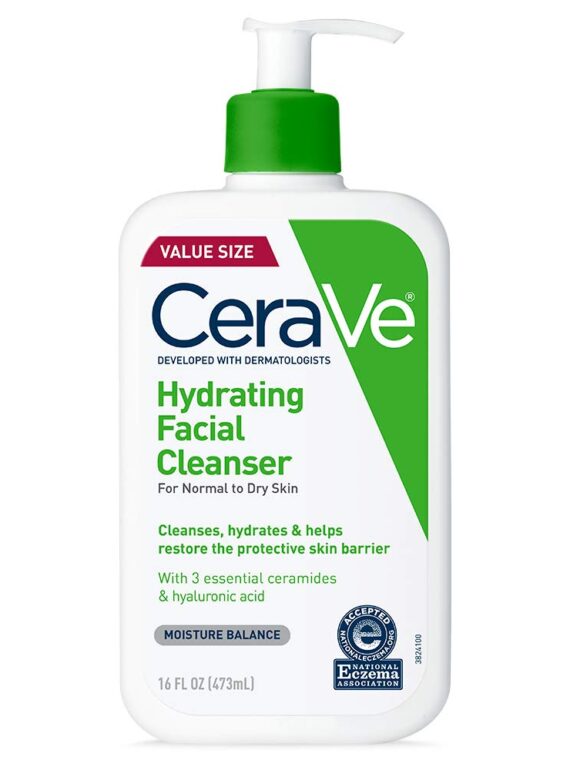 Cerave Hydrating Cleanser
Does your skin feels dry and stretched with regular cleansers? Well, then the CeraVe hydrating cleanser is your pick. Ceramides in this face wash help in repairing the skin barrier.
What is it? Gentle face wash
Who can use it? Normal to dry skin showing signs of ageing, pigmentation or dullness.
Is it safe for sensitive skin? Yes
Goodies: Niacinamide, Ceramides
Not so good: None
Description
Cerave Hydrating Cleanser Benefits
Gentle cleansing: Cerave hydrating cleanser has a combination of four sulphate-free mild surfactants. They help in removing oil, dust and dirt, without stripping Natural Moisturising Factors(NMF).
Deep hydration: Water, glycerine, hyaluronic acid and cholesterol present in this face wash moisturises your skin leaving it soft and supple.
Skin repair: The unique component of this face wash is ceramides type 1, 3, and 6. Ceramides are skin-identical lipids that help in restoring the skin barrier. Dermatologists recommend ceramides in eczema-prone skin.
Prevent infection: Phytosphingosine is another skin-identical ingredient that has anti-microbial action. This can be beneficial in acne and rosacea.
Cerave Hydrating Cleanser Benefits
There are no side effects of Cera Ve Renewing SA cleanser. It is less likely to irritate even if your skin is itchy, burning, red, and irritated.
Additional information
| | |
| --- | --- |
| Gender | Female, Male |
| Skin Type | Dry |
| Skin concern | Acne & Blemishes, Ageing/Wrinkles, Pigmentation & Dark Spots, Pores/Blackheads/Whiteheads |
| Senstive skin | Highly Sensitive, Mildly Sensitive, Not Sensitive |
| Regime | Morning, Night |