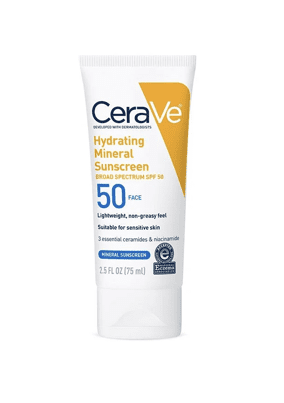 CeraVe Hydrating Sunscreen Face lotion SPF 50
Does your skin gets red and hot on stepping out in bright sun? Then you should be using CeraVe mineral sunscreen SPF 50. It is mineral sunscreen with hydrating, soothing and skin lightening benefits. Worth a try for sensitive skin types.
What is it? Mineral based physical sunscreen with SPF 50
Who can use it? Normal to dry skin
Can I use for sensitive skin? Yes, it is recommended for use in sensitive skin
Goodies: Zinc oxide, Titanium dioxide, Niacinamide, Ceramides, Hyaluronic acid
Not so good: None
2 variants: SPF 30 and SPF 50. It also has tinted version.
Description
Cera Ve Mineral Sunscreen SPF 50 benefits
Sun protection: Sunscreen offer sun protection by either absorbing the UV rays with help of chemical sunscreen agents or reflecting back UV rays with help of physical sunscreen. Obviously, later is a better choice. Cera Ve belong to physical sunscreen group with 2 filters Zinc oxide and Titanium dioxide.
Soothes inflamed skin: Niacinamide, Ceramides and Vitamin E has anti-inflammatory and skin repairing action. Much need in red and irritated skin of rosacea.
Hydrates from within: CeraVe sunscreen helps in sealing your skin barrier with the help of ceramides and keep your skin hydrated.
Cera Ve Mineral Sunscreen SPF 50 side effects
It is safe to use of sensitive and allergic skin as well. However, avoid if your skin is red, irritated and burning.
Cera Ve Sunscreen SPF 50 versus SPF 30
Cera Ve Mineral Sunscreen has 2 variants -SPF 30 and SPF 50 with similar ingredients. While SPF 30 is good for regular casual exposure. SPF 50 is recommended if you are stepping out in bright sun between 10 am  to 5 pm for more than 15 minutes. Driving time also counts in sun exposure because damaging UVA rays can penetrate car windows.
Additional information
| | |
| --- | --- |
| Gender | Female, Male |
| Skin Type | Dry, Normal/Combination |
| Skin concern | Ageing/Wrinkles, Pigmentation & Dark Spots |
| Senstive skin | Highly Sensitive, Mildly Sensitive, Not Sensitive |
| Regime | Morning |