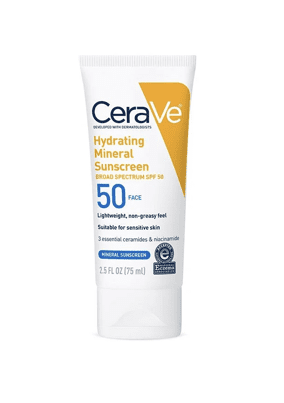 CeraVe Hydrating Sunscreen Face lotion SPF 50
Does your skin gets red and hot on stepping out in bright sun? Then you should be using CeraVe mineral sunscreen SPF 50. It is mineral sunscreen with hydrating, soothing and skin lightening benefits. Worth a try for sensitive skin types.
What is it? Mineral based physical sunscreen with SPF 50
Who can use it? Normal to dry skin
Can I use for sensitive skin? Yes, it is recommended for use in sensitive skin
Goodies: Zinc oxide, Titanium dioxide, Niacinamide, Ceramides, Hyaluronic acid
Not so good: None
2 variants: SPF 30 and SPF 50. It also has tinted version.