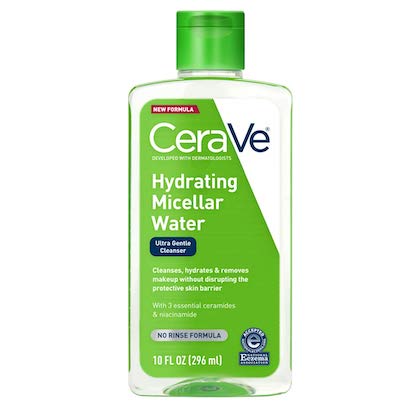 CeraVe Micellar Cleansing Water
If you are looking for micellar water to remove face an d eye make up without any irritation, then CeraVe Micellar Cleansing Water is a perfect pick.  It is suitable for all skin types helping you achieve a fresh, newer and clean look.
What is it? Micellar water
Who can use it? All skin types to remove eye and face make-up and as an on-the-go cleanser.
Sensitive skin: Can be used, though chances of reaction cannot be ruled out altogether
Where to buy? Amazon.in and Amazon.com
Description
CeraVe Micellar Cleansing Water Benefits
Remove face make-up without disturbing the skin barrier: Micellar water form a sphere around the impurities and gently removes them without disturbing skin barrier.  Hexylene Glycol removes the dirt, oil and makeup in an effective manner due to its great cleansing and emulsifying action.
Remove eye make-up: Cera Ve claims that this micellar water can be used to remove eye make-up as well without causing any irritation. It has been tested for the same by Cera Ve.
On-the-go cleanser: Do you feel greasy and dirty during work hours? Just clean your face with micellar water to give a nice fresh look instantly.
Keeps your skin well nourished: Glycerin and Niacinamide keep the skin nourished as they keep the skin lipids present in the skin in a healthy state.
Maintain a healthy skin barrier: Ceramides AP, NP strengthen the skin barrier which protects against environmental stress, infections, and allergies. They maintain a healthy skin barrier and retain moisture effectively.cIt also helps to retain moisture and helps against dry scaly skin.
CeraVe Micellar Cleansing Water Side Effects
The chances of a reaction are rare, however, it might still irritate if your skin is super sensitive.
How to use it?
Here is snap shot from Cera ve website on how to use CeraVe Micellar Cleansing Water: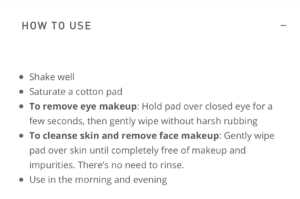 Additional information
| | |
| --- | --- |
| Skin Type | Dry, Normal/Combination, Oily |
| Skin concern | Acne & Blemishes, Ageing/Wrinkles, Dark circles, Pigmentation & Dark Spots |
| Senstive skin | Highly Sensitive, Mildly Sensitive, Not Sensitive |
| Regime | Night |