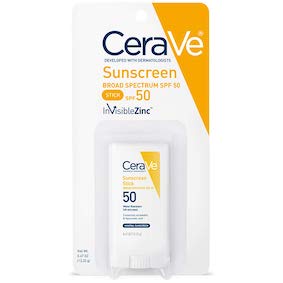 CeraVe Mineral Sunscreen Stick
When you are heading on beach, then you can grab CeraVe Mineral Sunscreen Stick. Because of waxy nature, it withstands water longer. CeraVe sunscreen stick is good for kids because it is mineral based formula. It's easy to apply and less messy for children who are always on the run.
What is it? Mineral Sunscreen stick with SPF 50
Who can use? Adults and kids. Avoid in oily skin.
Sensitive skin: Unlikely to irritate
Goodies: mineral sunscreen, ceramides, aloe vera, niacinamide
Not go good: none
Description
CeraVe Mineral Sunscreen Stick benefits
Sun protection: Cera Ve is physical sunscreen with 2 filters Zinc oxide and Titanium dioxide. It can be used regularly without much risk on getting into your blood stream.
Reduces inflammation: Niacinamide, Ceramides, Vitamin E are anti-inflammatory ingredients that soothe red and irritated skin.
Protect skin barrier: CeraVe sunscreen helps in repairing skin barrier with the help of 3 ceramides.
Good for kids: Good option for kids whose because oil secreting glands are still not over active.  Can be used for severe sun exposure in beach or pool safely for skin of  body and face.
CeraVe Mineral Sunscreen Stick side effects
It is sticky and can clog pores. So, do not use on oily skin regularly.
Additional information
| | |
| --- | --- |
| Gender | Female, Male |
| Skin Type | Dry, Normal/Combination |
| Skin concern | Ageing/Wrinkles, Pigmentation & Dark Spots |
| Senstive skin | Mildly Sensitive, Not Sensitive |
| Regime | Morning |