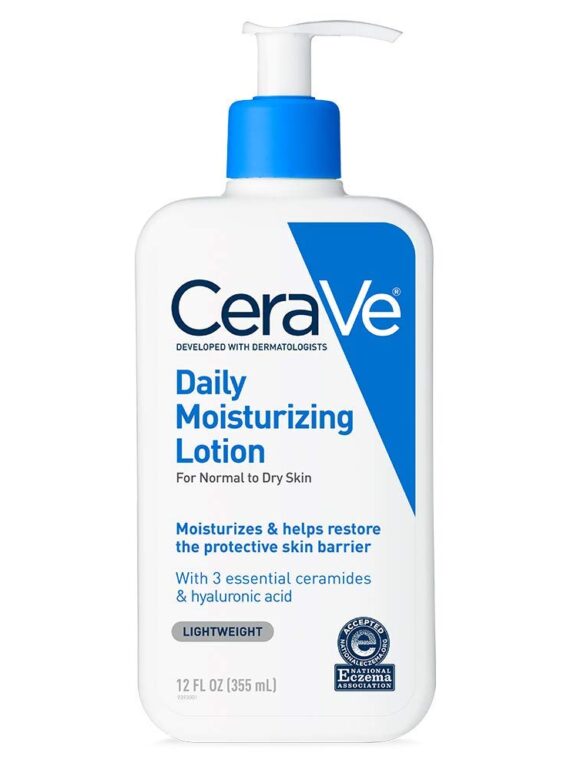 CeraVe Moisturising Lotion
Does your skin get itchy, bumpy and red easily with regular skincare products? Try CeraVe Moisturizing lotion. It repairs the compromised skin barrier. Hydrates and soothes your skin from within. It is free from sulphate, phthalates and fragrances etc.
What is it? Moisturising for body and face
Who can use it? Dry skin prone to allergies, itching, eczema, rosacea
Senstive skin: Unlikely to cause irritation
Goodies: Glycerine, ceramides, cholesterol, Hydrolyzed hyaluronic, cholesterol, Vitamin E
Not so good: None
Description
CeraVe Moisturising lotion benefits
Repairs compromised skin barrier: CeraVe moisturizing lotion delivers ceramides 1, 3, 6, and cholesterol to your skin. These ceramides form a watertight compartment. Just like cement holds the bricks, Ceramide holds your skin cells together. This repairs the skin barrier. This in turn reduces sensitivity and allergies.
Cera Ve has patented MVE Delivery Technology. CeraVe claims that this technology delivers moisturizer gradually into the skin. The result is long-term hydration.
Prevents infection: This is achieved with the help of Phytosphingosine. It is a natural component of skin that prevents infections of the skin. In addition, it has Vitamin E which is a powerful antioxidant.
Nourishes your skin: Cera Ve moisturizing lotion your skin with a variety of moisturizing ingredients- Glycerine, ceramides, cholesterol, Hydrolyzed hyaluronic, cholesterol and water.
What are side effects?
CeraVe Moisturising lotion has no side effects. It can be used on the skin of any age. CeraVe moisturizing cream can rarely cause an allergic reaction if you are sensitive to any of its components.
Who can use CeraVe Moisturising lotion?
CeraVe moisturizer is especially helpful in skin prone to allergies, eczema, rosacea, and itching. It can also be used for kids that have atopic dermatitis. CeraVe moisturizing lotion can be used for normal to oily skin of the face and body. It can be also used if your skin gets over dry after using acne medications.
Cera Ve moisturizing cream versus lotion
Cera Ve moisturizing lotion is best for normal to combination skin types. While Cera Ve moisturizing cream is thick and indicated for dry skin. Both same similar active ingredients and provide the same benefits.
How to use CeraVe Moisturising lotion?
Apply Cera Ve Moisturising lotion after washing your face with a dermatologist-recommended face wash for combination skin in the morning and at night. Don't forget to top up dermatologist-recommended sunscreen especially if you are going out in the sun.
Additional information
| | |
| --- | --- |
| Skin Type | Normal/Combination, Oily |
| Skin concern | Acne & Blemishes, Ageing/Wrinkles, Pigmentation & Dark Spots, Pores/Blackheads/Whiteheads |
| Senstive skin | Highly Sensitive |
| Gender | Female, Male |
| Regime | Morning, Night |