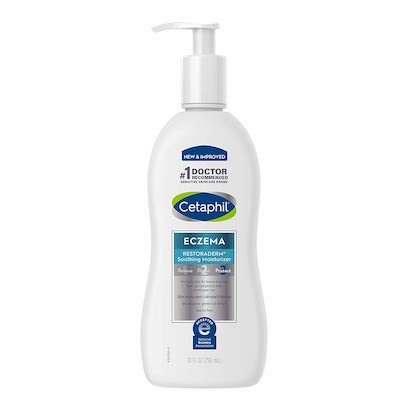 Cetaphil RestoraDerm® Eczema Calming Body Moisturizer
Eczema or even dry itchy skin is characterized by a disturbance of skin microstructure. Cetaphil restoraderm helps in calming your eczema with the combination of patented ceramide and Filaggrin technology that strengthens the skin's protective layer.
What is it? Body lotion with benefits of calming skin allergy
Who can use it? Dry skin types prone to atopic dermatitis, allergies, sensitivity, itching, and eczema
Sensitive skin: Unlikely to irritate sensitive skin. However, chances of reaction cannot be ruled out, especially in severe cases of eczema.
Description
Pros:
Restoraderm is a wholesome moisturizer that restores the lost natural moisturizing factors of dry skin by the following action:
Occlusive: Caprylic/capric triglycerides work by trapping the water inside the skin.
Humectants: Glycerin, Sorbitol, and Pentylene Glycol draw water from the environment and hydrate skin.
Emollients: Shea Butter, Sodium Hyaluronate, and sunflower seed oil penetrate between the skin cells and fill up the gaps.
Barrier repair: Arginine, Sodium PCA, and Hydroxypalmitoyl Sphinganine replenish lost protein and lipid content of the skin. Studies show that there is a deficiency of ceramides and Filaggrin in Atopic Dermatitis. Other studies claim that ceramide-containing moisturizing cream can help in reducing the dependence on steroids or immunosuppressive in cases of Atopic dermatitis. According to CIR (Cosmetic Ingredient Research), Ceramides are lipophilic and likely to be absorbed into the stratum corneum.
Soothes your skin: Restoraderm soothes the irritated skin with the help of anti-inflammatory and antioxidant ingredients like Allantoin, Niacinamide, Panthenol, and Vitamin E.
Safe: It is free of major toxic chemicals.
Additional information
| | |
| --- | --- |
| Gender | Female, Male |
| Senstive skin | Highly Sensitive, Mildly Sensitive, Not Sensitive |
| Skin Type | Dry |
| Body | Eczema or allergy |
| Child | Atopic dermatitis, Baby skin care |