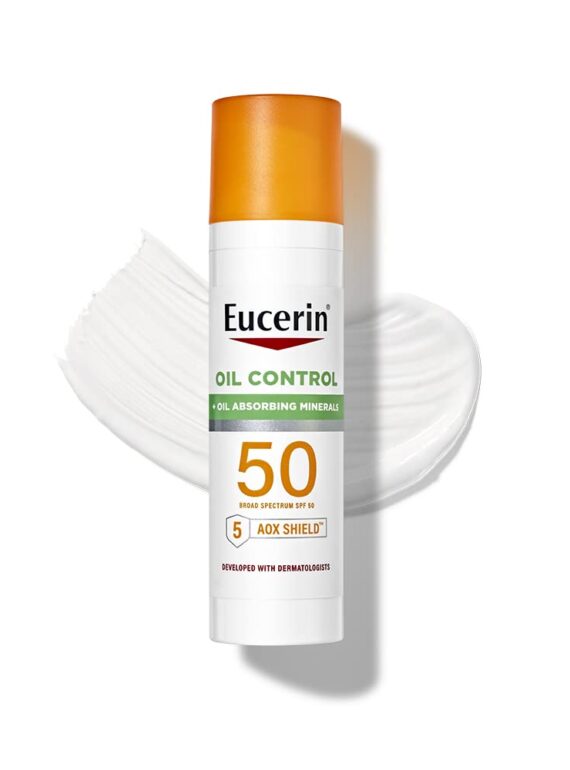 Eucerin Sun Protection Oil Control Sun Gel-Cream SPF 50
Are you looking for sunscreen to combat shine without sacrificing sun protection?  Eucerin Sun Oil Control SPF 50 might be your perfect pick. Its lightweight texture, high SPF rating, and non-comedogenic formula make it a practical option for daily use, especially in warmer climates or during the summer months. Overall, it's a reliable sunscreen that lives up to its claims and is worth considering for your skincare routine.
What is it? Chemical-based sunscreen with SPF 50
Who can use it? Oily to normal skin type
Sensitive skin: Avoid if your skin is super-sensitive. Use physical sunscreen instead.
Where to buy? Amazon.in and Amazon.com
Description
Eucerin Sun Oil Control SPF 50 benefits
High SPF Protection: Eucerin Sun Oil Control offers impressive SPF 50 protection, which is crucial for shielding your skin from harmful UV rays. It has  
Oil Control: According to the manufacturer "The formula's sebum-regulating Oil Control Technology combines lipid absorbing micro pigments and L-Carnitine, reducing the skin's own sebum production. The lipid-absorbing micro-pigments absorb any remaining excess oils, so skin appears dry and matt." 
Protect against Visible light: It's not just UV rays that can damage skin. High-energy visible (HEVIS) light can also generate free radicals, cause photoaging (premature skin aging caused by the sun), and exacerbate the hyperpigmentation issues that oily and acne-prone skin is particularly prone to. Eucerin Sun Gel-Creme Oil Control Dry Touch SPF 50+ offers Advanced Spectral Technology that goes beyond UV to protect skin from the negative effects of HEVIS light too. 
Prevents sun damage: This sunscreen has 2 actives Glycyrrhetinic Acid, and Glycyrrhiza Inflata Root Extract obtained from Licrorice roots. They have anti-oxidative and anti-inflammatory action.  
Lightweight: The texture of this sunscreen is lightweight, and it doesn't feel heavy or greasy on the skin. 
No white cast: This sunscreen does not give a white cast, which is a common concern with zinc oxide-based sunscreens. 
Non-comedogenic: Eucerin's formula is non-comedogenic, meaning it won't clog your pores. This is a huge plus for those prone to acne or breakouts. 
Fragrance-Free: For individuals with sensitive skin, it's reassuring to know that this sunscreen is fragrance-free, reducing the risk of irritation. 
Eucerin Sun Oil Control SPF 50 side effects
Not for dry skin: While this sunscreen is fantastic at controlling oil, it can be slightly drying for those with already dry skin. 
Might not suit super-sensitive skin: Eucerine is known for making products for sensitive skin, however, this sunscreen might not be the best choice for sensitive skin types because it is a chemical sunscreen rather than a physical block.
.
 
Additional information
| | |
| --- | --- |
| Gender | Female, Male |
| Skin Type | Normal/Combination, Oily |
| Skin concern | Acne & Blemishes, Ageing/Wrinkles, Pigmentation & Dark Spots, Pores/Blackheads/Whiteheads |
| Senstive skin | Mildly Sensitive, Not Sensitive |
| Regime | Morning |