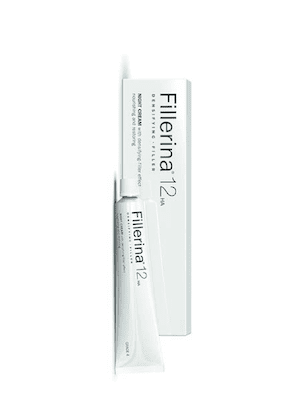 Fillerina 12 HA Night Cream
Fillerina12 HA anti-ageing cream is a research brand of Italy-based company Labo, with a Swiss patent to back up its efficacy. Fillerina has anti-ageing, skin lightening, firming, skin repair, and hydrating benefits.
What is it? All in one anti-ageing cream with Peptide, Retinoid, HA, Elastin, and collagen to be used at night.
Who can use it? All skin type to delay skin ageing, skin lightening and visible reduction of lines.
Can it be used on sensitive skin? Yes, it can be used on sensitive skin, if it is calm. Avoid if your skin is super-sensitive.
Goodies: 12 types of Hyaluronic acid, Collagen, Elastin, Retinyl palmitate, 3 Peptides, Vitamin C, Vitamin E, Glycolic acid, lactic acid, salicylic acid
Where can I buy it? You can buy it from Amazon, or from us. We give a 10 % discount on this product along with free consultation. WA Buy Fillerina to 6239611167