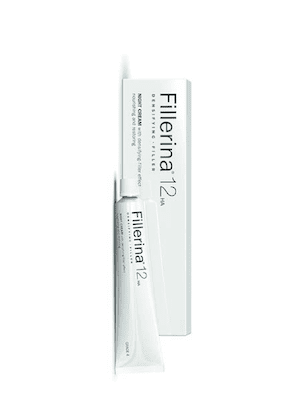 Fillerina 12 HA Night Cream
Fillerina12 HA anti-ageing cream is a research brand of Italy-based company Labo, with a Swiss patent to back up its efficacy. Fillerina has anti-ageing, skin lightening, firming, skin repair, and hydrating benefits.
What is it? All in one anti-ageing cream with Peptide, Retinoid, HA, Elastin, and collagen to be used at night.
Who can use it? All skin type to delay skin ageing, skin lightening and visible reduction of lines.
Can it be used on sensitive skin? Yes, it can be used on sensitive skin, if it is calm. Avoid if your skin is super-sensitive.
Goodies: 12 types of Hyaluronic acid, Collagen, Elastin, Retinyl palmitate, 3 Peptides, Vitamin C, Vitamin E, Glycolic acid, lactic acid, salicylic acid
Where can I buy it? You can buy it from Amazon, or from us. We give a 10 % discount on this product along with free consultation. WA Buy Fillerina to 6239611167
Description
Dermatocare team has noticed visible results in skin health within one month of using this product in our users. Though, it is one time heavy on pocket, but, 50 ml package last for 3 months. This brings the average cost to less than any good quality anti-ageing product.
Fillerina 12 HA night cream benefits
Plumping effect: Fillerina 12 Ha as the name suggests has a combination of 12 Hyaluronic acids (weight ranging from 400 to 2000000 Dalton). Hyaluronic acid is a normal component of skin that has the capacity to absorb water 1000 times its weight, thus, giving plumping effects. However, HA has a high molecular weight and cant penetrate the skin. On the other hand, Fillerina claims that they have technology that promotes penetration of HA into your skin and thus giving a plumping effect.
Reduces wrinkles: In addition, Fillerina has 3 Collagen molecules with different molecular weights (2000, 12000 and 300000 Da) that add to the firming effect of HA. 2 Hydrolysed Elastin molecules that restore the elasticity of the skin.
Anti-ageing action: Fillerina HA also has the most researched anti-ageing ingredients: Retinyl palmitate and 3 peptides. They work in unison to replenish lost collagen and elastin.
" Botox in a jar": Fillerina has a combination of  Palmitoyl Heptapeptide-18, acetyl hexapeptide 30 and palmitoyl hexapeptide 52 termed as "Botox in jar". They block the neurotransmitter signal similar to Botulinum toxin. Regular use of Fillerina can reduce expression lines like crow's feet, forehead lines and frown lines.
Skin repair: Fillerina HA has anti-oxidants like Ascorbyl palmitate (Vitamin C) and Tocopherol, (Vitamin E) that help in reversing skin damage.
Deep hydration: Shea butter, Wheat germ oil, Rosehip oil, almond oil, Glycerin and water along with HA provide deep nourishment to your skin.
Skin lightening action: Glycolic acid, lactic acid, salicylic acid and Vitamin C gently exfoliate and lightens up your skin.
Fillerina 12 HA night cream side effects
When it come to anti-ageing in dry and sensitive skin, this product is worth trying. However, it might not super-senstive skin. It might be greasy for very oily skin type.
Additional information
| | |
| --- | --- |
| Gender | Female, Male |
| Skin Type | Dry, Normal/Combination |
| Skin concern | Ageing/Wrinkles |
| Senstive skin | Mildly Sensitive, Not Sensitive |
| Regime | Night |