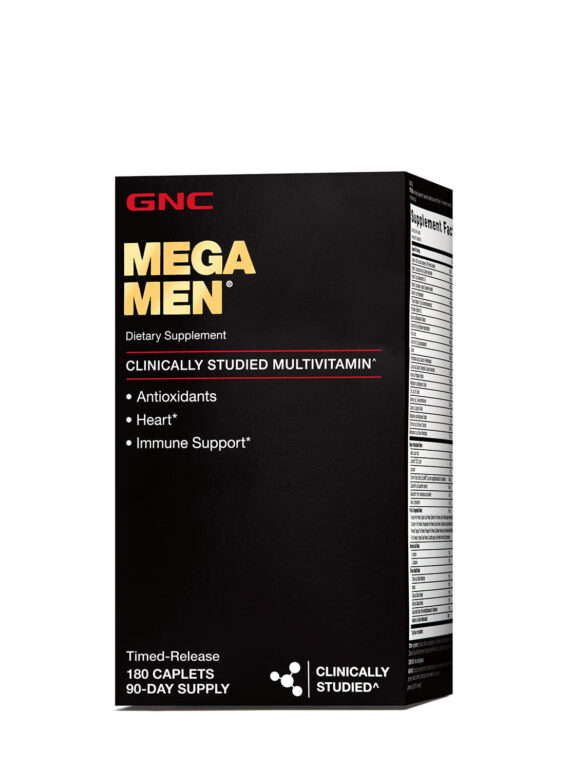 GNC Mega Men Vitamin
GNC Mega Men has 37 micro-nutrients. They help your hair, skin, immune system, brain, eye, etc. This vitamin from trusted brands like GNC can contribute to the overall health of men. GNC Mega men can work both as a multivitamin and hair regrowth supplement.
What is it? Health supplement with vitamins, minerals, antioxidants, collagen
Who can use it? Male above the age of 18 years for overall health, hair regrowth, anti-aging, and skin rejuvenation.
How to take it? Once a day after major meals.
Avoid in: sickness, taking medications, and upset stomach
Description
Benefits:
Overall health and wellbeing: A combination of micronutrients help in improving your general well-being, strength, immunity, ability to exercise and take the stress
Hair regrowth: It has all the vitamins and minerals that help in hair regrowth. Besides Pumpkin seed extracts and grape seed extracts boost hair growth specifically in males.
Skin rejuvenation: We can't underestimate the role of vitamins in skin radiance, youthfulness and even controlling acne.
Composition
Vitamins: It has RDA of Vitamin A, C, D, B1, B2, B3, B5, B6, B12, and E. Unlike Muscle XP, it has 400IU of Vitamin D.
Minerals: It has Calcium, Magnesium, Phosphorus, Zinc, Copper, Selenium, Manganese, Chromium, Molybdenum, and Iron.
Hair regrowth stimulants like Grape seed extract, Inositol and choline
Potent Anti-oxidants like lycopene, Zeaxanthin, lutein, and citrus bioflavonoids and resveratrol that skin repairing, and anti-ageing effects.
Pumpkin seed extracts are especially helpful in reducing the activity of the 5-alpha reductase enzyme, therefore, might have an effect on Male pattern baldness.
How long?
Hair re-growth vitamin should be taken for at least 3 months to support the growth of the new follicles and rejuvenate from within.
Additional information
| | |
| --- | --- |
| Gender | Male |
| Skin concern | Acne & Blemishes, Ageing/Wrinkles, Chapped Lips, Pigmentation & Dark Spots, Pores/Blackheads/Whiteheads |
| Senstive skin | Highly Sensitive, Mildly Sensitive, Not Sensitive |
| Regime | Morning, Night |
| Hair Type | Dry, Normal, Oily |
| Hair Concern | Dandruff, Grey Hair, Hair fall |