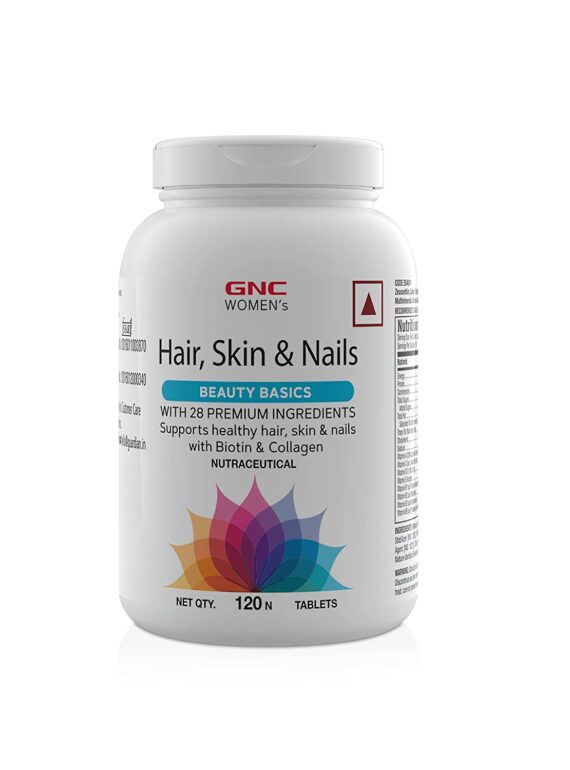 GNC Women's Hair, Skin and Nails
GNC Women's Hair, Skin and Nails has 28 essential nutrients that can help in the overall health of females. It provides vitamins, minerals, anti-oxidants, and hair re-growth nutrients. It is both a multivitamin and hair re-growth supplement.
What is it? Health supplement with vitamins, minerals, antioxidants, collagen
Who can use it? Female above the age of 18 years for overall health, hair regrowth, anti-ageing, and skin rejuvenation.
How to take it? Once a day after major meals
Avoid in: Pregnancy, lactation, sickness, taking medications, upset stomach
Description
Benefits:
Overall health and wellbeing: A combination of micronutrients help in improving your general well-being, strength, immunity, ability to exercise and take the stress
Hair regrowth: It has all the vitamins and minerals that help in hair regrowth. Collagen and grape seed extracts boost hair growth specifically in males.
Skin rejuvenation: We can't underestimate the role of vitamins in skin radiance, youthfulness and even controlling acne.
Composition
Vitamins: It has RDA of Vitamin A, C, D, B1, B2, B3, B5, B6, B12, and E. It also has 400 IU of Vitamin D.
Minerals: It has Calcium, Phosphorus, Zinc and Copper
2 most important Amino acids that help in hair re-growth: L-cysteine and DL-Methionine
Grape seed extract has anti-ageing action and helps in hair re-growth.
Anti-oxidants like alpha lipoic acid, Zeaxanthin, lutein, Resevetrol, cranberry extract and citrus bioflavonoids that skin repairing and has an anti-ageing effect.
Hydrolysed collagen help in hair growth and anti-ageing.
HOW LONG SHOULD I TAKE GNC WOMEN TABLETS?
Hair re-growth vitamin should be taken for at least 3 months to support the growth of the new follicles and skin rejuvenation.
Dermatocare recommendations
Additional information
| | |
| --- | --- |
| Gender | Female |
| Hair Concern | Hair fall |
| Skin concern | Acne & Blemishes, Ageing/Wrinkles, Chapped Lips, Pigmentation & Dark Spots |
| Price range | $ |