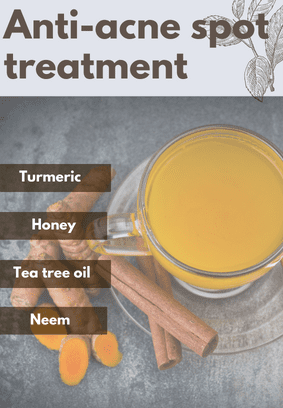 Home made acne spot treatment
Are red or pus-filled pimples bothering you? Try this homemade acne spot treatment. Red or pus-filled acne usually responds within 3 days of applying this home remedy. However, this remedy will not help you to get rid of black/white heads, or nodular or cystic lesions.
What is it? Acne spot treatment
Who can use it? All skin types to be used as a spot treatment on red or pus-filled pimples.
Sensitive skin: Can try it as a spot treatment if the skin is calm
How to make: Check the description box
Description
How to make it?
Mix the following ingredients in specified quantities in a completely dry and air-tight container:
2 spoons of raw organic honey
half spoon of Multani Mitti
fourth spoon of turmeric or Haldi powder
half spoon neem powder
10 drops of tea tree oil
half spoon of lemon peel powder(optional)
Watch this video to know how to make this simple home remedy for pimples:
How to use it?
This remedy can be used as a spot treatment as follows:
Apply this home remedy directly to your pimples after washing your face.
You can leave this remedy for as less as 15 minutes to as long as 3 hours provided you do not get redness, itching, irritation or bumps. You can also try overnight treatment, especially for red or pus-filled big pimples on the back. After applying this remedy, cover with a micropore or a band-aid to avoid staining your clothes with turmeric.
Rinse off with warm water and pat dry with facial tissue. Do not use a towel because it might get stained with turmeric.
You can use it daily, a maximum of twice a day.
You can continue it safely until the pimples settle.
How to store?
This remedy can be stored for 1-3 weeks without the refrigerator, provided you keep it away from water.
What are the side effects?
Turmeric can stain clothes, so avoid wiping your face with a towel, sleeping or changing your clothes while this mixture is on your face.
Honey will feel sticky in the beginning, but later as the mixture dries your skin will feel stretched and sometimes uncomfortable.
It can irritate sensitive skin. Hence, this anti-acne spot treatment is best suited for non-sensitive skin types because it has many potent ingredients like neem, and tea tree oil.
Which kind of acne respond to this home remedy?
Any red or pus-filled pimples respond nicely to this remedy. It does not work on black/whiteheads.
Additional information
| | |
| --- | --- |
| Gender | Female, Male |
| Skin Type | Dry, Normal/Combination, Oily |
| Skin concern | Acne & Blemishes |
| Senstive skin | Mildly Sensitive, Not Sensitive |
| Regime | Night |